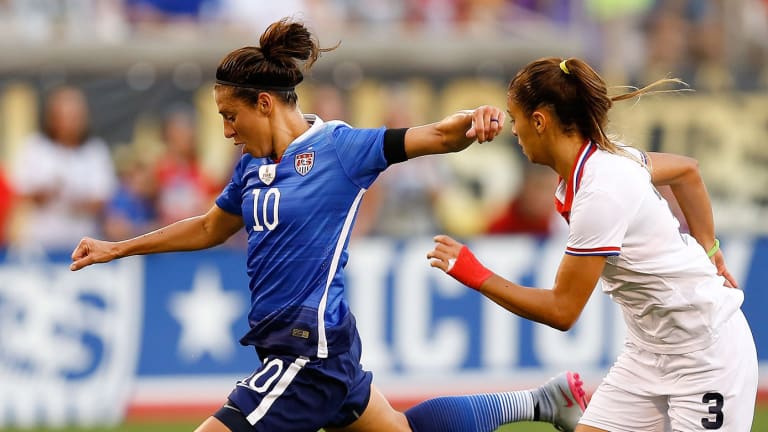 Apparently Refusing to Pose in Swimsuits Can Hurt Your Career, No Matter How Talented You Are
This star says she isn't recognized because she is choosing to stand up to the pressure to sell herself as 'sexy.'
Carli Lloyd, the U.S. Women's National Team soccer star who scored three goals in the first sixteen minutes of the World Cup final against Japan last year, doesn't think she gets the credit she deserves, and she's not willing to pose in a swimsuit to change that. 
Lloyd is not just talking about financial credit, although she is one of five USWNT players involved in a wage-discrimination action against the United States Soccer Federation on the basis that women players make about half what male players make, despite having generated $20 million more in revenue in 2015. No, in her recent interview with ESPN, she's talking about recognition. Occasionally this comes in the form of endorsement deals that carry financial reward, but it also comes from seeing your jersey worn by fans, seeing your name touted as a main attraction for an upcoming match, and having fans appreciate your contribution to the team's success. Lloyd's jersey was not available in the federation's online store prior to her 2015 hat trick despite the fact that she had played more than 200 matches for the U.S. national team. She seldom saw her likeness used to promote her team's matches, and she easily went unrecognized in her everyday life. And she thinks it's because she wasn't baring all in order to gain some of the spotlight.
"I'm not going to go and pose for a swimsuit edition because that'll just ruin my reputation right off the bat," Lloyd told ESPN. Fans immediately saw this as a reference to Lloyd's teammate Alex Morgan, who might have her two Sports Illustrated Swimsuit Edition appearances to thank for some of her notoriety. Morgan, 26, earns a reported $1 million annually in endorsements and boasts 3.5 million Instagram followers. By nearly every obvious indicator, she is the face of this team.
Teammate Hope Solo echoes Lloyd, saying, "People don't always turn their heads [for Lloyd], because she's not in swimsuits and she's not posting on social media. But, you know, people should have known about Carli for a lot longer than 2015 and beyond."
"I've kept to myself, I've put my head down, I've gone to work," says Lloyd. "And I have felt undervalued… Those 16 minutes [in the 2015 World Cup final game] were 13 years of hard, hard work… But yet you never see my face or my name out there. And it has frustrated me my entire career."
Would she get more recognition if she posed in a swimsuit? Sadly, that seems like a question that answers itself. It's definitely shown in research on the pressures professional women experience today. A 2011 report completed by Princeton University exploring why women drop out of public leadership positions found that among the reasons was a sense that, for women, being qualified for a job was not enough. One student cited the "number of extremely high expectations of women....they are supposed to be smart, driven, involved in many different activities (as are men), and, in addition, they are supposed to be pretty, sexy, thin, nice, and friendly." As one alumna put it in the study, women today are expected "do everything, do it well, and look hot while doing it." Lloyd surely feels their pain. There is no doubt she's one of the best (if not the best) female soccer players in the world. But somehow she gets a fraction of the recognition that her bikini model teammates receive.
Would the FIFA marketing machine slap her face on the next match promo piece if she had a better Instagram strategy? If she came across as sexier, spunkier, and more likely to have a seat at the cool kids' table? Would she be recognized then? Maybe. Would it be worth it? Not if she prioritizes being authentic over seeking recognition from others. Because she's made it clear that's not her.
"I feel like if that spotlight had gone to Carli years ago," says U.S. coach Jill Ellis, "I don't think we would have seen the performance that we did last summer [in the World Cup]." Sometimes the best athletes seem to have a perpetual chip on their shoulder; a relentless feeling that what they really want is just beyond their grasp. Maybe Carli Lloyd will never feel that she's arrived to an adequate level of stardom. But maybe that feeling will continue to propel her to be the very best soccer player that she can be. And maybe one day that will be enough, whether for the media that ultimately dictates her fame, or simply for herself, when she catches a glimpse of herself in the mirror and she recognizes herself for what she is: Not just a game winner, but a game changer. Anyone can recognize that.
Photo: Getty