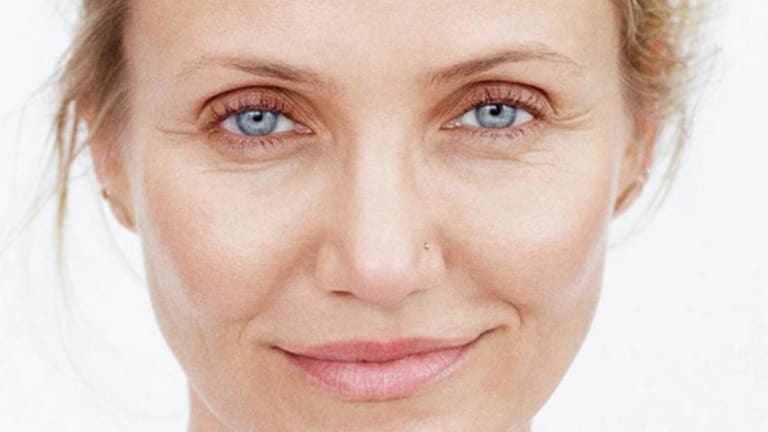 Cameron Diaz Didn't Always Believe in Marriage, But She Says That's Changed
In some ways, the growing pains and joys of marriage are the same.
Cameron Diaz, once known as the beautiful blonde from our favorite rom-coms and, of course, Charlie's Angels, has become something of a poster child for health, fitness, and single living—that is, until she settled down this past year to marry musician and producer Benji Madden. This week, Diaz appeared on The Ellen DeGeneres Show, where she reflected on her new book, aging, and her first year of marriage.
For Diaz, wisdom certainly comes with age. She recently published The Longevity Book: The Science of Aging, the Biology of Strength, and the Privilege of Time, following her number one New York Times bestseller The Body Book. In Longevity, Diaz opens a conversation with her peers on what has been a taboo but essential topic in our society: the aging female body. Diaz shared her philosophy, "Aging is just living. How well you live is how well you age."
But the far more interesting conversation was actually on her new marriage—all the more surprising, as Diaz had been very vocal about her desire to remain single. In 2012, she told Esquire, "I certainly didn't want it in my twenties. Or my thirties." She shared with InStyle in May 2014, "I don't know if anyone is really naturally monogamous." And in Marie Claire's November 2014 issue, she noted, "I'm not looking for a husband or marriage. . . . I'm living, not thinking what I should or shouldn't be doing with my life."
But her thoughts on marriage have certainly evolved. She tied the knot with Madden on January 5, 2015.
Diaz's favorite thing about marriage so far? "I just learned so much about myself. I didn't know these things. I wouldn't have ever known them if I didn't meet my husband, and he helped me." And her least favorite? "Well, I learned all of these things about myself that I wished I never learned about myself. And I wouldn't have known it if I didn't get married! It's a double-edged sword."
It's interesting to see how, as she grows older, Diaz now views her marriage as both beneficial and essential to her health and well-being rather than as something she didn't want and at times didn't even believe in.
Diaz does note that marriage alone doesn't have to be the key to our longevity. "Our relationships are very important, any kind of relationship, it doesn't just have to be a marriage. Think of it as a purpose for living even if you're engaged in something that you really think is important.
"But I do think my marriage, my experience with it . . . when you can grow with someone, it's very important." She admits that when it comes to her marriage, "I'm so grateful for it because I couldn't do it without my husband, and I couldn't do it with anyone else except for him."
I think it's especially refreshing to hear Diaz's transformed views because they ring true to me and my experience as well. There is something paradoxical and powerful about partnerships like marriage—we can go on for years as a free agent trying to figure out our path and learn everything about ourselves on our own, but sometimes it isn't until we commit ourselves to another person or mission that we truly get most in touch with ourselves. I agree with Diaz—that may be the most painful part about marriage, but it's also the most beautiful.
Photo Credit: Harper Wave