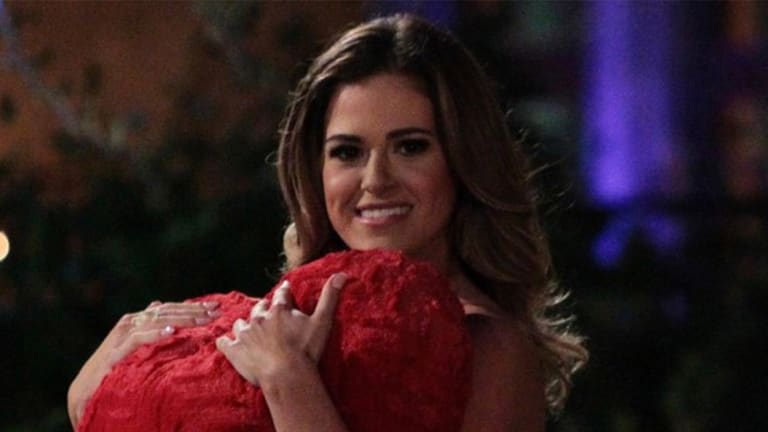 The Bachelorette Season Premiere: Is There Anything Sexier Than a Man in a Santa Suit?
We watched the new season premiere so that you don't have to.
For just shy of fifteen years now, we've been tuning in to ABC to watch as some boy or girl next door takes to the world's stage in search of true love. The Bachelor's first season left Trista Rehn as the heartbroken runner-up. But don't worry—ABC didn't leave her out in the cold. They developed a sister series to let Rehn try her luck again. And thus began a seesaw of The Bachelor and The Bachelorette taking last season's jilted single onward for round two of the most unrealistic and impossible-to-look-away-from whirlwind romance known to man.
Ironically, Rehn and her winner Ryan Sutter, harking back to those initial seasons, are the brands' most notable success story. They're still married and have two kids. Subsequent seasons can't claim to have quite as much success, but there's something fascinating, if completely ridiculous, about watching men and women try to find their lifelong mate on national television.
In case you've never indulged in this guilty pleasure, allow me to orient you. Each season begins with one head lady or gent and a pool of roughly twenty-five singles vying for her or his affections. It goes without saying, but yes, they are all uncharacteristically good looking. The group lives in a sprawling California mansion for the duration of the show. Well, that is until the final couple weeks when they all embark on world travels together. You know, to see how their love fares under tenuous tropical vacation conditions.
The plot is pretty standard across seasons. There are initial group dates—very awkward. Then we move into two-on-one dates—even more awkward. Toward the end we finally see one-on-one interaction—slightly more normal. And finally, hometown dates—where we meet the fam. In each scenario, the suitors face the threat of on-the-spot elimination. If they survive the dates, they go on to the weekly pinnacle of the show: the rose ceremony. It is here, with dramatic music and slow pauses, that the contestants either receive a rose and the gift of one more week to woo his or her one true love or they are sent packing—back to the real world to find love like the rest of us.
This year, we've decided to follow along with the action, because you all know I can't resist a good maybe-love story. Will there be a proposal in the finale? We'll see. Will there be lots of feuding testosterone and cheesy pick-ups lines? Guaranteed. Say what you will about the show, but there are lessons to be learned (even if only in what not to do), and we'll be watching to see just what they are.
After experiencing heartbreak on Ben Higgins' season of The Bachelor, Texan JoJo Fletcher has again put her real-estate developer career on hold to find love, but this time she is the one dolling out the roses. Episode one began as all premieres do with the show's alumni offering their sound advice. Don't get distracted by all the hot bods, they warned. If chiseled abs are the worst of concerns, what could possibly go wrong?
Fletcher promises to do her best and leaves to meet the herd of men vying for her heart. Not many of us get to make our first impression with a bejeweled evening gown, but hey, most of us are not JoJo Fletcher. Alas, this love-seeker was ready to be swept off her feet.
Here is what went down on the first episode of The Bachelorette.
The Introductions
What do you say to a beautiful woman on a blind date? I'll tell you what you don't say, anything about your male genitalia—even in innuendo—EVER. Looking at you, Jonathan with the kilt and the other pervy guy who handed her "his" blue stress balls. Gross! I mean seriously, you had all night to think of something clever to say and the best you could muster was a suggestive joke about your anatomy? Stop, get back in that limo, and remind yourself why you are still single.
The guy who got it right? Mr. NFL Footballer, Jordan Rodgers, who gave her a hug and a little encouragement. He reminded her that his parents have been married for thirty-something years—that real love does exist. BOOM. If more guys used that as a pick up line, I wager the world would be a better place.
The Guys Make Their Moves
I don't know about Fletcher, but there is nothing that turns me off more than a man who talks about himself the entire first date. Let me steal you away for a moment here so I can tell you more about myself, they say. If you are looking to differentiate yourself from the pack—and most every other man she has even been with on a date—try asking her about herself, guys. It will be a refreshing change, I promise.
Other than that, and the painfully strategic hand placement maneuvers, the only other cringeworthy moment was when that one guy went in for the kill after asking her to play origami. No amount of paper folding is that romantic, Will.
Oh! and then there is Mr. Canada whose only encounter with Fletcher was being told to "put his clothes on!" after he ambushed her with his pants down. I know Prime Minister Justin Trudeau is shaking his head up there in The Great White North. And so are we.
Red Roses, Red Flags
The highlight of the rose ceremony was definitely watching the guy who maintained full Santa character—beard and all—throughout the entire episode nervously perspiring under his Santa hat. Please, he should have known he was a shoe in. Women can't resist a man in a mask, right?
Who got the First Impression rose? Mr. NFL guy of course. No Hail Mary pass needed here. Talk of real love and commitment is a TD for sure. But there's also the fact that his competition included men who lost their clothes, got wasted and leaned on her, wore kilts (but let's not blame it on the kilt—his "I'm not wearing panties" intro line was the nail in the coffin), and really, like really, rushed a kiss.
There are a couple red rose recipients who raised a red flag for me, and I'm kind of concerned that Fletcher hasn't spotted them. The first and most glaring red flag—Nudest Canadian. Need I say more? He responded to a stressful situation by removing all of his clothes? I'd say he has some deeper emotional and psychological issues he needs to be dealing with. Ain't nobody got time for that in this whirlwind romance.
Second red flag anyone could see coming a mile away was Chad's serious latent anger management issues. This guy has hostility written all over his face and his interviews were full of defensive criticism. Unfortunately, Fletcher is not privvy to the interviews, we are. And this guy is a classic salesmen when he is with her. We are watching you, Chad.
As for next week? I am looking forward to finding out what's behind that Santa facade. Actually, the way his competition is looking, if he keeps up the Santa thing he just might find himself a Mrs. Clause.
Photo Credit: ABC