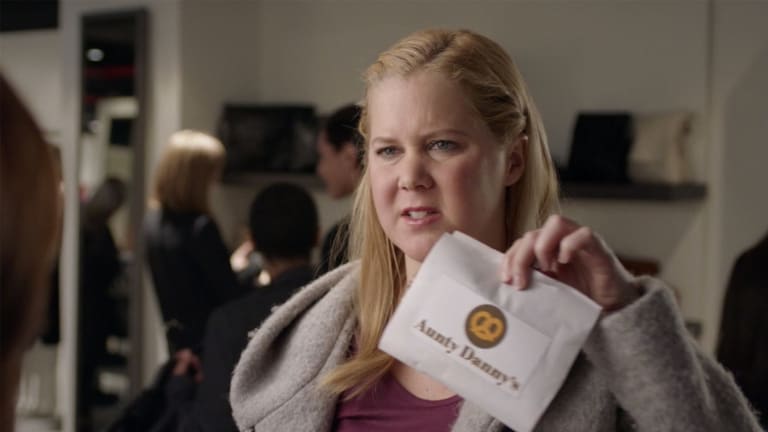 Amy Schumer's Shopping Sketch Is Funny and Sad All at the Same Time
We've all been to that kind of store.
On the cover of its May issue, Vanity Fair declared Amy Schumer to be America's kid sister. Indeed she has become quite omnipresent, thanks to her fearless comedic takedown of modern stereotypes. Most recently she released a clip of an upcoming bit for her Comedy Central show Inside Amy Schumer to Vanity Fair. The sketch, like so much of Schumer's material, deals with the absurdities and double standards of being a modern woman. In this case, it's clothes shopping when you aren't a size 2.
In general, I'm not a big fan of Schumer—I don't find her particular brand of vulgarity honest or engaging, I find it derivative and uninteresting. The nice thing about feminism, though, is that I can acknowledge when a woman I'm not a big fan of draws attention to aspects of the female experience in an effective (and entertaining) way. In her latest skit she managed to deftly capture what takes place in one of those upscale boutiques. You know the one with a sparse monochromatic collection of clothes? As she rifles through toddler-sized T-shirts, a salesperson approaches her with that look on her face—the look that says, "You don't belong." After struggling to process what "larger size" means, the salesperson suggests, condescendingly, that Schumer look at their jewelry selection. Amy gets impatient and begins to leave. Not wanting to miss out on commission, the clerk brightens and says she has just the solution for Amy's "...sit-U-ation." 
What follows is, as Vanity Fair puts it, a Kafka-esque journey through the dressing room to an open field with a grazing Holstein cow. Another field grazer is Lena Dunham (who, viewers beware, is wearing nothing but a clear raincoat and Spanx). Dunham explains that she showed up at the store three months ago looking for a turtleneck and was escorted to this strange mythical pasture where she's been ever since. Amy is then sold a tarp, typically used to cover firewood since it's great for "hiding problem areas."
What's so genius about this skit is that the viewer is left wanting our brash blonde protagonist to deliver the string of obscenities we're all dying to direct at the exploitive superficial fashion complex, but she doesn't. Instead she accepts a giant soft pretzel the salesperson includes with her tarp purchase ("assuming that's where you're going next") without much argument. 
A few times throughout this sketch, Schumer looks like she might be offended or fed up, but each time she goes along with whatever the woman might be kind enough to offer—even a blue plastic tarp. Haven't we all done that—bought something we don't really want, need, or like to avoid feeling shameful in those pejorative stores? 
The question is: Are we trying to prove something to the salesperson or, worse, to ourselves?
Schumer, with her team of writers, managed to pack quite a bit of relevant commentary into a few minutes without being didactic. What struck me most was that we're shown Schumer and Dunham relegated to no-man's land because they wear a size 8. Schumer recently criticized Glamour for lumping her with "plus size" women on their cover, given that size 8 is average, while plus size is usually considered 12 and up.
While Schumer's skit is only a dramatization of what happens when any woman above an sample size walks into a store, it is a solid reminder of something important. While not every one of us can say we have an Emmy, a Golden Globe, a successful show on a cable network, or a New York Times bestseller credit to our names, we contain infinitely more within us than the labels we wear. 
Any designer or brand that makes you feel less than, who put the metaphorical pretzel in your bag so-to-speak, doesn't deserve your money, your endorsement, or your dignity. It may seem like a tiny and silly detail in the scheme of things, but if we can laugh off and tune out the competitive dogma surrounding our physical appearances, we are on the right track. And with humor and wit, Schumer's skit  helps to do just that.
Image: Comedy Central