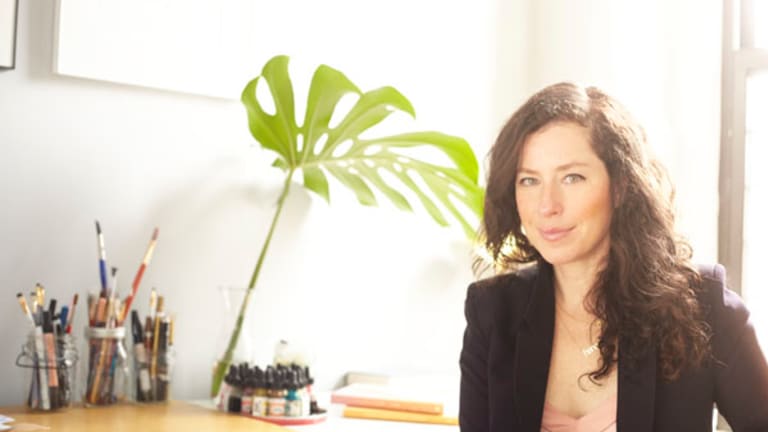 An Illustrator Captures the Journey of Motherhood in Her New Book
This beautiful book is a treasure trove of moments from the incredible journey of motherhood.
Motherhood powerfully transformed my life, and it transformed me. It presents a constant whirlwind of simultaneous, often conflicting emotions. We are deeply in love and deeply exhausted, exasperated and proud, worried and blissful—these feelings form their own special harmony, unique only to the experience of bearing a child.
Nothing in life prepared me for the instant mad love I felt at the first sight of each of my children, or the emotion I feel each time I smell them or feel the softness of their skin and the warmth of their bodies. To be a mother is sublime.
Try as I may, I've found the journey of motherhood incredibly hard to put into words. Still, because it is the most powerful thing I've experienced, I tasked myself with trying to capture it. As an illustrator, I knew I could put into art whatever couldn't be adequately spoken.
I began work on my book, A Mother Is a Story, while pregnant with my second child, Vivian. I continued it through the pregnancy, the birth, and the first year of her life. Simply curating the quotes struck me as I navigated so much flux in our lives. Vivi was growing so fast; my son, Henry, was going to school for the first time and navigating the change of tides that brings. Watching them and living in this intense bubble of emotion really inspired me.
Sometimes I find it impossible to stay in the moment because motherhood feels like I'm watching the proverbial pot, but it's boiling fast, right before my eyes. All of a sudden my little baby son is missing his front teeth, riding a bike with gears, and regaling me with fascinating facts about hawks and Goliath beetles. All of a sudden my swaddled baby girl who smells of sweet milk is running around in big-girl shoes and sliding down the big-kid slide.
"How did this happen?" I wonder. I work to prepare them for the day when they need me in their hearts but can, alas, stand apart from me. Even still, I crave physical closeness—those moments of total envelopment when they climb into my lap and we become one again. I beam with pride at their accomplishments and growth, but there are little twinges of pain because these things are reminders of how quickly it's all going by.
While the present feels like a bullet train, the past becomes a hazy dream. Everything I was and did before motherhood seems a bit vague, like I started truly living my fullest life when the children arrived. I believe strongly that people should have the raison d'être they choose and that there's no "right path" for anyone to follow. I have just found that my deepest meaning comes from my family. When I'm with them I feel most complete, most engaged, and most in love with life. Even during the trials and tribulations of parenthood (and boy oh boy, are there many), I feel rooted and connected in the deepest way to these little, sweet people and my husband, without whom this life would not exist.
After giving birth to Henry, I remember looking around at women on the street and thinking, "Wow, you did this too!" I felt an automatic connection even with strangers. Becoming a mother gives you insight into the mind of your own mother and grandmother; it allows you to see from their perspectives for the first time and deepens the bonds you share. The world looks different, and you are somehow even more grounded in it, more connected than ever before. It was then that I realized the richness of the experience, so full of glorious, messy, sometimes terrifying beauty.
Creating this book, I wanted to see if it was possible to portray this shared experience of motherhood. Instead, I've found that each idea resonates at different moments, as different aspects of this incredible journey come to pass. I selected quotations that I hope mothers of all ages and stages can recognize themselves in, words that can profoundly stir treasured memories of our children at each stage of life. I created my illustrations to convey my sense of the emotions of those words, the fragile, titanic beauty of the deepest love—the love of a mother for her children.
Samanthan Hahn is a Brooklyn-based illustrator and author of A Mother Is A Story. 
Photo credit: Nick Steever