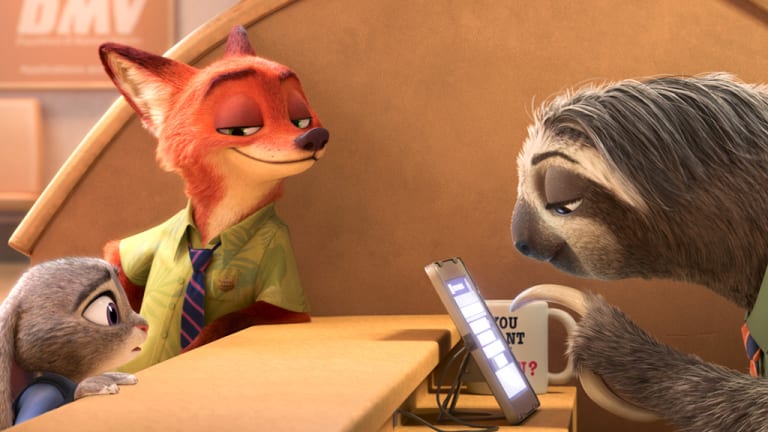 5 Reasons You Should Go See Zootopia (Even if You Don't Like Kid Movies)
Just like Inside Out, this 'kid' movie has a lot to offer.
The months in between Oscar season and summer blockbusters can be a bit of a letdown for movies in the theater, but this year, there is at least one movie that is most definitely worth seeing on the big screen—Zootopia.
Released in March, Zootopia has a 98 percent rating on Rotten Tomatoes, with everyone from 5-year-olds to 95-year-olds rushing to the theaters to see this gem. Don't let the animation fool you—this is a must-see for even the most hardened of non-kiddie moviegoers. Without spoiling too much of the plot, here are five reasons to "hop" on the Zootopia bandwagon.
01. What seems like a silly film actually has a powerful message.
Zootopia is about more than funny sloths. If you went to the movies at all over the winter, you saw the trailer for Zootopia, featuring the two main characters (Judy the bunny and Nick the fox) having a frustrating encounter with a group of sloths. The scene is quite funny, very well done (I empathized quite strongly with the bunny), and did a great job marketing the movie for kids. The real content of the movie however, turned out to be a pleasant, and very relevant, surprise. Zootopia is a super-smart social commentary that everyone can benefit from.
02. You don't have to be perfect to make a difference in the world.
I don't think it is a spoiler to say that Judy dreams of being a police officer—the first bunny police officer, to be exact. She has big ambitions to move from her farm to the big city to make a difference, but Judy's path to success is not without problems. Despite Judy's good intentions, she makes some pretty large slipups that reveal some deep-seated prejudices that her character has to overcome. Despite being a cartoon bunny, Judy is a realistic and fully fleshed-out character, and she and the other animals offer the audience many opportunities for identification and self-reflection. Nobody is perfect, but we can't let that stop us from trying to create a better world for ourselves.
03. What makes you unique is worth celebrating.
One of the most delightful sequences in the movie shows how the city of Zootopia has adapted to house all different types of animals—there are different climates, and the public transportation has different size doors to accommodate everything from elephants to mice. Even before we see Zootopia, Judy encounters difficulty during her police training because the tests were made for much larger animals. Not to be deterred, Judy realizes that she can use her smallness and quickness to her advantage—and that what makes her different than her classmates can actually help her in the long run.
04. Don't judge a book by its cover.
Yes, it's a cliché, but Zootopia puts a fresh spin on the old saying. The characters in the movie both play into stereotypes and fight against them, often in surprising ways. Again, I don't want to take away the fun by revealing too much, but suffice it to say, you will find yourself both laughing out loud and cringing as the parallels you thought the writers were drawing between the different animals and humans get scrambled.
05. Zootopia may tackle serious topics, but it is not without humor.
There are some seriously funny adult pop culture references that will fly right over kids' heads. Shakira, The Godfather, and Breaking Bad all show up in the movie, inspiring a seriously adorable Q&A between a father and son that I overheard afterward.
Bottom line is, if you are looking for a fun and thought-provoking way to spend an afternoon (or an evening, if you want to see it with a higher percentage of adults), give Zootopia a try. A movie this smart deserves to be seen on the big screen and discussed with an adult.
Photo Credit: Walt Disney Studios Motion Pictures