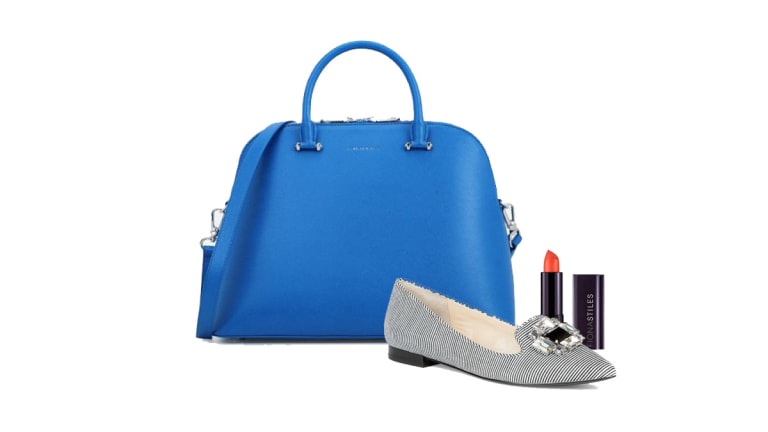 7 Easy Ways to Look Ladylike and Professional
Elegant style that's made for the office.
Office wear has a bad reputation for being boring and humdrum. When the overarching expectation to "look professional" is looming over your head every morning, it's easy to let your personal style slip. If you're struggling to find a balance between your taste and corporate dress codes, try incorporating some ladylike elements into your outfit to spice it up. Follow our guide below, and you'll be feeling both professional and stylishly ladylike in no time.
01. A-Line-Accentuating Jackets and Coats //
It's all about that silhouette. Ladies, don't hide your curves in a shapeless coat. Accentuate your feminine shape by wearing an A-line trench coat that ties at the waist, giving the illusion of a ladylike flared skirt. The trench coat is versatile for any occasion, but its structure and timeless appeal makes it especially appropriate for the office.
02. Feminine Scarves //
A silk square scarf delicately tied around the neck has a way of making any woman look and feel like a 1950s starlet. It's an easy way to incorporate some classic glamour into your wardrobe—and who couldn't use a little bit of glamour in their life?
03. Pay Attention to Little Details //
Paying attention to the little details of your accessories gives an air of being pulled-together and composed. Looking like you took the time to expertly match your jewelry will do a lot for your professional appeal as well as your confidence. What we wear impacts the way others see us and how we see ourselves, so paying attention to the little details is more powerful than we think.
04. Bright Splashes of Color //
Incorporating bright and bold colors is a great way to have fun with your office wear while remaining classy and ladylike. First, make sure you choose items that are formal in structure, such as a professional leather handbag or sleek pumps. Then select it in a daring color like cobalt blue, fire engine red, or bright lavender. It may seem gutsy to wear such a bright color to work, but it's all in your attitude. If you feel confident and professional, you'll give off that vibe.
05. Waist-Cinching LBD //
It really doesn't get more ladylike than a classic little black dress. LBDs are versatile enough for both workday conference calls and late-night cocktails. They make dressing in the morning extra-easy and can be transformed every week with different accessories—talk about wardrobe stretching. To make this look even more ladylike, highlight your waist with a skinny belt.
06. Fresh and Fun Makeup //
Who said work makeup had to be boring . . . or nonexistent, even? When the daily grind gets mundane, try experimenting with makeup to liven up your day. Bright orange-red lipstick, peachy blush, a bold cat eye, and light blue nail polish are all fun and modern, yet they don't deviate too far from a work-appropriate look. Just stay away from the blue eye shadow.
07. Patterned Shoes //
When it comes to office-appropriate menswear shoes, the options are pretty slim. But as women, nobody bats an eye when we get quirky with our workwear shoes—so why not take advantage of that? Plaid, checkered, striped, floral . . . you name it. Don't be afraid to express your creative flair with these bold patterns. They will be the highlight of your outfit.