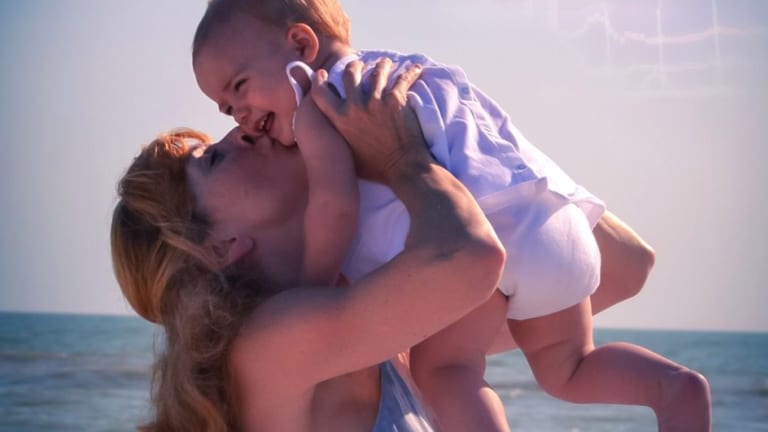 Is There Such a Thing as Leaning In Too Far?
Former Wall Street CFO Erin Callan Montella thinks so.
In her recently released memoir, Full Circle: A Memoir of Leaning In Too Far and the Journey Back, former Wall Street CFO Erin Callan Montella confesses that she found her self-worth solely from her career, "where it was much less complicated to find than in real life." Her story is the foil to Sheryl Sandberg's Lean In mantra—a near-cautionary tale about the consequences of "leaning in too far."
I can tell you, as a woman who has worked at a Fortune 500 company and walked away from a six-figure income to be a stay-at-home mom—finding myself unfulfilled in both circumstances—what I know is this: There is no wrong way to lean, the trick is just to make damn sure that you do, in fact, lean.
When I was at what appeared to be the height of my professional success, making a decent living, racking up frequent flier miles and expensing fancy dinners, in many ways I was just doing the next thing. I wasn't carefully considering how my job cultivated my strengths or challenged my weaknesses, or how it might serve as a vehicle to help me become a better or happier version of myself. When I lobbied for a bigger raise than what my boss initially offered at my three-year review, I earnestly mentioned that my ten-year plan was to still be with that company, climbing the ranks and adding value. But to what end? What was my ten-year plan for who I would be, rather than simply what I would do? I hadn't really thought about it.
By the time my husband and I decided to have kids, the shine of my professional success had started to wear off. The fact that I slept with my cell phone on my nightstand in case a client sent a 5 a.m. order—in 2009 when smartphones hadn't taken over yet, a cell phone on the nightstand was noteworthy—felt like a sign that I was headed in the wrong direction. I started to dread Sunday evenings because they brought the depression of another impending week of stress. The Sunday dread started to creep earlier and earlier, until there was no more denying that I needed to make a change. I couldn't just do the next thing anymore.
So when my son was born in 2010, I quit cold turkey. I didn't feel like I had any other option, really. Dropping out had essentially become the new next thing, and I didn't take the time to consider how that choice might contribute to my own personal evolution either. Nevertheless, it was glorious. Until it wasn't. 
About a year in, the shine wore off of the stay-at-home-mom gig, too, and I was forced to face the fact that if I wanted to find balance I had to be intentional about it. I couldn't just do the next thing anymore. I couldn't just apply for the next promotion or sign up for the next session of mommy-and-me classes and expect that to fulfill me. I had to figure out what it was that I wanted for myself—who I wanted to be—and I had to lean hard in that direction lest I continue to idle along in no particular direction at all.
Montella's self-published memoir chronicles her journey through Harvard, NYU Law School, a five-year stint at a Manhattan law firm, and her eventual climb up the ranks at Lehman Brothers, where she found herself as the CFO during the financial crisis of 2008, when everything fell apart. But that's just the first quarter of the book, the set-up. The story that she really wants to tell is the story of how she lost herself somewhere in all that success, and how she eventually found herself again after a handful of failed relationships, including a divorce and a total collapse of the industry in which she had worked so hard to establish her career. In the end, Montella reconnects with a high school sweetheart and becomes a mom in her mid-forties, finally living her life in "real life" instead of existing only in the line items on her resumé. "And then," says Montella, "with a lot of struggle, I found myself again. I hadn't disappeared, I just went missing for a while."
It's in that realization—that she had gone missing in her own life as a consequence of her choices—that Montella's story can be the story of any woman, whether her choices lead her to a corner office or to a minivan and mid-week playdates. In a world where women are finally able to do anything we set our minds to (or so my parents and Mr. Rogers have been telling me since I was old enough to listen), it can sometimes feel paralyzing to have to actually make the choices.
To take the job offer. To marry the guy. To apply for the promotion. To try for a baby. To move for the job. To move for the guy. To volunteer for the committee. To quit the job. To survey the landscape of choices, to survey the landscape of your own identity, to decide what it is that you want for yourself—your real, authentic self—and to lean, choice by choice, in that direction.
After soul searching and therapy and prayer and yoga, I eventually discovered that I had the guts to chart a new course for myself entirely. I'm self employed as a freelance writer now, and while there are no expensed dinners and very few mid-week playdates on this path, it's finally a path that I chose for myself. It wasn't the next thing, it was the right thing.
So lean in. Or lean out. Take a breath, look around, listen to your gut. Realize that you're leaning in some direction, whether you realize it or not. So whatever you do, know that it's you who must set the direction of the leaning in your own life, and lean on.  
Photo Credit: Triple M Press