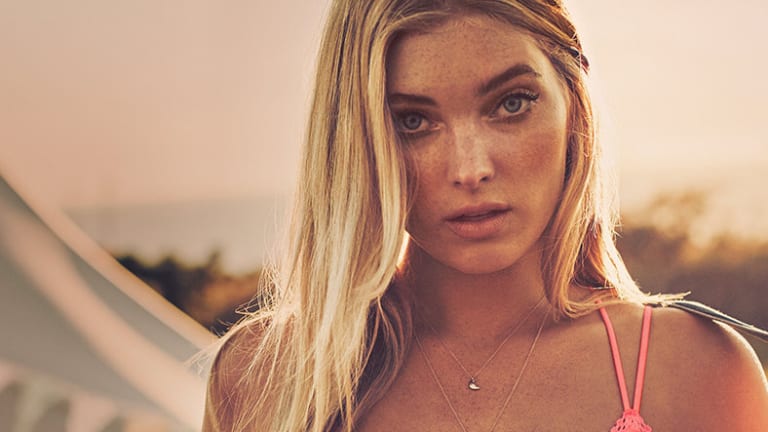 Victoria's Secret's Latest Campaign Is Proof That Chasing the 'Sexy' Ideal Is Pointless
The ideal body is always changing, so basing your identity on being "sexy" is never going to make you happy.
If you've been inside a mall or shopped for a new bra recently, you may have noticed a shift in Victoria's Secret marketing strategy. You still can't walk by without seeing a 12-by-24-foot image of a woman in her skivvies, and the VS website remains borderline pornographic. But where before there were exclusively busty women in pushup bras, the lingerie brand has made room for a different look: a new ad plastered on store windows and on the company's website reads "No padding is sexy now!" next to a photo of three cleavage-less young women in padless bras. If you dare to enter the pink and black lucite fortress, you'll find a store awash with an unprecedented variety of unpadded bras and bralettes: lace, spandex, racerback, high-neck, cut out, seamless, ones that close in back, ones that close in front.
Far be it from me to criticize Victoria's Secret for telling women that they can be sexy without a padded bra, but I can't help but chuckle at VS's new message about natural beauty. Why? Well, because Victoria's Secret has built an empire on doing just the opposite. 
For as long as I can remember, the store has been finding new ways for women to augment the size of their breasts. Who remembers the Bombshell bra unveiled in 2011 which promised to add two cup sizes (two!) to its wearers? In 2013, the company (somewhat unsuccessfully) pioneered the previously uncharted territory of "sexy" sportswear, designed to help women work out without sacrificing their cleavage. Going to the gym? The beach? To sleep? You don't have to sacrifice the appearance of large breasts to do so. Push-up sports bras, push up bikini tops, push up bandeaus: Victoria's Secret has a padded bra for every occasion.
So it is somewhat laughable that, after years of selling "sexy" in the form of a padded bra, Victoria's Secret is suddenly here to tell us we don't need one of their "enhancing" brassieres after all. Who knew I could tell my 16-year-old, flat-chested self that my highly uncool bra would be featured on the main banner of Victoria's Secret's website a decade later. 
Is Victoria's Secret redefining for women what qualifies as "sexy"? I doubt it. More likely, the company is simply responding to and capitalizing on the ever changing desires of a sex-addicted society. But for Victoria's Secret, queen of the padded bra, to make such a blatant flip flop accentuates the transient and limited nature of its business—sexiness, that is.
Now skinny is sexy, now curvy is sexy, now strong is sexy. Big breasts, small breasts, hips, no hips: each seems to find its way to the cover of Maxim, only to be supplanted the following year by something else.
I am not suggesting that sexiness is wholly subjective. But it is worth recognizing the impermanence of our culture's standards of "sexy," and the consequent futility of relentlessly pursuing it. The reality is that sexiness, like beauty, takes on multiple and varied forms and, as a result, our perception of the "ideal body" is constantly changing, ever elusive and, in my opinion, rather silly. 
This is only one of many reasons not to allow the pursuit of sexiness to dominate one's life, but it's an important one. Rather than struggling to keep up with an ideal that is destined to change, our time may be better spent learning to love ourselves as we are—cleavage or not.  
Photo: Victoria Secret