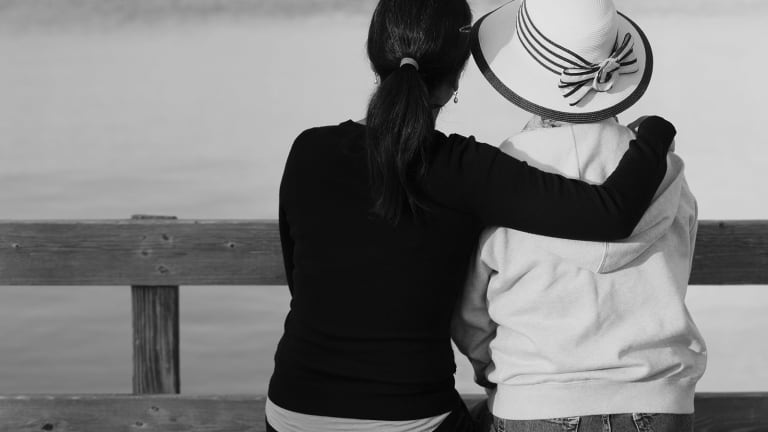 2016 Mother's Day Gift Ideas for Every Love Language
Show your mother how much you appreciate her this year by speaking her love language.
After decades of couples counseling and research, Dr. Gary Chapman, author of The Five Love Languages, found that everyone "speaks" a primary love language. Your love language is your preferred way to express and experience love emotionally. Dr. Chapman explains each love language here.
As we prepare for how we'd like to show the mothers and mother figures in our lives our love and appreciation, consider what her love language might be. If you don't know, Dr. Chapman suggests thinking about how they tend to express love to others: Do they give gifts, never fail to give you a hug, or offer to help you somehow? He also recommends observing what they tend to complain about most: "I never get to spend time with you." "You haven't called me in ages!" These will give you clues as to whether they're gifts, physical touch, acts of services, quality time, or words of affirmation are their love language.
Once you've figured it out, here are a few tried-and-true ideas we know are sure to make your mom feel as loved as she deserves to be.
Words of Affirmation
If she has been a source of "You're doing a great job!" "That looks great on you!" and "Everything will be OK" statements in your life, then this woman probably feels most loved when she receives affirming words too. 
This gorgeous "World's Best Mom" card by Rifle Paper Co. will delight the mama whose heart melts at a kind remark. 
If you're no Shakespeare, let this fill-in-the-blank You're So Awesome book help you do the talking. 
Feeling creative? Pick up a blank canvas for less than $10 and paint her favorite song lyric onto it as Verily articles editor Megan Madden did for her mom. "We Skyped while listening to the song. My mom's super into gushy things like that though." So are we!
Quality Time
This love language is all about giving the other person your undivided attention more than where or what you're doing. Keep the distractions to a minimum by engaging in an activity you're both familiar with and enjoy rather than something new. 
If you both love to cook, plan a date and replace an old tool, like this classic and clean British Porcelain Mortar & Pestle. 
If you're both artistic, Verily culture editor Mary Rose Somarriba suggests going on a paint and wine date where you get to take home your masterpiece. 
Verily style editor Lilly Bozzone split an Airbnb rental with her sisters to spend a weekend away with their mom (adorable!). 
If an extravagant gift isn't in the budget or there's a long distance between you, as it has been with Megan and her mother, grab a cup of coffee and have a long and leisurely Skype or FaceTime date. No matter what you choose, it should be an opportunity to catch up and really listen to this woman who means so much to you.
Acts of Service
For these women, actions speak louder than words. Chances are she's been of more service to others than she has been to herself—and would delight in someone offering her a helping hand (or a day off). 
Give your mom the gift of doing by checking something off her list that she's wanted done for ages but never gets around to: fix that squeaky hinge, organize all the digital photos of the grandkids, or offer to purge the basement (which is probably filled with your high school castoffs anyway!).
Help her prioritize self-care by treating her to a DIY relaxation kit: include a de-stressing adult coloring book or a similar alternative, a good book, essential oils, an artisinal botanical candle by Wax Apothecary, or a DIY terrarium kit.
Breakfast in bed is thoughtful, sweet, and oh-so-affordable. Emily Brett, Verily's graphic designer, shares, "For Mother's Day every year, my brother, dad and I wake up early and make my mom a full breakfast, then serve it to her. It's a little treat that she really appreciates and looks forward to each year!"
Physical Touch
To this mom, nothing speaks more deeply than a warm hug, linking arms, a kiss on the cheek, or a tender squeeze on the arm. 
Ready to make a physical touch mom feel super-special? Mary Rose recommends buying a new nail polish shade that complements her skin tone and giving her an at-home mani/pedi (we can hear the spa bells ringing). 
Give her a much needed neck or back rub, or book an hour-long massage delivered to the comfort of her own home or office through the Soothe app for $99 (tip included). 
Reduce her stress and refresh her mood by rubbing a bit of essential oils from doTERRA onto her temples, behind her neck and ears, and on her wrists. Ah, serenity.
Gifts
For some, what makes them feel most loved is to receive a gift. Dr. Chapman advises, "Don't mistake this love language for materialism; the receiver of gifts thrives on the love, thoughtfulness, and effort behind the gift." The perfect gift or gesture shows that she is known, cared for, and prized above whatever was sacrificed to bring the gift to her. It's difficult for us to recommend the perfect gift because it depends so much on the individual. But we do have a few ideas based on our own experiences. 
If you notice her hands need a little TLC, Emily recommends l'Occitane's popular hand cream with Shea butter and honey. 
If she's always hunting people down for photos, collect them from family members and create a personalized photo book of special gatherings. Our lifestyle editor Kriza Liquido's mother-in-law loves these!
Megan bought a gorgeously illustrated book titled A Mother Is a Story by Samantha Hahn for her own mom this year. Her accompanying journal, Stories for My Child, is a thoughtful opportunity for mom to record milestones and experiences to cherish. 
Sophie Caldecott, Verily's special projects manager, recommends getting a voucher for an online class in calligraphy, macaron making, book binding, or photography from atly for the woman who wants to broaden her repertoire of talents. 
For something that will remind her of you year-round, consider jewelry. Megan shares, "My mom, sister, and I all have matching rings, which makes us feel united when we're apart."
Whatever you choose for the special women in your life, we hope some of these ideas help you find the perfect gifts that make them feel most loved this Mother's Day.
Photo Credit: Adobe Stock