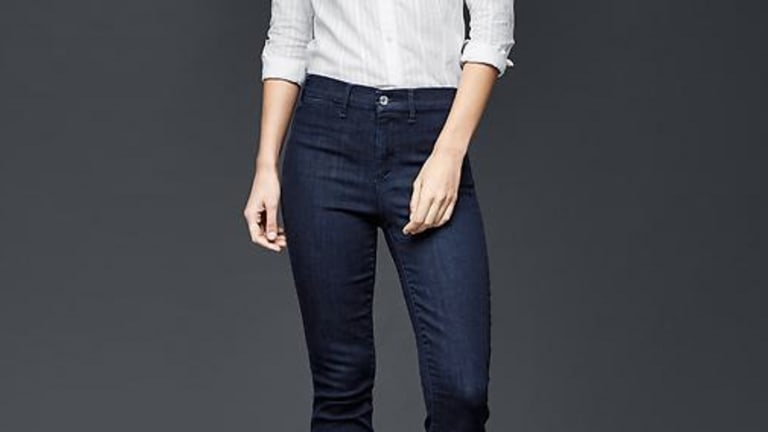 The Best Jeans for Your Body Shape and Where to Find Them
This will make your quest for the perfect jeans so much easier.
Every woman is on the quest for the jeans. The dream jeans that flatter every line and curve of her body and make her look her absolute best. To help you find those perfect baby blues, we have a guide for all shapes, sizes, and budgets.
A Note on Length: No matter how tall or short you are, your body type will fall into one of the categories below. Begin by finding your body type and the jeans that flatter it most, and then go online and order the same style in short or tall lengths. No, it's not convenient, but it's the best way to find jeans that will flatter your body and give you the length you need. If you're shopping in-store, try on the straight size, and then ask the salesperson if you can order the same size in the length you want.
Hourglass // Contoured Waistband
If you're an hourglass shape, the biggest complaint I hear about jean shopping is "waist gapping." This is when everything about the pant fits your body—except the waistband, resulting in a gap effect above your rear. Because hourglasses are known for their small waists and full hips, the key to finding flattering jeans is to find a pair with a contoured waistband. This means the waistband was cut on a curve, not a straight line. In other words, the waistband is cut to mimic the natural shape of your waist.
Luckily for you, hourglasses are proportionate and have the ability to rock any jean style, so long as you find the right waistband. Steer clear of waistbands that are boxy or low rise—they are cut straight across. Many women with a smaller waist and full hips and rear love jeggings because the fit is stretchy, contouring, and hugs every curve. If you're not a fan of jeggings, just make sure you find a pair of jeans with slight stretch and a mid rise. Avoid low rises that hit below your hip bones; they will exaggerate this wider point of your body. Choose rises that hit at your hip bone or just below your belly button, naturally following the narrowing of your waistline.
Pear // Higher Rise
Pear-shaped women often have similar waist-gapping issues as hourglass women, so many of the same rules apply when finding a pair of flattering jeans. If you've got a lot goin' on in the hips, thighs, and rear but have a smaller waist and narrow shoulders, then you are a pear shape. Pear shapes struggle the most when finding a pair of dream jeans because the hips, thighs, and butt are highlighted the most in form-fitting denim. But have no fear, there are styles that flatter.
To make the experience easier for yourself, begin by forgoing all low-rise jeans, light washes, rigid denim blends, and destroyed styles. The low-rise jeans will cut across the widest part of your body and have you fearing plumber's crack all day. Light washes and destroyed styles will also create the illusion of having more volume on the bottom. Rigid denim blends will not move with your curves, and you'll be feeling restricted all day. Stick to mid-rise or high-rise jeans that have a contoured waistband that hits at the hip bones or the belly button. This waist will keep your hips and rear compact while seamlessly blending into your natural waistline (yes, please!). You will also find that darker and stretchier fabrics are the most flattering because they elongate the legs. Consider flared styles that will balance out the volume of your hips, thighs, and rear to give you an overall hourglass silhouette.
Heart + Apple // Mid-Rise Straight Waistband
If you have a heart, apple, or inverted triangle shape, your denim concerns are vastly different from an hourglass or pear shape. Instead of needing optimal booty coverage, you need tummy coverage. Select a mid-rise jean that hits just below your belly button so that it will give some structure to this area. You want to have a little give in the waistline in order to avoid any uncomfortable digging in, so pick a pair of jeans that have some stretch.
A heart shape typically has skinnier legs and narrow hips, so you also want to show off your legs while creating some curves. While a skinny jean is a classic staple for any wardrobe, try out a straight or bootcut fit in order to give your leg silhouette a little more volume and to balance out your torso. Also, look for jeans that have smaller pockets placed higher up on the seat to give your rear end a little lift.
Rectangle + Athletic // Low Rise
Rectangle and athletic shapes have the most freedom when choosing jeans. Because your body type is often described as "straight up and down," you will be selecting jeans to play up or create the illusion of curves instead of downplaying. Your instinct might be to choose high-waisted jeans in order to force the illusion of having a smaller waist, but a high rise will actually only emphasize your boxier waistline. Rather, choose a waistband that cuts straight across your hips to create the illusion of width. This will give the appearance of having more variation throughout your silhouette, thus more curves.
As for styles, choose jeans that are fitted around the thighs and rear but also have a flare. The flare will balance out an otherwise boxy silhouette by creating volume. Of course, a leg-hugging skinny jean will also look fantastic on you, so try on as many pairs as it takes to find your dream fit.