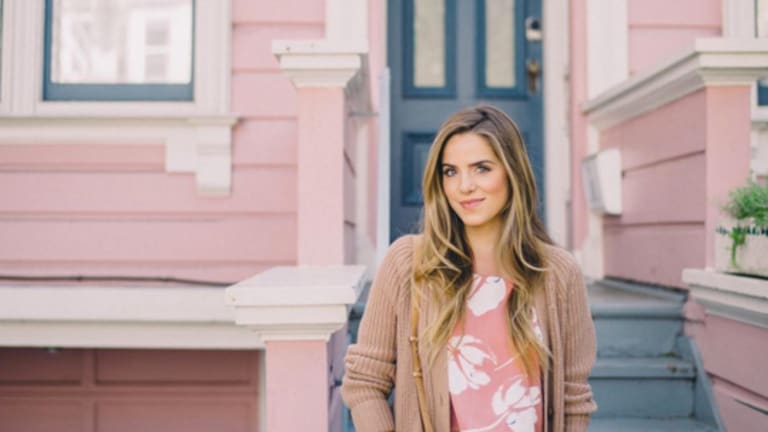 5 Clever Tips to Help You Dress for the Fickle Spring Weather
Cold or warm, rainy or sunny? These tips will keep your style on point when the forecast is at its most unpredictable.
We've all been there—we get excited by one week of warm weather, only to be let down by two more weeks of gusty winds and 40-degree temps. Fickle spring weather can make even the most fashionable woman's outfit look confused. Is it going to be cold or warm today? Will it drop ten degrees in one hour? For those struggling to predict the weather, we've got some tips to help you dress for a less-than-reliable forecast.
Embrace Longer Lengths //
An extra-long midi skirt is the best of both worlds: It's breezy and warm. You're pretty much wearing a blanket on your legs, so if it gets colder as the day goes on, you won't be bare-legging it all night long. Midis are also especially spring-appropriate and surprisingly versatile.
Incorporate Your Coat //
That beautiful sundress in your closet is calling your name, but it's not quite warm enough for bare arms and legs. Wearing a coat on top may seem like a major fashion no-no, but it actually can add even more style to your outfit. Best when done with a lightweight coat, such as a trench, you can belt it over your dress to enhance the A-line silhouette.
Mix Your Knits //
The light chiffon fabrics of spring are alluring, but when you step outside the door into 50-degree weather in a breezy romper, you will be regretting your outfit choice. But you don't have to banish these items until the summer months: Just throw on your favorite knit cardigan from the winter. Your creative knit and chiffon combo will look extra–fashion savvy, especially in longer lengths.
Get Creative with Extra Layers //
You set out in the morning wearing a bunch of layers, but now you're roasting. Instead of awkwardly lugging around your outerwear, make a fashion statement out of it. Tie your denim jacket around your waist to create a blogger-worthy outfit and have the option for extra warmth when the sun goes down.
Drape It //
Don't want to stuff your jacket in your bag or tie it around your waist? Draping it over your shoulders instantly creates a fancy appeal while also being available for instant warmth. To stay fashionable and warm, try this versatile jacket trick with your everyday outfits and even with your fancier dresses.