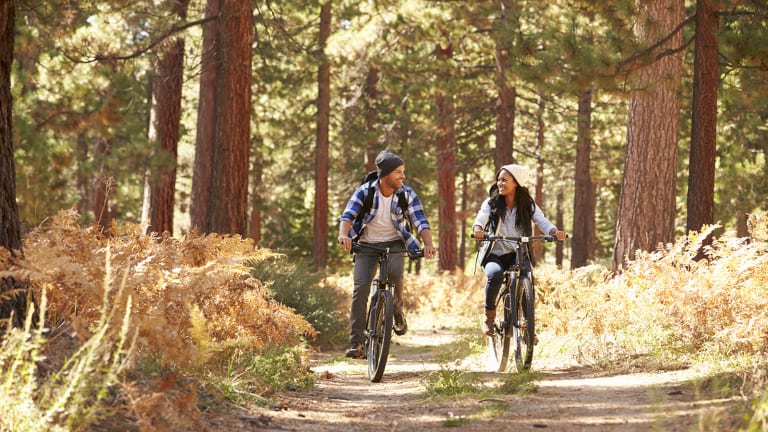 10 Spring Date Ideas That Will Help You Make the Most of the Season
The great outdoors is calling, and it's time to give your love life a little refresh.
Spring is finally here, which means it's time to look beyond our Netflix accounts and outside our windows for fun and romantic date ideas. Not that movie nights in are bad, but it's just that a little adventure is always a good thing for your love life.
You might be tired by now of my number one favorite date idea, which will always be hiking (no matter what the season), but there are tons of fun outdoor dates that will help you enjoy the best of the season. Here are the top ten must-try date ideas for spring.
01. Plant a garden. 
This date is my number one pick this spring. Head out to your local nursery or garden supply store, and pick one or two things to plant. This date is all about getting a little dirty and having fun. Never mind if you don't have a green thumb or a backyard you can dig around in—buy an easy-to-care-for succulent, and create a little terrarium for your space (or to gift to friends).
02. Rent a convertible. 
Skip paying for a fancy dinner and instead indulge in a little wind in your hair. When the weather is warm and the sun is shining, driving to and fro with a convertible top down is pure joy. Tell your guy that this date is on you, and show up at his door with the coolest convertible you can manage. Have a picnic packed and take a road trip to wherever it's green. Oh, and how romantic would it be to stay out late and enjoy a little stargazing? (Extra points if you download a stargazing app to show him what's what.)
03. Brewery tour. 
Unlike wineries, which must be nestled in rolling country hills, breweries can be found practically anywhere, and these days they are cropping up everywhere. Check out a local brewery near you. The artisan beer movement can typically be found in renovated warehouses, lending a neat vibe to a casual date. Enjoy a spot with live music and food truck cuisine for a complete date outing.
04. Leisurely bike ride. 
I don't know about you, but I resent dates that require me to wear spandex and sweat profusely. A date is an opportunity to flirt and get to know one another in a low-pressure environment, and I want to look my best. Bike rides are a fun date idea, but keep it leisurely. Strap your bikes on to the back of a car, and take them to some flat country roads with pretty scenery. Or bike around a quaint little town in which you can hop on and off to check out the sites. All this can be done in jeans and a cute top . . . no need to go spandex and sweatband on this one.
05. Escape the Room.
I know this isn't necessarily a spring-themed activity, but it's all the rage now, so why not. What's more romantic than getting locked in a room together for an hour and having to find a way out?! OK, maybe when you put it like that, it's a little creepy, but I have talked to people who have done it, and it's actually really fun. Each room comes with a different story and set of puzzles to solve to escape. Grab a drink or dinner afterward, and you can laugh and recap the whole ordeal together. There are Escape the Room locations in many major cities, so just do a little Googling to find a location near you.
06.  Farm to table for two.
I, for one, can't wait until the little street in front of my apartment turns into a farmers market every Saturday morning. I plan to grab a coffee with my man and take in the aromas while leisurely strolling amongst the tomatoes and jars of honey. Try picking a recipe to cook, head out to the farmers market with a grocery list, and come back home to prepare your own farm-to-table meal. A delicious brunch would be an easy (and yummy) way to make use of all those fresh veggies.
07. Yard sale shopping. 
'Tis the season for yard sales. Spring has sprung, and everyone wants to get rid of their junk. But you know what they say—one man's trash is another man's treasure. Whether you are there to buy or not, strolling through yard sales is a great way to connect with your community, get nostalgic with your guy, and laugh a little, too. And of course, make sure you buy lemonade from the kids looking to make some spending money.
08. Do the zoo.
The perfect date is one that involves optional diversions and plenty of time for conversation and flirtation, which is why the zoo is a perfect choice for a spring date. Zoos are great for low-key meandering and give you plenty of things to spark playful conversation. Make this date even more enjoyable by taking along a niece or nephew or babysitting for friends—you will be giving your parent friends a chance to go on a much-needed date of their own, and it's always fun to see how your guy is around kids. Dad material? This is a great way to get a sneak peek.
09. Take dancing lessons. 
Sure, you could do this no matter what season it is, but I find that warm weather helps me let go of some of my inhibitions. If you are looking for something one-off, there are likely bars and restaurants near you that offer salsa classes earlier in the evening, before all the real dancing gets started. I find that guys are often slightly nervous about this one, but if you promise to step on his toes a little, he may be more willing to give it a try.
10. Take a hike.
I'm sorry, I couldn't help myself. Hikes, in my opinion, are the best dates. They don't cost a thing, and the quiet of the woods is both therapeutic and intimate. My husband and I fell in love on our hikes, and it is now one of our favorite activities to do with one another. It's fun to make it a challenge to see how many mountains you can discover together, and it becomes a hobby that you can share. The weather is warming up, so grab your man's hand, and get hiking!
Photo Credit: Adobe Stock