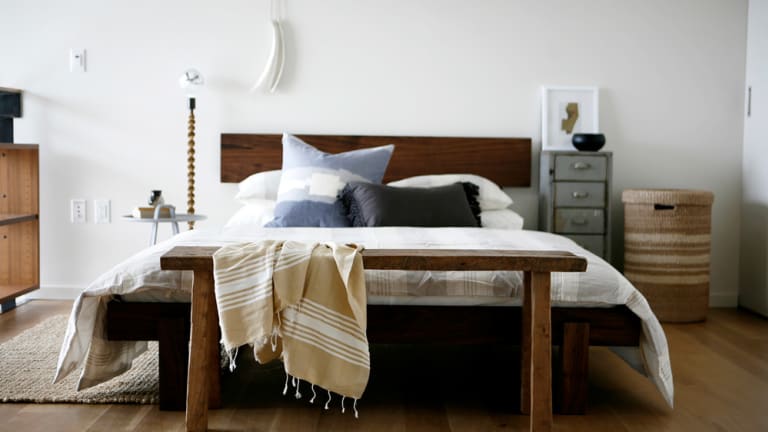 7 Clever Hacks So You Never Have to Spring Clean Again
Keeping a fresh house all year round is about to get so much easier.
The springtime comes with a certain itch to clean out every area of our living spaces. As temperatures rise, we get antsy to shed the heavy winter layers. Along with the days getting longer and the sun shining through our windows comes an inescapable feeling to declutter and make life fresh.
Unfortunately, the spring cleaning process can take hours—or even days if you have an entire apartment or house to tackle. With these quick cleaning tips, you can ensure that your home is fresh and virtually spotless year-round without having to overhaul every spring.
01. Take a minute.
Gretchen Rubin of The Happiness Project suggests implementing the One-Minute Rule: If you are faced with a task that will only take a minute, just do it immediately. It can be as simple as switching your laundry from the washer to the dryer or taking out the trash. If you do these tiny tasks when they arise, they won't build up and leave you with a huge list to take on later.
02. Make your bed.
Making your bed every morning may seem like an unbearable feat, especially as you rush to get out the door in the morning. But a study from researchers at the Princeton University Neuroscience Institute found that an unorganized environment restricts your ability to focus and process information. While making your bed doesn't necessarily declutter, it does give your bedroom a calmer, more put-together look that focuses your mindset to take on the day and calms you when you return home later.
03. Clean out your closet one shelf or clothing piece at a time.
If your closet is anything like mine, crumpled T-shirts and sweaters shoved onto shelves makes the idea of cleaning out this space overwhelming. Instead of taking multiple hours to purge your closet, undertake a portion each day. When you're getting dressed in the morning, get rid of any hosiery or socks that have holes instead of throwing them back into the drawer. Put aside for donation any items you come across that you know you'll never wear again. Is the zipper on your favorite dress broken? Set it on your doorknob to have the zipper fixed at a tailor instead of hanging it back up again. Slowly but surely, your closet will only be filled with the pieces you love and wear often.
04. Designate ten minutes once a week to cleaning your fridge.
While we pay attention to the "use by" dates on perishable foods such as milk, spinach, and berries, what about the fridge door shelves full of jars and condiments? Check containers for a use by date each week. Toss perishable items that have been in your fridge for more than a week. Take stock of the longer-shelf-life items: Kimchi and anchovies may have seemed like a good idea at the time, but have you actually used them? Wipe down crumbs or sticky messes. Wash one shelf or vegetable drawer by hand or throw it in the dishwasher, and you're on your way to a pristine icebox the Barefoot Contessa would be proud of.
05. Buy organizational containers for every cluttered area in your home.
Take a look at your desk, bathroom, and kitchen drawers or bedroom floor. Is there a messy pile of clothes, papers, keys, makeup, hair ties, and utensils you have to rifle through each day? This sort of chaos leaves it impossible to find anything with ease. Simple drawer organizers at Target, chic trays at The Container Store, or unique baskets from World Market quickly transform your home by giving all your belongings a proper place. Plus, you'll be able to find things you need in seconds, and you'll know exactly where to return them instead of throwing them back into a drawer never to be seen again. If you're on a budget, just arranging a few paper cups on the counter for makeup brushes or hair clips will do the trick.
06. Invest in supplies that make cleaning more enjoyable for you.
What's your cleaning weak spot? Do you hate doing laundry, loathe dusting, or avoid washing dishes? Try investing in something you love for incentive to get these jobs done. Indulge in luxurious detergents by The Laundress. Go rustic with well-designed brooms and brushes from Bürstenhaus Redecker. Or make a beeline for the essential oil-infused dish detergent (Method's natural, nontoxic cucumber and grapefruit dish soaps are our lifestyle editor's faves) when you run out of the one you have. You'll pay a little more than generic brands, but actually looking forward to cleaning is worth the splurge.
07. Write it down.
Whether it's a to-do list, memo board, or calendar, find a method to keep track of your life, and make regular housekeeping a part of it. You may think that you can remember fridge day or that you have to buy some organizational bins without taking note of it, but seeing it in writing will ensure that it's done in a timely manner. Plus, isn't it just so satisfying to check something off your list?
Decluttering and cleaning can be done any time of the year and even every single day. If you adapt these simple, quick tips to your life, the junk and dirt won't build up to bite you in the behind at a time when you should be enjoying the beautiful weather that spring brings instead.
Photo Credit: Belathée Photography