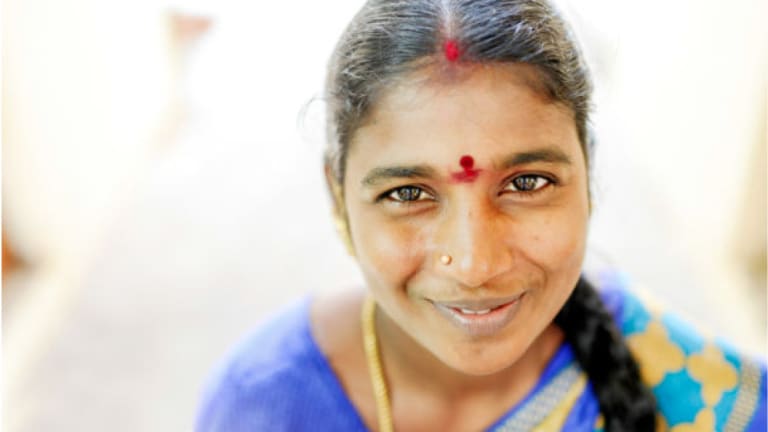 5 Awesome Clothing Brands That Empower Women
Be part of a global movement championing women through your fashion choices.
From production to consumption, the fashion industry impacts women across the world. As the largest consumers of fashion, women can participate in the global movement of empowering women through what we choose to purchase.
Yes, often those making our clothes are women who are subject to harsh working conditions, but fortunately there are several brands out there that have made it their mission to champion women through their products. Not only do these companies provide women with opportunities to earn a fair living wage and gain access to training, education, and employment, but they also produce beautiful products that tell a story. See below for a roundup of brands that do the important work of uplifting women without compromising style and elegance.
1. Raven + Lily
Raven + Lily is "a fashion and lifestyle brand dedicated to empowering women through design." From clothing and accessories to home goods, Raven + Lily collections exude minimalistic ease. 
Based in Austin, Texas, Raven + Lily is a certified B Corporation that was founded to alleviate poverty among women in countries such as Pakistan, Malaysia, Guatemala, the USA, Haiti, and more. What's great is that the brand employs at-risk female artisans, uses eco-friendly and sustainable practices in their materials and design process, and donates funds to their artisan communities' healthcare and educational needs. You can even read personal stories of each artisan on their website. I was struck by the story of Cambodian artisan Raiksmey. She says: "I have now worked at the workshop for close to four years. I am being paid much better than anywhere else I worked before, and I have had a much better life since I started here." It's nice to know that fashion really can make a difference.
2. Soko
Soko harnesses the power of fashion and technology to give female artisans in Kenya access to a global marketplace. According to its website, "Soko was founded on the belief that innovation can empower women, can connect markets, and can foster opportunities that change lives." They use mobile technology to allow artisans to sell their creations directly to online customers, cutting out the middleman, and putting the money directly into the artisan's hands. 
Keeping it simple and customer-friendly, artisans can have direct access to a global marketplace without a computer, bank account, or even electricity. All they need is a basic mobile phone, where they can upload information about themselves and their product, while Soko polishes the information for online publishing. When an item is bought, Soko's platform also uses technology to pay the artisan directly through her mobile phone.
Soko's designs are sleek and sophisticated, and their new jewelry collection in partnership with Pencils of Promise (POP)—an organization that helps build new schools in underserved communities—has double the impact.
3. Sudara
Sudara's line of lounge wear does more than give you daily comfort; it also helps former victims of sex slavery to live free and sustain their well-being. Sudara was founded when the founder, Shannon Keith, traveled to India and discovered how widespread sex trafficking was in the country. She understood that in order for these women to escape the Red Light District, they would need a safe place to work. She created Sudara in the spirit of hope, teaching women to be seamstresses while helping them transition to a new life of freedom and healing.
Through Sudara, women not only gain job skills and a long-term employment opportunity, but also receive support with housing and education for themselves and their children. Sudara has also created a non-profit arm that works hand in hand with the for-profit section of the business, allowing the company to truly care for the women they work with.
Sudara's signature item is their "Punjammies," a line of vibrantly printed lounge pants perfect for hanging out at home or going out and about during the weekend. What's not to love?
4. VETTA Capsule Collection
Five pieces that create thirty outfits? Sounds like a magic trick, but it's actually the brilliant concept behind the VETTA Capsule Collection. VETTA is a responsible brand made in the USA featuring versatile designs in eco-friendly materials. Simple yet tailored staple pieces make this collection a win-win for everyone. VETTA provides the kind of quality pieces that will stand the test of time.
So how did this truly fashion forward clothing line begin? It all started with the best friend duo, Cara Bartlett and Vanessa van Zyl, who created VETTA in the hopes of changing the impulse purchasing habits of the fast fashion culture—habits that often leave women feeling like they have nothing to wear, causing them to buy even more low quality items made in unethical work environments. VETTA's responsibly made capsule collection of staple items helps women build a foundational wardrobe, allowing them to forgo trendy fast fashion stores and to finally cultivate a wardrobe they will love for years to come. 
5. Banago
Woven by female artisans in the Philippines, Banago's bag and home accessories line was created to help expand the livelihoods of artisan communities in the founder's homeland. In 2013, the entire production infrastructure of the company was destroyed by the biggest typhoon recorded in history, Typhoon Haiyan.
Founder Renee Patron experienced the typhoon herself and watched her mother's home collapse in the midst of the disaster. After helping with food distribution to help the town recover, Patron pushed to continue the production for Banago to help local artisans get back on their feet and rebuild their lives. To this day, Banago provides fair-trade wages to Filipino artisans, giving women working in artisan/cottage industries the economic sustainability they need to flourish.
Resilience sure is a bold undertaking, and this spirit is reflected through the bright colors and the unmistakable island vibe that Banago exudes.
Thanks to these powerful brands with a mission, you can literally wear the women's cause on your sleeve. Because fashion can indeed be far bigger than style- it can also be about making a powerful statement about who you are and what you stand for.
Ruby Veridiano is a "Glamour Girl Off to Change the World." She is a writer, speaker, TV host, and social responsibility consultant with a mission to empower women to be social change leaders and merge fashion with social good. You can follow her on social media @RubyVeridiano and on her website, rubyveridiano.com.