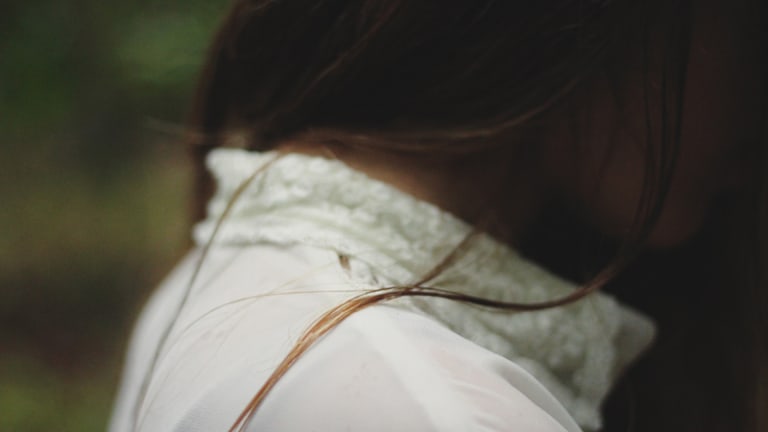 A Survivor Shares the Uncomfortable Truth About Rape
Until it happens to you, you don't know how it feels.
Editor's Note: As Sexual Assault Awareness Month comes to a close, we are proud to share one woman's story of what it's like to go through the trauma of rape.
She asked me if he had beaten me, and without blinking, the word "yes" came out of my mouth.
I had never lied about that night before, and I don't know why, after two years, I lied. I don't think that I meant to. I don't even think I knew what was coming out of my mouth when I opened it to speak. I had lied to myself about that night plenty of times, but never to another person. But there was a certain tone to her voice that I had picked up on, and my instincts took over, convinced that in order for her to believe I had been raped, she needed to believe that I had been beaten too.
And to be honest, there was a sick part of me in that moment that wished he had hit me. There was a part that wished I had been knocked unconscious because maybe I would have been taken to the hospital and maybe I would have the proof. And then maybe, and this is a big maybe—I would have earned the scars that society deems necessary in order to believe that I had been raped.
What does it take after all? A black eye, a bloody nose, bruised hips? What does it take for society to give its sympathy and justice for what happened to me? How many disgusting details do I have to share to convince you that night happened?
Herein lies one of the biggest problems with society's view of rape, abuse, and sexual assault. People don't want to believe what is right in front of them. They don't want to entertain the idea that their brother, their father, the funny guy in the friend group, the respected church member would ever be capable of something so terrible. It's too inconvenient, too disruptive, to believe the facts.
But as a victim, I didn't have the luxury of relegating my rape to the "too inconvenient to deal with" category. That night totally disrupted my reality; it still does.
The man who raped me became very un-funny, very un-nice, and very un-good after that night. To be honest, so did a lot of the people around me. It was very un-good of my friends to continue to hang out with him. It was very un-nice of a family member to tell me that it was my fault. It was very un-funny when his pastor did nothing after being given all the facts.
Does the fact that I lied to one person mean I lied to everyone? No. Do the facts get jumbled up sometimes? Yes. That's the problem with traumatic crimes like sexual assault. On top of the physical trauma, there is a very real mental component to the abuse that takes more than a couple of weeks to heal. The human brain can come up with all range of methods to cope—from dissociating, to blaming oneself, to blindly blocking out the problem, to attaching oneself with the violator as in Stockholm's Syndrome. If the facts aren't lining up sometimes in alleged rape victims' stories, it could be because they are lying altogether. It could also be because they're still entrenched in the trauma.
I say this because I now know that when I lied and said my abuser beat me, that was the trauma speaking, not me. I was afraid to confront the reality that I had been violated. I couldn't reconcile my view of myself with the person who froze instead of fought. I feared that somehow maybe it was my fault. I still couldn't believe it had happened. And my sense of shame led to an enormous fear of judgment. And, after opening up to someone I thought was a confidant but whose question of "did he beat you?" left me with an aftertaste of judgment, I wasn't prepared to face it.
As fate has it, the woman I lied to is not someone I kept in touch with and will likely never cross paths with again. But I will nonetheless take this moment now to come clean. I am sorry I misspoke. I was not physically incapacitated; my rapist didn't beat me. But fight, flight, or freeze are the three responses people make to traumatic occurrences and, in my case, I was frozen. But that doesn't mean I was at fault.
When I talked to my therapist about what happened, she referred to me as a "survivor." I thought it was extreme at first because I didn't think I had survived anything. In my situation, there was no way that I could have not survived that night. I reported it to the police a week after it happened and told the 100 percent truth, but I didn't press charges because I didn't feel I had a case I could win. To be honest, in terms of sexual assault, I had one of the best case scenarios (as if such a thing exists). I could live and breathe and function in public without any sign of what happened to me.
However, the months after that night were a whole other story. These were the months where everything was dark and everything was a struggle and nothing was clear. It was in those months when I saw the life that had been taken from me. Now, on the other side of that darkness, I can clearly see that I am a survivor and that anyone who has ever been through this has, in fact, survived something very significant. We owe it to ourselves to seek support and healing from those who can give it and not feel ashamed for what someone has wrongly done to us.
It's about time those who talk flippantly about rape victims crying wolf wake up. Sure, people lie about all range of things, and sometimes people lie about rape, but the numbers speak for themselves and 293,000 victims a year in the United States alone is number that should warrant our attention. The exceptions should not be an excuse to believe we aren't experiencing a rape crisis. To me, it just shows how even more complicated it is than we can imagine.
I stand by the words in Lady Gaga's Oscar-nominated song: "Until it happens to you, you don't know how it feels," and I hope you never know how it feels. But just because you may not share my experience, please don't pretend it didn't happen. 
Photo Credit: Regina Leah Photography