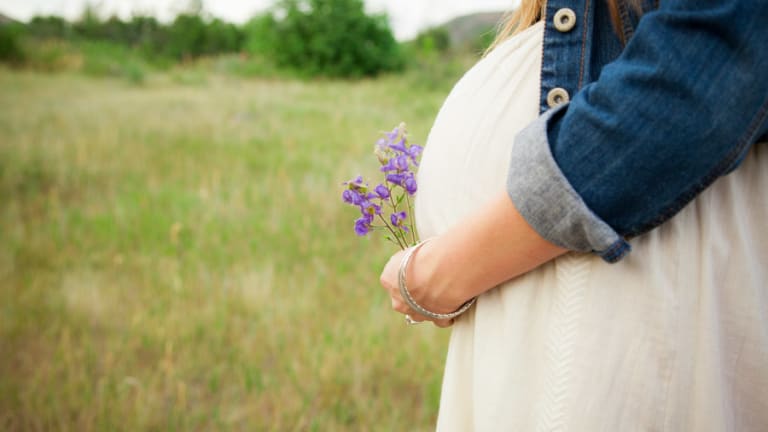 7 Ways to Support a Friend Who Has Been Given a Prenatal Diagnosis for Her Baby
Be there for her when she's concerned about her bundle of joy.
It's hard to believe that the ultrasound, one of the most iconic images of prenatal care today, was only invented in the 1950s. Today, an ultrasound is just one of many tests that are standard to prenatal care. Some are screenings, which are generally done with blood work and look for potential conditions such as genetic or structural abnormalities for the baby and mother.
I lost a child to miscarriage, but in my three healthy pregnancies, the twenty-week anatomy scan—an ultrasound during which the doctor takes measurements of baby and mother—left my husband and me joyful and awestruck. Yet not everyone leaves first-trimester blood work or ultrasound exams with good news.
For some women, a routine visit turns their expectations of a healthy baby and worry-free pregnancy upside down. A baby may have characteristics of Down syndrome, or a mother may have uterine or pelvic abnormalities that put her pregnancy at high risk. When I had friends share this kind of news with me, I didn't know what to say other than to offer my support. But I wanted to do something tangible, practical, and useful. So I asked, and they were generously willing to share their thoughts.
Here are some vetted tips from women who've been there on how best to support an expectant friend facing the unexpected.
01. Ask How She's Doing
It seems obvious, but the most compassionate thing to do is to ask your friend how she's doing, and then listen to her.
"You don't have to know what to say," says Hannah, mother of three. But avoid the temptation to offer wisdom or share the story of your best friend's sister's baby who had a similar diagnosis. Acknowledge the situation and leave it at that.
More importantly, don't try to guess what she's feeling—and that includes fear and regret. Jody didn't even think to blame herself for her eldest son's heart condition, until an acquaintance spontaneously assured her she'd done nothing wrong, implying she had felt as though she had. When Krizia told friends of her daughter's risk of Down Syndrome, she didn't expect them to say, "I'm sorry" and assume she was unhappy about it, since she wasn't feeling that way herself.
02. Help Her Find Help
Your friend is probably going to be spending more time than anticipated at her doctor or midwife's office. It's important that she feels comfortable and well cared for, especially if she's switching to a different, high-risk provider. Dr. A. Nicky Hjort, M.D., OB-GYN, recommends using the wealth of information online to create a list of doctors for your friend to interview. You can't make the decision for her, but encouraging her to find a good fit is a constructive way to show you care.
You can also use the web to find support groups to be there in a way you can't. Call local hospitals for information on resources they offer. Hannah found solace in YouTube videos created by families of children with her son's condition. It gave her hope to see children whose growth was restricted in utero thriving after birth. Krizia, who was living abroad at the time of her pre-diagnosis, felt comforted when a long-distance friend sent her a list of English-speaking health providers experienced with high-risk pregnancies in her area. With many thoughts likely running through your friend's mind, any small help will be needed and appreciated.
03. Be Part of Her Day-to-Day
Organize a meal drop-off with others who know about the diagnosis (MealTrain is one of many great, free resources). You might also run errands, do school pick-ups, or arrange care for her other children when she has appointments.
If her partner is unable to attend doctor's visits, offer to come along and take notes or be a source of moral support. Write out her questions in advance. It can be difficult to digest medical information on the spot. Having a second, more objective set of ears on hand may be useful in making educated decisions about care.
04. Check In Regularly
Some diagnoses require weekly exams to monitor the baby's condition and growth, changes in which could prompt an early delivery, even that same day. If your friend has a regular doctor's appointment, set a reminder on your phone to check in with her. Ask how things are going or just say you're thinking about her.
For Hannah, Monday afternoons were a reminder that something could be wrong with her baby. Texts and calls from friends letting her know she wasn't the only person thinking about it eased her mind.
05. Be Encouraging
Jody says, "Reassure her that when the time comes, she and her partner are going to rise to the occasion and do what they have to do." Drop off a book of encouraging reflections, a special lotion or candle to pamper her, or something special for baby to show your confidence in your friend. Wrap the gift with care and include a thoughtful note, celebrating your friend for who she is and what she can offer her child.
06. Listen, Listen, and Then Listen Some More
This one bears repeating. No one wants to be a Debbie Downer, and your friend may want to talk about things more than she's letting on. "I felt like it was written on me with how much I was thinking about it, like I had a tattoo of it on my forehead. It was hard not to talk about it because it was all I thought about," Hannah says.
Invite yourself over for a cup of coffee. Suggest a walk in a local park. Think about where she feels most comfortable and bring her there. Accompany her in processing the news and her reactions in her own time.
07. Stick Around
Whether or not the diagnosis is confirmed at birth, your friend may struggle postpartum. Jody says, "I thought all my anxiety and depression would go away once I gave birth, but it actually got worse. It had been a really stressful time in my life, a time I lost myself." Continue checking in regularly, offering meals and practical help, as well as a patient listening ear for as long as she needs it.
Someone wise said, "True friendship isn't about only being there when it's convenient, it's about being there when it's not." Becoming a mother is beautiful, profound, and can be scary. Friends may not make vows to be there "in sickness and in health," but you know a good friend will. It's in the trying times that you can show your friend just how much she means to you. You know she'd do the same for you.
Photo Credit: Island Moon Photography