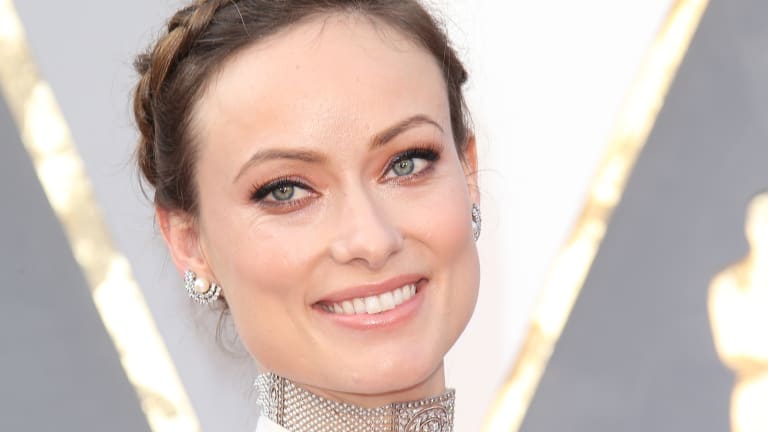 Actresses Like Olivia Wilde Are Proving Why We Shouldn't Be Afraid Of Getting Older
We can't believe that Olivia Wilde was deemed "too old" to play Leonardo DiCaprio's girlfriend, but her response is truly inspiring.
On Monday, Olivia Wilde announced via Instagram that she was pregnant with her second child. And while we're thrilled for her news, it comes on the heels of Wilde being in the press for a less exciting headline—her age. 
Wilde may be only 32 years old, but she's already been treated like she's over the hill in actress years. Last month Olivia Wilde shared on Howard Stern that she was deemed "too old" to play Leonardo DiCaprio's girlfriend in Wolf of Wall Street. While her comment brought to light the ever-present issue of Hollywood ageism and the ridiculous double standards of the film industry, it seems to me that the most significant part of Wilde's comment to Stern was actually her recap on Twitter: "My point about not being cast in 'Wolf o W-Street' was that we have to trust the process because I ended up with my dream job on 'Vinyl.'"
Many women in Hollywood are categorized as "old" once they hit their thirties. Last year, Maggie Gyllenhal was refused an acting role because she was deemed "too old to play the lover of a man who was 55." She was 37 at the time.
Perhaps it was my third baby or tipping over the hill onto the "wrong" side of thirty, but I can relate to that strange feeling of being "too old." On one particular night, the yoga studio near my house was hosting a special event: Glow Flow Yoga, complete with a black light and a DJ. I thought it'd be fun to switch up my usual yoga routine, so I went. The room was filled with college students. It was finals week for our nearby university, and apparently this class in particular was serving as a sort of study break for the students. Somehow I missed that memo.
Despite the fact that I have three children, I like to think of myself as young and more-or-less cool. I've been practicing yoga for years, and I always feel at home in a sweaty studio, but as I glanced around, it was painfully clear that I was very much not a hot Kappa Kappa in Lululemon booty shorts. I had a glow stick on each wrist, but I also was fairly certain that my C-section scar had developed luminescent powers and was shining through the waistband of my full-length leggings.
"And since we're having some fun tonight, bend that front elbow. Lean into it. Dab it out! If you don't know how to dab, just look around. Everyone else knows what they're doing."
The DJ pumped up the jams and fifty-five glow-stick wrapped right arms went up in the air. My mid-week workout had turned into a yogi rave. I felt old.
Looking at the twenty-somethings around me, I thought about my own past. I learned a lot about myself in my twenties. My experiences were rich and varied, and I don't take them for granted for one minute. That decade was good, but I don't want to go back.
That's where I relate to my Hollywood females. Wilde says that her "strong work ethic" is a result of the television experience she had when she was younger, and now, she can be a part of something that she would actually want to watch each week. Gwyneth Paltrow has reflected that she doesn't fear aging, and in fact, embraces it. "I've earned these gray hairs," she says. Sally Field reiterated the same attitude on her seventieth birthday, noting that she feels that she has "gathered strength" over the years, and it's a strength that she has the right to. Similarly, Maggie Gyllenhal isn't despairing over those declined younger roles; rather, she's "looking with hope for something fascinating."
What each of these women has acknowledged is that our time-won wisdom will carry us into a future of growth and opportunity that is far more interesting than the reprise of our previous experiences could ever be. Embracing our age is more than just letting our laugh lines show; it's about acknowledging the value of the years behind us and looking ahead with excitement for what's to come.
Not only do I know myself better in my thirties, but I like myself better. In fact, inasmuch as I feel the weight of my years (and my babies), I don't feel restricted by my age. The years behind me have made me stronger, better than I was, and, like Wilde, able to step into roles that are more fulfilling than I could have imagined.
And to Olivia Wilde on the news of her latest baby, I say: Congratulations! These years will age you wonderfully, and you'll be so much better for them. We all are.
Photo: Getty Images