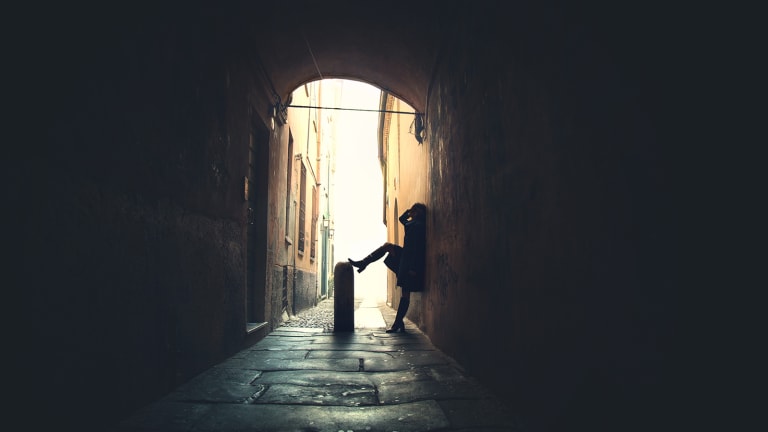 Is Prostitution Empowering If You Choose to Do It?
Sex work may be universal, but it says something important about our culture.
"Sex work" is having something of a moment in pop culture. Yes, prostitution has been around a long time, but the narrative's changed. The language-shift towards "sex work" is very much a part of that change, as we are now meant to see prostitution as "just a job like any other," even a source of empowerment for women. Any negativity attached to the sex industryis said to be the result of "stigma," ergo the solution, we're told, is to normalize prostitution, not speak out against it.

Last week New York Magazine, a publication known to not only relay but define our zeitgeist, ran a cover that boldly asked: "Is Prostitution Just Another Job?" Jump over to the small screen, and you'll find plenty of buzz for Starz's latest drama The Girlfriend Experience, which invites viewers into the life of a law student intern-come-high-end escort. Prostitution, as an industry, is coming out of the shadows, but rather than being exposed for what it really is, it seems that we're looking at women selling their bodies with indifference—or worse, glory.
A recent article at MTV.com promoting The Girlfriend Experience, argued that prostitution is universal—easily transferred from culture to culture, century to century. Discussing what she calls "sex work" on television, the article's author, Teo Bugbee, continues: "Science fiction TV turns out to be one place where sex work is almost always a topic of interest, probably because when you're looking for a way to ground your alternate universe, sex work is simultaneously one of the most flexible and most reliable of human social structures. The norms of sex work can bend to fit any culture—alien or otherwise—and sex work as a phenomenon occurs independently in entirely unrelated societies."
But prostitution doesn't easily "fit [in] any culture," despite what Bugbee and many others believe. It's not uncommon for young, privileged Americans to whitewash the sex industry in this way. By lumping the real Korean women forced into sex slavery during World War II (commonly known as "comfort women") in with the imaginary high-class escort played by Riley Keough in The Girlfriend Experience, the narrative is rewritten. The sanitized term "sex work" is applied not only to various characters and storylines, but also across cultures and generations.
The assumption that the system of prostitution is inevitable, universal, and also totally fine is an ever-popular one. We see it on TV and in movies, and, now, in journalism, as writers and reporters adopt the politically biased term "sex work," which exists to erase both the reality and an intersectional analysis of the sex industry.
A newfound fondness for seeking "agency" over victimization, introduced by third wave feminism and adopted by today's Gender Studies programs, functions like The Secret for progressives, who use the power of positive thinking to theorize away power structures and abuse in favor of an "empowering" narrative.
We see the incredibly depressing impact of this trend in the recent cover story in New York Magazine as well. Mac McClelland reports on a 21-year-old woman named Chelsea Lane who became interested in prostitution after reading "sex worker blogs." Lane says "sex work" was treated as "cool" and "edgy" at her liberal arts college in Portland. Lane also grew up in a culture that says you are worthless if not viewed as conventionally beautiful and sexy—no matter her other accomplishments, she never felt valued in that way.
The way Lane tells it, the sex industry is this great adventure—she feels confident, is making good money, and "getting laid on the regular." Cool, right?
Likewise, a young woman named Anna, told McClelland that she "got the idea" in high school, after listening to sex advice columnist Dan Savage talk about "sex work and sugar babies" on his podcast. She started "for fun," but when her wealthy parents cut her off, she was forced to continue because she needed the money.
Writers like McClelland and young women like Lane are right to credit the Internet for glorifying prostitution. Social media and liberal feminist websites alike favor the "choice" argument, which focuses on the fact that some women enter into prostitution on their own accord. But this thinking ignores the context surrounding these "choices" and the larger impacts on society and gender equality.
What about the way "choices" are limited in the industry? What about the choice to leave the industry when one wants to (according to the most comprehensive research, "89 percent of 785 people in prostitution from nine countries wanted to escape prostitution")? What about the very important (but often ignored) choice men make to pay for sex?
Most feminists who are critical of the sex industry accept the fact that some women choose to sell sex. A few women may even enjoy making money in this way. But this focus ignores a larger truth: that the sex industry exists not because of women's "choices" but because of men's choices and women's consequent lack of choice. It's important to remember that prostitution exists because men want sexual access to people they don't have to be accountable to.
Most women end up in prostitution because they have run out of options. And, really, a lack of options leaves a person with very few choices. The reality is that the vast majority of women and girls in prostitution end up there through force, coercion, poverty, grooming, and various systemic failures and injustices. This reality is not something that can be equated with "empowerment."

The argument against prostitution is fairly simple: Women should not have to have sex with men they don't desire. Women should be able to survive and thrive without having to accommodate male desires and abuse in order to pay their rent or feed their children.
It's worth thinking about what it says about a society that believes sex is something a man should be able to buy—what does it say about our culture?
It says a few things:
We believe, as a culture, that almost everything is commodifiable, even sexuality—if a person can pay for a thing, they should be allowed to have it.
We believe that sex is a need for men—they must have access to bodies upon which they may project their fantasies, no matter how dark, degrading, or violent. To not have access to sexual pleasure, in whatever way they see fit, is somehow oppressive.
We believe women are things—sexual objects that exist primarily to be looked at, to be groped, to titillate. This is the key relationship that exists between men and women (reinforced through the system of prostitution): the agent and the object—the aggressor and the passive recipient.
Men want a fantasy, not a real person with needs and thoughts and feelings—they want a thing that will support their ego and then disappear.
The feminist movement has spent decades pushing back against male entitlement to women's bodies; telling men, "No, you do not have a 'right' to sex—women do not exist for you."Meanwhile, the sex industry sends men and boys precisely the opposite message. It's confusing, to be sure, but if we ever hope to address things like rape culture, street harassment, and objectification, and if we ever hope to offer women real sexual and bodily autonomy, we must address the existence of the sex industry.
The issue of "safety," for which lip service is paid to over and over again, by those who support the full legalization of the industry, is not exactly the point. No woman is "safe" in the sex industry—the consequences and effects of prostitution exist far beyond physical injuries(which are vast, for prostituted women), and no matter how many precautions you take, you are, simply, in a vulnerable position. What I hear most when I talk to women who've been prostituted is that the psychological scars had the deepest and most long-lasting impact. And, of course, there is the reality that many men really do seek out prostituted women and girls specifically to hurt and abuse and sometimes kill—for these people, inflicting something on someone who doesn't want it is the turn on.

So while the cultural debate focuses on what legislation will supposedly make the industry "safe" (none!) as well as on what various individual women are "choosing" and whether or not they should "have the right" to "choose" prostitution, that misses the point: what we're talking about are values and human rights, as well as the larger societal views of women that enable the existence of a sex industry in the first place.

That women are the ones criminalized for selling sex is unacceptable, of course. People in prostitution need to be able to leave the industry and move on with their lives, and it is extremely difficult to do that if you have a criminal record. The Nordic model (which decriminalizes those who sell sex but criminalizes those who buy sex) has proven to reduce trafficking, abuse, and murder rates, but, importantly, it also turns the lens onto male behavior and demands something men aren't used to hearing: accountability.
To focus on women's choices or how "empowered" some women feel in the moment will always bring us to a dead end in this debate because whether or not or how many women claim to "choose" or even enjoy "sex work" is not really the issue.
A rudimentary example: If I were 15 years younger, I would have told you that wearing a mesh tank top out to the bar in January and getting attention from every man in the room helped my "self-esteem"—it certainly felt empowering at the time. But did that feeling somehow fight systemic injustice and the violence inflicted on women, globally? Of course not. Did that feeling even help me, as an individual, to achieve any real goals that would contribute to my sense of empowerment in the long term? Of course not. This is, perhaps, not a politically correct thing to say, but I say this as someone who was once young and quite full of herself, feeling sexily empowered and whatnot: 21-year-old college girls, like Lane, who were once insecure but have just discovered that male attention feels good may not be the best-equipped to define female empowerment.
Cherie Jiminez speaks to this reality in McClelland's piece. Having left the industry decades ago, Jiminez, who now runs the Eva Center, an exit program for prostituted women in Boston, has a different perspective on prostitution. She admits that when she was in the industry, she too would have said it was harmless. "Maybe for now you're fine," she said. But in fact, Jiminez tells McClelland, "it almost destroyed me."
Often damage, pain, and trauma reveals itself to us later down the road. When I look back at things I did and situations I was in when I was younger, what I saw as "fun" or "empowering" now seems depressing. When I found myself in an abusive relationship, I didn't realize it was abusive until after I left. It's simply not that easy to see situations for what they are when you're in the middle of them, especially if you have no space or distance to process what's happening to you. You can't let yourself be treated like crap and compartmentalize that without being impacted. But compartmentalization is exactly what's demanded of women in prostitution—that they separate body and mind. It's also a way people deal with trauma.

So, sure; there are women in prostitution who are "fine," and you'll find plenty women online who will tell you as much. But there are countless women in prostitution who are decidedly not fine—the ones whose pimps don't let them speak to New York Magazine journalists. It's worth considering whose voices aren't present online, in this so-called "sex work debate," and why.

That isn't to say we shouldn't hear from women like Lane or Anna. We can listen to countless stories from various women, but our conclusion is the same, no matter whose voices we're listening to: the system of prostitution sets the parameters of women's worth and forces us, as a culture, to normalize male privilege and a view of sex that solidifies gender inequality. And no amount of TV shows or cover stories that feed us an empowering script will change that.
Photo: Adobe Stock