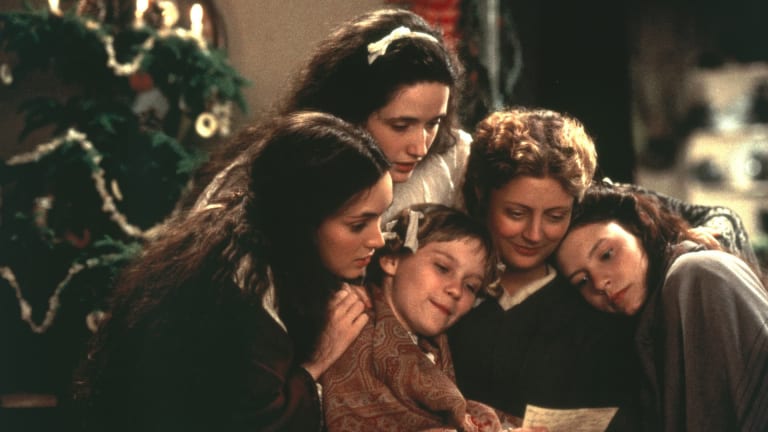 How the Heroines of Little Women Can Inspire Us to Be Our Best Selves
Which March sister are you?
Before I first picked up Little Women a year ago, I assumed it would be about outdated modes of propriety and women coming into nineteenth-century society. But I was wrong. To my surprise, this gem of a novel can teach even modern readers something about life and love.
Part of what makes Little Women unique is that it respects tradition but also challenges conventional ideas of who women should be. The novel treats the various vocations of women with respect. Not only that, Little Women suggests that personal growth takes a different form in each of us. Femininity does not conform to one model, and Louisa May Alcott knew this long before feminism was a thing. 
Compassion, courage, passion, and perseverance are among the many qualities that can define us as women. And these very qualities make the March sisters some of literature's most inspiring and endearing heroines. Each sister is an individual and demonstrates unique qualities that we can learn from (warning, spoilers abound). Which one are you?
Meg 
The oldest of the four girls, Margaret, or Meg, has a strong sense of responsibility, acting like a second mother to her younger sisters. She's a natural caregiver, known for her sweet and gentle demeanor.
Meg remembers a time when her family had money to spare, and she longs to have nice belongings once again. Meg struggles with materialism and jealousy, grieving for the nice things that others have. But when Meg gets a glimpse of the lifestyle that she envies, she finds it shallow and vapid. She doesn't want to dress up and play the part, so to speak, in order to impress others.
Over time, Meg reorders her priorities. She marries not for social status or wealth but for love. "I don't want a fashionable wedding but only those about me whom I love, and to them I wish to look and be my familiar self," she says. Meg, who once placed value on stylish and well-made things, even chooses to sew her own wedding dress. 
Meg's example reminds us that we do not need to buy our way to a beautiful life. We can cultivate beauty in simple ways: "For the homeliest tasks get beautified if loving hands do them, and Meg found so many proofs of this," Alcott writes. Learning to value simplicity, Meg "felt how rich she had been in things more precious than any luxuries money could buy; in love, protection, peace and health, the real blessings of life."
The most traditional of the sisters, Meg finds her vocation as a homemaker. She works hard, caring for her husband and two children. In the end, nothing brings her greater fulfillment than this: "She brought so much love, energy, and cheerfulness to the work, that she could not but succeed, in spite of some obstacles."
Jo 
"Jo wasn't a heroine; she was only a struggling human girl, like hundreds of others, and she just acted out her nature," Alcott writes of her main protagonist. Jo, the second-born, dares to be herself in a society that places strict expectations on women. She's independent, headstrong, outspoken, and blunt. Jo follows her heart, preferring honesty to comfort. Her passionate nature can be both a blessing and a curse, as her fiery temper often gets her into trouble. She has a deep love for people and literature.
With her father absent during the American Civil War, Jo devotes herself to keeping the March family together. When her family needs more money, Jo cuts and sells her long hair. Jo makes the most of her talent as a writer, seeking success not for her own sake but to provide for her family's needs. Later on, she moves to New York by herself to publish more stories, while working as a governess. She enjoys "the genuine satisfaction which comes from hearty work of head or hand, taking great comfort in the knowledge that she could supply her own wants, and need to ask no one for a penny," as Alcott writes.
Jo gives of her talent and time in whatever way she can. When Beth's health takes a turn for the worse, Jo devotes herself to her sister's care. And when tragedy strikes, she's willing to put her career on hold to support her parents. As Alcott writes, "What could be harder for a restless, ambitious girl than to give up her own hopes, plans and desires, and cheerfully live for others?"
Jo soon realizes that she doesn't need to abandon her dreams of writing to care for others, for family and career life are not mutually exclusive. But she also realizes that, with time, dreams change. Marriage to a man who shares her good heart and sharp intellect leads Jo on an unexpected path, as she and her husband open a boarding school for boys and become parents. "I haven't given up the hope that I may write a good book yet, but I can wait, and I'm sure it will be all the better for such experiences and illustrations as these," she says.
Beth 
She may be the shy homebody of the bunch, but Beth has an unassuming influence on her sisters. Jo even refers to Beth as her "conscience." Gentle and calming, she's the peacemaker of the March family. Not only that, she also knows how to bring out the best in others. Beth finds joy in the little things, such as spending time with her sisters or playing the piano and singing. Through hard times, Beth's attitude of gratitude makes all the difference.
By modern sensibilities, Beth may seem dull or too docile. But she's an example of endurance through the little mundane tasks and demands of each day. For instance, she takes on the chores that her sisters forget. Does she love to clean? Doubtful. But she loves her sisters in a selfless way, expressing that love through acts of service. In Little Women, love and service go hand in hand. Beth's example reminds us of those everyday acts of love and service that go unnoticed or unspoken.
Jo "recognized the beauty of her sister's life—uneventful, unambitious, yet full of the genuine virtues." With no accomplishments, Beth fears her life will be wasted. Yet Jo insists that Beth "beautified her life" through loving and helping others—and this is "the true success which is possible to all," she says. Beth replies: "I'm not so good as you make me, but I have tried to do right; and now, when it's too late to begin even to do better, it's such a comfort to know that someone loves me so much, and feels as if I'd helped them." No matter how small our accomplishments seem, our lives never go to waste if we love and help others. In Little Women, love gives life its fullest meaning.
As Beth's health worsens, she knows her death will be imminent. At times, she struggles to accept this. Yet she's incredibly brave. She may seem weak, but the courage and patience with which she faces death make her powerful.
Amy 
Amy, the youngest March, first plays the role of the spoiled and selfish youngest daughter. She's a bit dramatic and, like Jo, gets caught up in fits of temper. She's driven and determined to make the most of her life, especially of her talents. Amy has an artistic gift and a natural eye for beauty. By the same token, she concerns herself with appearances, wanting nothing more than a life that looks lovely.
Amy struggles with vanity. Like Meg, she grows up hating poverty. In the same way, she wants to be an aristocrat and own beautiful clothes. She desperately wants to be admired for what she looks like and what she has. (She also laments the fact that her nose looks less than aristocratic.)
At the story's beginning, Amy thinks only of herself. But as she matures, she learns to think of others more. Though sent to live with her aunt during Beth's bout of scarlet fever, Amy wants nothing more than to care for her sister. She returns home with greater appreciation for her family.
Age starts to reveal Amy's compassionate heart and inner beauty. She eventually finds that "virtue was its own reward, after all." She cultivates generosity, as the money that she inherits through marriage allows her to care for others. "How delightful it is to be able to help others, isn't it? That was always one of my dreams, to have the power of giving freely," she says.
Amy travels to Europe to hone her artistic skills, as she wants to make a career out of being an artist. In many ways, she flourishes there. She even falls in love while in Europe, reacquainting with an old neighbor and learning to see his strengths and virtues in a new light. Upon returning from her trip, Amy "had done well, not only in worldly things, but the better wealth of love, confidence, and happiness." In the end, Amy never loses her appreciation for the beauty of life, which seems to grow even more in her marriage and motherhood. More than creating a life that looks good, Amy creates a life that does good.
Little Women reminds us that we don't need acclaim or adventure to live an incredible life. Instead, we may find we're incredibly driven (like Amy), incredibly gentle (like Meg), incredibly passionate (like Jo), or incredibly brave (like Beth). As Jo finds, "Character is a better possession than money, rank, intellect, or beauty." May we all think of these words as we strive to become the best version of ourselves. 
Photo Credit: Columbia Pictures