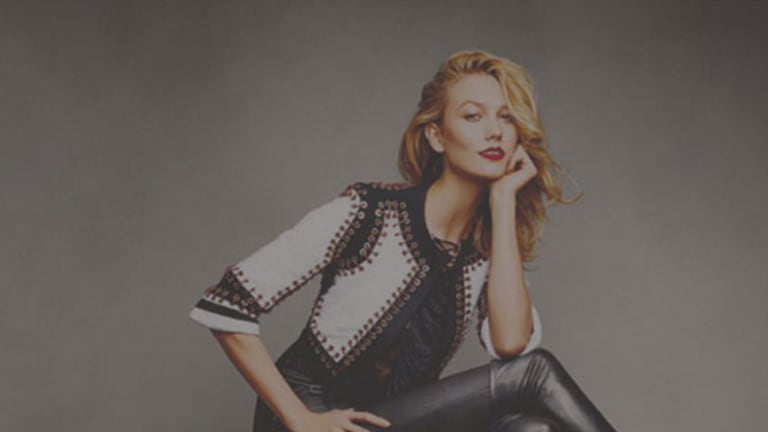 Karlie Kloss Is Opening a Coding Camp For Girls, and It Looks Pretty Awesome
T. Swift's buddy is taking some practical action to help the next generation of young women.
What do a couture gown and computer coding have in common? According to model (and Taylor Swift BFF) Karlie Kloss, a lot. "I get to work with designers and see them create couture gowns stitch by stitch," Kloss told Fast Company. "An idea becomes a sketch, and then it becomes almost a first draft, and then they modify it. The creation process of creating a beautiful gown, it almost feels like it's the same kind of process when you're building an app: You initially have an idea, and then you can actually, line by line, build something and have a result that can be deployed to millions of people around the world."
What does a fashion model know about coding? If that model is Kloss, more than you might think. In 2014 she attended a two-week pre-college coding class put on by the Flatiron School, after which she promptly began taking taking private lessons from the school's cofounder to further her knowledge. Fully enamored with her new hobby, she decided to underwrite scholarships for 21 girls attend the same two-week course that initially got her hooked.
The scholarships were dubbed "Kode With Karlie," which has now evolved into "Kode With Klossy," a full-blown camp for young women aged 13-18 in Los Angeles, New York, and St. Louis (Kloss' hometown). The camp will use Flatiron's Learn.co curriculum and learning platform, but unlike last summer's Kode with Karlie program, this year's 80 scholarship recipients will participate in their own program, separate from other Flatiron School students.
According to Girls Who Code founder Reshma Saujani, teaching young girls to code is a great tool for teaching the bravery of persistence. "We have to socialize our girls to be comfortable with imperfection," she says in reference to studies showing that young girls often shy away from tasks they perceive to be impossible at first pass, "and we gotta do it now." Reports Kloss, "I really am so inspired and so excited by my experiences with the girls [last summer], watching them have these aha moments and this empowerment that comes from learning something new and hard."
Kloss isn't the only big name working to encourage young girls to engage in STEM (science, technology, engineering, and math). Big Bang Theory actress and neuroscientist Mayim Bialik in 2013 announced a collaboration with DeVry University and the HerWorld Initiative to get high school girls access to more info about STEM careers. Marvel Comics recently announced an internship specifically created for 15-18 year old girls with an interest in STEM. And teen actress Amandla Stenberg told the Huffington Post last year that "hopefully by… talking about girls in STEM fields and talking about feminism, I can somehow impact girls who might follow me on Instagram and be interested in STEM but are feeling kind of insecure about it, because they don't think they can be good at it."
So, what does a fashion model know about coding? Perhaps she realizes how transformational it can be for a girl who dreams of creating video games or animation or business software. Perhaps she realizes that intrinsic in the process of learning to create something from nothing is a much-needed affirmation of capability and bravery. Or perhaps she just loves to code, and she wants to share her passion with the world. Either way, consider us fans. 
Photo: Kode with Klossy