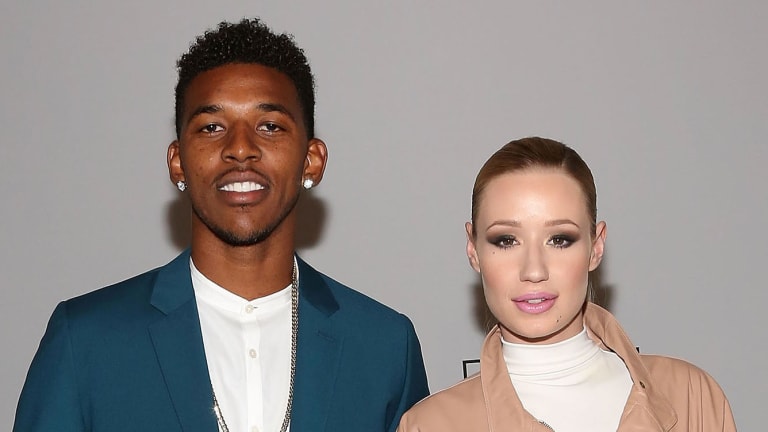 Wait, Iggy Azalea Gets Cheated On, But Everyone Feels Sorry For Her Fiancé?
Feels like there's a double standard here.
An NBA star cheats on his musician fiancé, and the media erupts into a frenzy. Sports commentator Stephen A. Smith said: "He'll never be trusted, ever again in the NBA. This will stay with him for the rest of his career." Sounds like a pretty logical conclusion. 
But wait. 
The comment wasn't referring to the cheater, in this case L.A. Lakers player Nick Young who was caught on video admitting to cheating on fiancé Iggy Azalea. No, the notoriety, Smith says, belongs to D'Angelo Russell, who secretly recorded his teammate admitting the infidelity. 
The media is indeed in a frenzy, but it's noteworthy that the main story is the vilification of Russell for betraying his teammate—basically for violating bro-code. 
"It's bad," a team source reportedly told ESPN about the leak. "It's about as bad as it can get. There were trust issues already. Now there's no trust."
Is it just me or is it a little odd that the trust issue everyone's talking about is between Young and Russell, and not Young and Azalea—you know, the one who got cheated on?
Let me get this straight: Young proposed to Azalea in June with a 10.43 karat diamond ring, the two bought a $3.4 million house prior to that, and in the wake of Young's apparent admission that he has cheated on her with a 19-year-old, everyone is overcome with empathy for… Young. Come again? 
Aren't we leaving someone out of the equation here? I don't know, maybe the bride-to-be who just found out her fiancé likes to brag to his buddies about his extracurricular affairs? For her part, Azalea hasn't responded to the incident aside from a tweet coyly saying that she "liked [D'Angelo's] film." 
I cant help but wonder what the news cycle would look like if the male-female roles were reversed—that is, if it was Azalea who had done the cheating, and her basketball star beau was publicly jilted.
We can get a glimpse of the answer if we rewind the clock back to July 2012. Kristen Stewart, who was dating Twilight costar Robert Pattinson at the time, was outed by US Weekly after photos caught her making out with married film director Rupert Sanders, who was directing her in Snow White and the Huntsman at the time. Who took the brunt of the public backlash for that indiscretion? Certainly not US Weekly for outing her, that's for sure. And while Sanders issued the standard public apology to his wife and two young children, it was Stewart whose name bore the brunt of the scandal, with headlines reading: "Kristen Cheats On Rob!"
"I lit my universe on fire, and I watched it burn," Stewart said of the public skewering she took. Even her most loyal supporters turned on her.
But Nick Young boasts about a tryst with a teenager despite the fact that he is engaged to be married, and the event results in world sympathy for him, demonizing instead the person who revealed the affair as the new "most hated man in L.A." 
It's always a bad idea to cheat. If you're famous, it's a bad idea that's likely to be made public. But are men and women held to different standards of fidelity? As we watch this story unfold about the betrayal of trust to the L.A. Lakers… I mean Iggy Azalea, it certainly seems so. 
Photo: Getty Images