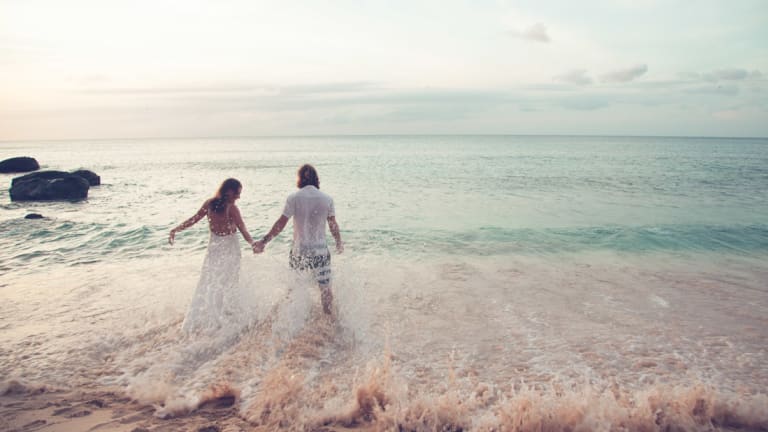 3 Tips from Newlyweds on How to Make Your Honeymoon Unforgettable
Don't let honeymoon hype get you down.
Our honeymoon was the light at the end of the wedding planning tunnel. In the midst of planning frenzy, I would watch the little promo video for our tropical resort so often that I would find myself humming the cheesy soundtrack throughout the day. I wish I were kidding.
But then news of Zika virus hit, and we tearfully decided to cancel my tropical honeymoon fantasy. I had to rebuild a new happy place in my head, and it wasn't easy. But the honeymoon we had was even better than the one we had to let go of. Unlike the meticulously planned-out Mexican getaway, our new Napa honeymoon was a fly-by-the-seat-of-our-pants adventure. I boarded our flight to sunny California ready for wherever each day might take us.
It occurs to me that for so many brides-to-be, the success of the honeymoon hinges on where they are going and what essential items they are going to pack. But if you talk to most newlyweds, they will tell you that there is so much more to an unforgettable honeymoon than an exotic destination. I asked five newlyweds for a few lived-and-learned tips, and this is what they said.
Discuss expectations before the trip.
Believe it or not, you're not the only one who daydreams about the honeymoon—chances are your husband-to-be has some ideas too. For example, Mary said, "My husband wanted to watch his favorite football team play from the comfort of our hotel room. I never would have guessed!"
To remedy any feelings of disappointment, Suzanne suggested taking the time to discuss expectation before the honeymoon. Mary's solution is to, "make sure you understand what is important to your new husband and plan something to make him happy." Making sure before you ever get on the plane that the honeymoon—like the wedding—isn't just about you takes the pressure off of your guy and makes the whole experience more loving as well. 
"Planning something to make him happy could be as simple as bringing his favorite snack or having cookies delivered to the room (while he's watching the game!), or putting his favorite activity on the top of your to do list," suggests Mary. 
"Also, don't have expectations of some extremely romantic Nicholas Sparks novel scenario on your honeymoon," Sarah reminds us. You know how nothing plays out in real life the way it does in your head? Well, that goes for the wedding night/honeymoon too!
"I thought I'd turn into some sexy woman on my honeymoon (because aren't honeymoons sexy and romantic?), but I ended up still being silly me," explains Sarah. "So don't set a standard of what you should behave like or what the "mood" has to be on your honeymoon, because ultimately you'll still be you and your spouse will still be the same. No exotic or romantic location will change that. As my mom said, "you always take yourself with you no matter where you go."
Don't stress about seeing it all.
There is nothing wrong with wanting to see all you can of a new place, and there is nothing more romantic than exploring somewhere new together. But I definitely found that a slow and flexible pace made my honeymoon feel less like the Amazing Race and more like a moment in time to enjoy the beginning of our life together.
Taking it a bit slower might be easier for some than others however. "I am a BIG planner," Sarah explains. "I had an itinerary of what we would do every day while we were in Iceland: Wake up at this time, eat at this location, drive to these six spots, etc. Well that only worked for about two days on the honeymoon, and then I realized that some activities took longer than expected which threw me into a tizzy." 
But Sarah and her new hubby salvaged their honeymoon by adopting a different attitude. "We decided we wouldn't hold ourselves to what we planned, but instead we would just do whatever we felt like in the moment," Sarah says. "It was freeing knowing that we could change our mind if we wanted or do something spontaneous without feeling like we weren't doing the "right thing."'
Lauren scheduled in downtime so that she and her husband could have time to just soak things in. "I'd say for me it was important to think more about spending time with Darren than about what we were doing," explains Lauren. "We tried to have a good mix of down time and activities so that we were adding to our foundation of shared memories and experiences, but also had the quiet time to just hold each other and chat."
Focus on quality time, not the destination.
It's an amazing thing to have the opportunity to set off on your first trip as a married couple, but at the end of the day, all the sights and sounds are just a backdrop to this most exciting new step in your relationship. I know I felt like things wouldn't be as amazing because we didn't go to a more exotic (read: tropical) destination. But I was so wrong.
Natalia explains that she and her husband put their wanderlust on hold to spend time with family who couldn't make it to their wedding. "My husband and I have big dreams to travel to every corner of the world," explained Natalia. "Naturally for our honeymoon we wanted to take a big trip, and we did, and it was romantic and everything a honeymoon should be. And we spent the first half of it with family—not kidding!" 
Natalia explained that most of her family lives in Colombia and many of them couldn't make it her Texas wedding. So instead they went to visit her relatives there. "What made our honeymoon unforgettable wasn't that we got to relax by the beach (though that was definitely a perk!), it was that we went somewhere meaningful. It took the pressure off of checking off a destination on our bucket list (which would have likely cost us a pretty penny), and allowed us to include more family and friends in our marriage celebrations."
For Lauren, what made her honeymoon unforgettable wasn't the destination either. "Relaxing on the hammock and dreaming about the future and giggling about how we were married were some of the best honeymoon memories—and we could have done that anywhere," explains Lauren. "The great view and nice weather was just the icing on the cake."
So, all you brides-to-be out there, don't get too hung up on the "where" part of your honeymoon. Instead focus on the quality time with your new husband and what that looks like for the two of you. 
Photo Credit: Island Moon Photography