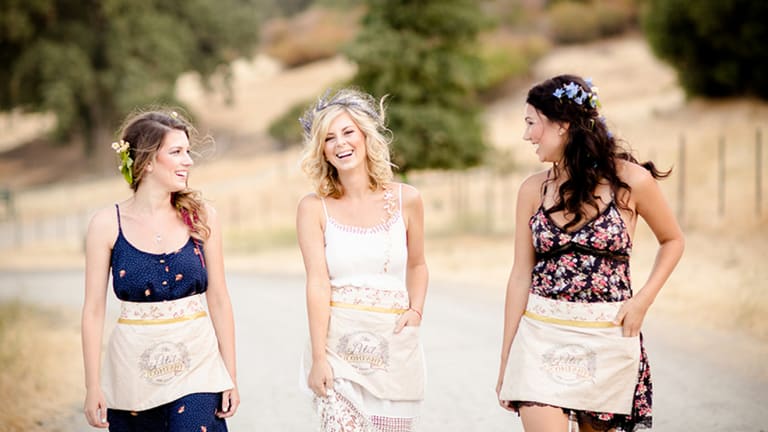 4 Things a Single Woman Wants Her Married Friends to Remember After the Big Day
Find out how to help your friendships survive and thrive during this new phase of your life.
It's been a while since I've talked to one of my best friends. She lives in Iowa and I in New York; she works full time, and I'm pursuing my master's. We're both busy, but I don't think that's the only reason we sometimes struggle to prioritize our friendship. Besides our lack of proximity, I suspect our friendship growing pains have something to do with our respective relationship status: She's married, and I'm single.
It's naive to think that relationships will not evolve over time. People change; circumstances change. But when I think about us, I sometimes feel burdened by the lack of details we've shared with each other over the last year. The lack of calls, the lack of updates or heart-to-hearts. As the single friend, I'm sometimes unsure how to navigate initiating this new friendship on new terms and perhaps even new boundaries. Can I still come over unannounced? Is anytime still a good time to talk? Are you still my go-to wing-woman?
It takes two people to make a friendship last and, as I contemplate my own situation, I realize that there are things I wish my married friends knew they could do to help make this shift in our friendship easier for us both. This is the beginning of a new phase of friendship. I'm up for the challenge, are you?
01. Keep Me in Your Calendar
One of the first things my married friends have expressed about the first months of marriage is that there's so much newness it's overwhelming to consider someone else apart from their spouse. But as you're forging through all this novelty, you are going to want to keep your good friends closer than ever.
Zach Brittle, Certified Gottman Therapist and Verily's go-to intentional marriage guy, explains that every married couple needs to have a "band," or group of friends you can have to yourself. "This is where you blow off steam—something each person needs. Get loud. Play," Brittle explains.
"[...]My "band" is an over-40 soccer team. We're terrible, but we run around each week forgetting for an hour that we're mortal. My wife's "band" is totally different. It almost doesn't matter what it is; you just need a place strictly to enjoy and be enjoyed. Relationships are hard. Period. Add the stress and strain of the daily grind, and a little release becomes imperative. The Band is a critical outlet for couples seeking to reduce stress and build enjoyment in one another."
Even through all the changes, keep your friend in your plans. Make an active effort to have one-on-one quality time, as I'm sure you used to. Doesn't your husband want a guys' night every so often, too? Plan one night a month where you get drinks with your single friend, and he meets up with his old pals.
You can hang out with your single friends as a couple too. Invite us along even when you'll be out with your spouse's friends, or when you planned a game night and only couples may be showing up. Invite more than one of your single friends, or ask your married friends if they have any single friends they would like to invite. There's no need for married people to couple off and leave their single friends outside the clique.
02. Make Sure Your Husband Knows That Your Friends Are Important
Nothing is more reassuring than a spouse who supports all your relationships. If your spouse knows the importance of the other relationships in your life, he'll give you the space to nurture them. Because one of my best friends is really inclusive and open with her husband about her plans with friends, I've built a really positive relationship with him as well.
Zach Brittle also explains in his article that having a close friend who you can talk to about your marriage and who wants your marriage to succeed is critical to a healthy marriage. Brittle calls this friend "The Best-Kept Secret." "This is the friend who just plain gets it," he explains.
"You can tell this friend anything. Ideally this friend is the same sex as you . . . at the very least, he or she isn't a possible alternative to your spouse. The "secret" is that this person will always, always be on your side. He's in your corner no matter what. She's the wind at your back. In the best-case scenario, this friend is a friend of the marriage so that when things get tough, you know you can count on this person to protect both you and your relationship."
Don't be afraid to discuss with your spouse the value of your friendships outside the marriage and the shared joys in your friend's lives. If a friend is in need, and your husband knows how important she is to you, he shouldn't mind letting you devote some time to her. He'll appreciate your keeping him current in the other facets of your life, and ultimately give you the emotional freedom to be a more prominent figure in your friend's lives.
03. Know That We Rely on You
Thankfully, I'm still able to call my married friend when all hell breaks loose and I need help making important life decisions or have to gab about my own love life. As much as you needed us when you wanted to dissect your first date with your current husband, you can bet your friends will continue to need you to share in their joys and sorrows—to be that person we can dissect our budding relationships with.
Be intentional about knowing your friend's hearts. It will rarely just be about showing up for the scheduled coffee date, shopping date, or movie night—it will be about being able to provide that unconditional support and listening ears that are essential to healthy relationships.
04. We Don't Need Pity, Just Friendship
There have been several times in my friendships with married friends where I've felt a certain sense of sadness or disappointment—like they think the pace I live my life and the decisions I make aren't necessarily conducive to "meeting someone." This pressure to be married, like she is, can be frustrating and unhelpful.
I know you are happily married and you want your single friends to be happy too. But it's hard on a friendship when you feel like your friends wish you would stop being single already. Trust that we can be and very likely are happy with the stage of life we are in now. Help us to be patient by being patient with us. We may join you as a fellow married woman or we may not, but our lives have worth and purpose now.
You will change; your single friends will change. Still, the people that really love each other stick around. Every single stage in life that challenges you and your relationships, often strengthens your relationship, too.
Photo Credit: Britt Rene Photography