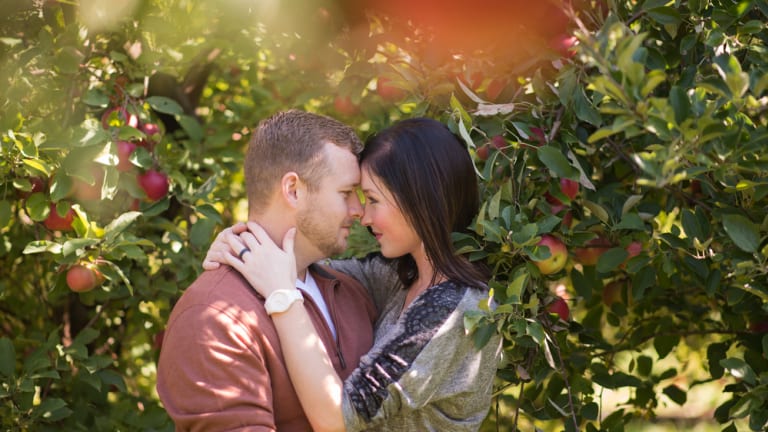 9 Tips for Getting the Most Beautiful Engagement Photos
A professional photographer shares why engagement photos are so awesome and how you can get the most out of them.
You got engaged! Or you know someone who just got engaged! Awesome!
Now what? Wedding planning can be a daunting task, and sometimes engagement photos can seem like just another thing on the to-do list. But they can actually be an important aspect leading up to (and long after) the big day.
I'm a professional photographer, so I might have some bias toward capturing pivotal moments. But still, engagement photos are important, as you can use them for your Save the Date and invitation cards, and it allows you to test-drive your wedding photographer. The latter is more important than you might think—sometimes a sit-down meeting isn't enough time for you to really get a feel for your photographer, so an engagement session is a great way to get used to your photographer's shooting style and see their personality.
So, let's talk strategy. Here are nine tips to make sure that your engagement photos capture your personalities and this monumental time in your lives.
Before the Shoot
01. Find the right photographer.
Picking the right person to capture your wedding is the most important part—you want to find someone you mesh with and trust to be with you on one of the most important days of your life. Look through photographers' work first, not the prices. Find photographers whose styles you really enjoy looking at, and then get ahold of them. At that point, you can compare prices against your budget. At The Long Way Home, a wedding photography company I work on with my husband Chris, we offer to write the price of an engagement session off a wedding package if you book your wedding after an engagement shoot. Like you, we want to find people who are comfortable with us and enjoy our work.
02. Choose your outfits.
Pinterest can come in handy for this. Find colors that complement your skin tones, and try to avoid anything too trendy. Look to Audrey Hepburn or Grace Kelly for inspiration. This will ensure that your photos stay timeless. If you aren't sure about an outfit, ask your photographer for their input. Photographers work with many, many different body types and complexions, so they can be a helpful asset. As far as formality, pick something you'll be comfortable in first and foremost. Your photographer will have you moving around a lot, and, depending on the season, the weather will have an impact on your outfit as well.
03. Address any personal concerns in advance.
Photographers naturally want you to love your photos. If you tell them 'I hate having my photo taken because I always look bad,' that's a great start. But tell your photographers what bothers you about photos of yourself.
I personally have an issue with the way my neck and chin look in photos because I have a smaller chin. Be specific. You hate a certain tooth? Tell them! Photographers have tips, tricks, and poses that we can use to take the focus away from these features to focus on your best and favorite attributes instead. I have never shot photos of anyone I didn't consider to be beautiful, so go easy on yourself, too. When I tell people about my chin fear, they always tell me it's something they've never even noticed.
04. Settle on your (and your photographer's) ideal location.
If you don't have a specific location in mind, professional photographers should already know an abundance of beautiful sites that they have ideally shot before. If you have a location that means a lot to you and your fiancé, let them know. Not only will you end up with photos that are beautiful, but you'll have a unique personal story, too. Note, however, that locations with no shade on a day with the sun beaming down can be a pain in the butt. If your location is fairly open (little shade or indirect light), ask your photographer about the morning and evening 'golden hour' times to capture your photos in the most favorable light.
05. Practice holding a kiss and the 'almost kiss' before your session.
We'll probably ask you to hold a kiss for ten seconds, and we'll almost always ask for the 'almost kiss.' Not sure what that is? Here's a perfect example from a Hunger Games movie between Katniss and Gale. If you practice these in advance, they'll feel less awkward in front of the camera.
During the Shoot
06. Shut out your photographer.
This is a big one for us. Photographers will put you in a pose or position that looks amazing, but then we just have to hope and pray that the love flows naturally between the two of you. This can be really hard for couples. Remember what your teachers and parents told you about giving a presentation in school? Pretend everyone is in their underwear. Just pretend we don't exist after we get you in position. Be touchy-feely, laugh, snuggle, and just talk. Your photos will end up much more natural, and you'll be able to see the love there, not just two people striking a pose.
07. Trust your photographer.
I've asked couples to do some pretty strange (but safe) things, and they always end up loving the outcomes. I once asked my brother and his then girlfriend to stand in a murky puddle in the middle of a bunch of trees. They couldn't picture what I had envisioned, but the photo from this kind of quirky idea turned out to be one of their favorites. Almost every client has given me the ". . . oookay?" look when I ask them to close their eyes. But, as I told one client, "I know it sounds weird, but trust me. This is going to be one of the cutest photos in your gallery."
After the Shoot
08. Please be patient.
We want you to have your photos just as much as you want them, but we don't want to hand you anything but the best. Admittedly, this takes some time. Post-processing is the largest part of the photographer's job (and the most time-consuming). On an average session, it takes me two to four weeks to edit photos. I make sure to post sneak peeks for couples to share with family and friends while we edit the rest so that the wait isn't too agonizing.
09. Give your photog(s) some love.
When you share the photos, refrain from using Instagram filters or Facebook editing. We spend a lot of time trying to get your photos to reflect that same style you chose us for, and filters or extra editing may mislead people who enjoy this style. We also love when you give us photo credit for our work! It helps people recognize our photos and find us in the future.
Engagement photos are one of the few tangible ways to preserve that perfect last sentence in this chapter of your life before you start the next great chapter. Take advantage of these tips to make the most of your engagement shoot.
Photos: The Long Way Home Photography