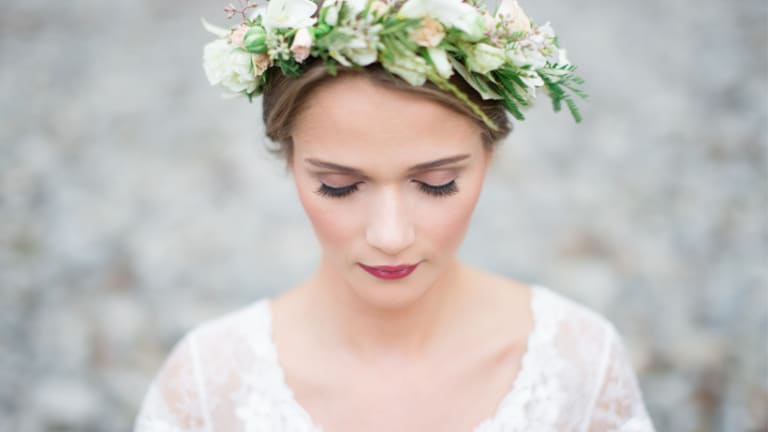 The Bride-to-Be's Ultimate Beauty Guide to Preparing for the Big Day
We've created a handy beauty checklist to take the stress out of wedding planning.
Alright ladies, the countdown to the big day has officially begun. Whether you have six months to go or you're coming down to the last few weeks before your wedding, it's time to bring your dream bridal look to life.
If you're not sure where you should even begin, we've created a bridal beauty countdown to help guide you along the way to your big day.
01. Start Researching Your Bridal Beauty Look
You know all of those bridal beauty looks you've been archiving since you were 13? Well, it's finally time to narrow down your options. If you haven't been collecting beauty looks, take to Pinterest and start searching for your ultimate bridal makeup look. This is also a good time to decide what hair style you want—up, down, or half up. Do you want boho braids, a classic French twist, or retro victory rolls? Now is the time to explore and decide on your look.
02. Address Skin Issues and Start a Skin Care Regime
Tackle your skin concerns: acne, scarring, redness, dryness, dullness ... now is the time to create a skin care regimen that addresses your skin issues. If you're able, head to a dermatologist and ask for what they recommend in terms of professional treatment or over-the-counter remedies you can start implementing.
Once you've got your products sorted, get into a regular routine so that your skin can start adjusting and benefiting as soon as possible. If you start your skin care plan months in advance, you will be more confident in the appearance of your skin on the big day.
03. Set Your Hair Length and Color Goals
If you want to grow your hair out, make sure you talk to your salon about your goal length so that they only give you minor trims over the next few months. If you want to go shorter for your wedding day, test out the cut as soon as possible so that you have time to grow it out in case you don't like it.
Now is also the time to perfect your color. Do you want to add highlights? Or an overall dye job? Be sure to give yourself time to settle on an ideal color for yourself, you might need to re-dye if you end up not liking the look. While you're at the salon, make sure you book your future touch-up appointments—you never know when your salon will suddenly be booked. Talk to your stylist and colorist about booking another appointment three months from now and then another one two to three weeks before your wedding day.
04. Get Your Brows in Shape
Brows frame the face and hugely impact the symmetry of your face. If you're looking to tame your brows, decide on a shape that works with your natural arch and your face shape. If you want to grow your brows, decide on a shape you want and follow this guide. If you're nervous about taking on your brows on your own, seek out a professional to help you learn how to grow and maintain your ideal brows.
05. Test Major Hair Removal Procedures
Whether you're trying a bikini wax for the first time or considering laser hair removal, it's good to get an idea of how long it'll take to get used to these procedures and how long they last for. If you're a first time bikini waxer, make sure you give yourself ample time to (1) recover from the experience (it will be jarring for the first time), (2) learn how long it takes for your hair to grow back, and (3) let hair grow back before waxing again (about a month).
You want to get your final wax three to four days before your wedding in order to allow your skin to calm down in time. It's always a good idea to have at least two wax experiences prior to your final wax, so that there are no surprises during your wedding week and you're not traumatized. Pop two Advil a half hour before your appointment. If you're considering laser hair removal for your bikini line, start now. You will have to make about five to eight appointments, one every four to six weeks. For facial hair removal, consider trying out threading as opposed to waxing.
01. Find Your Hair and Makeup Artist
If you don't plan on using a professional, ask a friend or relative who is a natural makeup and hair guru. Be sure to ask her in advance if she is able to complete the looks you have chosen. If you are hiring a professional, make sure you book a run through as well as the appointment on the morning of your wedding. If you're doing your own makeup, scope out the makeup department of your local mall and ask a makeup artist to create your look. As she applies your makeup, watch carefully so you can copy it on yourself later. Buy the products she uses so that you can practice and master your look over the next couple months. And if you're doing your own hair, start scouring YouTube for your desired look, and practice until perfect.
02. Perfect Your Cut and Color
Now that you're closer to your hair length goal, only get minor trims so as to keep your hair exactly the same for the wedding day. After a couple months of fine tuning your color, now is the time to settle into a routine of salon touch ups to maintain your color.
03. Do a Hair and Makeup Trial
If you have hired a professional or asked a friend to do your hair and makeup, make sure you do a run-through. Give honest feedback so as to avoid asking her to redo your look the morning of your wedding. If you're doing your makeup and hair yourself, practice your look every month so that you will be able to do it quickly and without hiccups on the big day.
Make sure you keep your makeup and hair look on for least six hours, so you know it will hold up for the entire ceremony and reception.
04. Experiment with Sunless Tanner
For a sun kissed glow, we suggest seeking out a professional spray tan first. Start with a lighter shade to experiment (no Oompa Loompas here!). Once you settle on a perfect shade, book an appointment to get the spray tan again two to three days before your wedding. Be sure to look into the rules of spray tanning, like only showering eight to twelve hours after the first application, avoiding exfoliating as well as body moisturizers that cause streaking.
05. Get Your Teeth Whitened
Book a professional teeth whitening session or start using an at-home treatment. Crest Whitestrips, whitening toothpaste, and whitening mouthwash are great and affordable ways to achieve your luminescent grin. And cut down on tea, coffee, and wine, starting now.
01. Final Hair Touch-Ups
Give yourself a couple of weeks before the wedding to get your hair trimmed and your color touched up. You want your hair to look natural and lived in for your wedding day, rather than obviously dyed locks or with freshly cut ends.
02. Prep Your Skin (All of It)
Make sure you are moisturizing your body every morning and night and exfoliating once a week (warning: do no exfoliate if you have a spray tan.) Having touchable and silky-smooth skin is a must for your wedding and honeymoon.
03. Take Care of Any Needed Extractions
If you need extractions for any stubborn blackheads, take it to a professional. Go to your esthetician fifteen days before the wedding to allow time for your skin to settle down.
04. Mind Your Diet
With all the last-minute chaos, it's easy to fall off the bandwagon of your routine. Avoid over indulging in salty snacks, dairy, sugar, bread, and yes, booze. These foods all increase bloating and can cause breakouts. Increase your water intake, and eat leafy greens and fruits.
01.  Go to Your Last Beauty Appointments
During the three to four days before your wedding, go get that last wax, spray tan, and brow shaping. Make sure you stick to the places you have been regularly going to, so you don't risk a spray tan catastrophe at a new place just days before your wedding.
Also, just in case you have an acne flare-up right before your wedding, book an emergency appointment with your dermatologist to get a cortisone shot. This will be a lifesaver when you notice a cystic pimple trying to make an uninvited appearance at the wedding.
02. Splurge on a Massage
With all of the months of anticipation building, you will need some TLC. Book an appointment a day or two before the wedding, and take your maid of honor with you. You will be grateful to have some of that tension melt away and to have a moment to reflect on this monumental week in your life.
03. Get a Mani/Pedi
You can't go wrong with a French manicure for your wedding, it's classic and natural looking. If you're not into French manicures, stick to blushing pink colors and glossy tan or off white tones. If you don't want to go to a salon, do a manicure at home with an easy DIY.
Note: If you have a spray tan, make sure you ask your manicurist to skip the scrub, and avoid soaking for too long. Now is not the time to have a sock-tan crisis.
01. Drink Plenty of Water
It's easy to get dehydrated when you're tying up all of the loose ends of your wedding planning. Keep a bottle of water with you at all times. This will keep your body going and your skin glowing.
02. Take a Relaxing Bath and Exfoliate
Right about now, you will start to feel like you have had no time for yourself. Between the arrival of your bridal party, meeting all of your in-laws, and seeing old friends, you will be in communication overload. Steal away from the social gymnastics and take an hour or two for yourself and draw a relaxing bath. Exfoliate your skin to slough away any dead skin cells, revealing glowing and fresh skin.
Note: If you have a spray tan, skip the bath and exfoliation. Take a hot shower and moisturize thoroughly instead.
03. Sleep
Sleeping the night before you say "I do" sounds like an impossible feat, but lack of sleep is one of the worst things you can do for your skin. Try to make sure that you get at least eight hours of sleep the night before. If you need a little herbal assistance, drink a tea that has natural melatonin in it at least twelve hours before you have to wake up the next morning.
The Big Day
When you wake up, it will finally be your wedding day. On the day of, savor the precious moments of getting ready with your bridesmaids, and give yourself plenty of time to perfect your hair and makeup. Take a final look in the mirror and be proud of all the hard work you have put into your bridal beauty look. Now, get ready to stun your groom.
For the full-size countdown checklist, head over to our Pinterest board. Print it out, and make sure you're always one step ahead before the big day.
Photo Credit: Christie Graham, Graphics: Vanessa Shyu