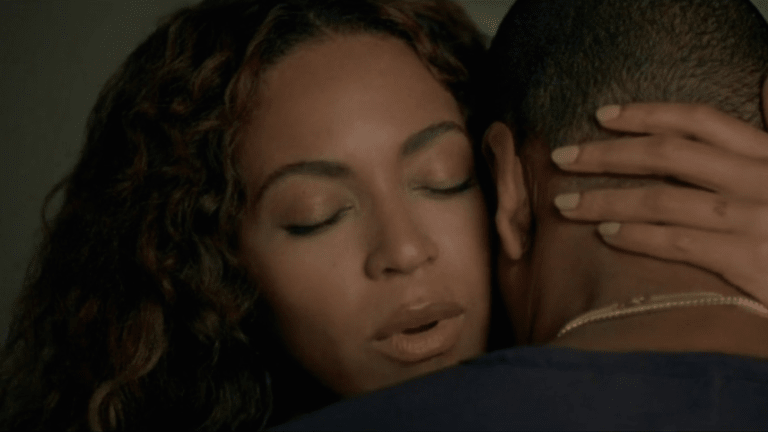 Why Beyoncé's New Album May Be the Most Powerful Thing You've Heard This Year
Lemonade really took me by surprise.
If you have a pulse, I would venture you've at least heard about Beyoncé's latest artistic endeavor known as Lemonade. Queen Bey's sixth solo album, Lemonade, premiered Saturday night in the most mysterious fashion, with only an HBO preview and an Instagram post announcing its debut, followed by the release of the entire album on husband Jay Z's music streaming platform, Tidal.
I'm going to be honest: I didn't like Lemonade.
At first, I was skeptical. Tidal claims Lemonade is "a conceptual project based on every woman's journey of self-knowledge and healing." I knew the main gist of the album had to do with infidelity, something people have speculated for a while—thanks to Solange's elevator incident and Beyoncé's previous album—so I listened knowing Lemonade wouldn't particularly apply to me. Really I just wanted to watch for the choreography and to remain culturally relevant.
But about five minutes in, Beyoncé broke me.
"I tried to be soft, prettier, less awake."
In one line she summed up every insecurity I've wrestled with as a woman. I've battled against excess: don't weigh too much, eat too much, speak too much, be too crazy. Don't care too much, text too much, or make too much money. It seems as though to be smaller would make me more desirable.
What continued to unfold wasn't just a story of infidelity. It was a raw and artistic expression of heartbreak and loss. Somehow the most powerful and untouchable woman in the world managed to make me say, "me too" as she wrestled with the depths of her pain. At the end of the day Lemonade explores the depths of grief.
Maybe this album was for me, after all.
So no, I didn't like Lemonade. It made me uncomfortable. It forced me to reckon with my grief. What I thought was going to be some lighthearted entertainment and choreography turned into a rather unexpected emotional experience. Because when it really comes down to it, we all know grief in deep and profound ways.
It's easy to shove grief and pain under the rug. As a culture, we're pretty horrible at grieving, simply because we're afraid of the implications. No one wants to willingly devote time, energy, or effort to admit that they've lost something. We'd prefer to think there's nothing wrong. But we've all lost something along the way.
Maybe we've lost a significant other either to infidelity or through a breakup. Maybe we've lost a parent because they were absent, abusive, or simply unaware. Maybe we know loss because we've actually lost someone to death, which comes for us all and quite often comes too soon. Maybe we lost a job. Maybe we thought we would be married by now, make more money by now, have kids by now, and their absence itself feels like a loss. Maybe we've lost a little bit of ourselves under the weight of expectations, insecurities, responsibilities, and disappointment. Anyone who's experienced the death of a dream has experienced grief.
The truth is life doesn't turn out the way we planned. That, in and of itself, is a loss that everyone has. Our inability to mourn and grieve is what makes pieces like Lemonade so deeply offensive and impactful. It's the chance to enter into our own broken stories, to really wrestle with our grief, and to write a new story.
Scholar and author Dr. Brené Brown writes about this in her book, Rising Strong: The Reckoning, The Rumble, The Revolution. From her extensive research on human emotions, she's found that "the opposite of recognizing that we're feeling something is denying our emotions. The opposite of being curious is disengaging." She continues, "When we deny our stories and disengage from tough emotions, they don't go away; instead, they own us, they define us. Our job is not to deny the story, but to defy the ending—to rise strong, recognize our story, and rumble with the truth until we get to a place where we think, Yes. This is what happened. This is my truth. And I will choose how this story ends."
The emotional chapters of Lemonade present the opportunity to enter into the varying stages of grief: intuition, denial, anger, apathy, emptiness, accountability, reformation, forgiveness, resurrection, hope, and redemption. Lemonade, much like our own lives, presents the chance to end the story with redemption and renewal. It would be easy to skip to the very end and bypass the grief, but that's not what stories are made of. There must be conflict, and there must be resolution.
So no, I didn't like Beyoncé's Lemonade. It struck too close to home. I didn't want to sit on the couch and delve into exploring disappointments and pains from my life. I didn't want to listen to an hour that articulated my deepest insecurities and fears.
But I did want to engage in a good story. I did want to do the hard work to be vulnerable and allow myself to participate in forgiveness, grace, and renewal.
In this latest album, Beyoncé was brave enough to be vulnerable in front of millions of people. Maybe, just maybe, it will spur us to be brave too, in the quiet and still spaces at home. Yes, even on the couch with HBO or Tidal streaming service.
Who knew I wouldn't like her latest album for such a good reason.
Photo Credit: Tidal