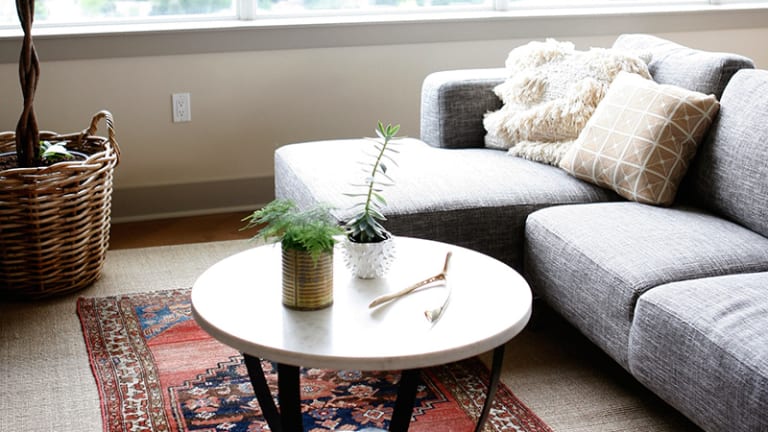 6 Tips You Need to Know If You're Hunting for an Apartment
Avoid renter's remorse so that home can be where the heart—not the anxiety—is.
There is a singular sense of victory in getting your own place for the first time. I loved the jingle of the key in my pocket and the thrill of figuring out how I'd decorate to make it feel like home.
But before the space is found and the lease is signed—and sometimes even after—the process can be daunting. Think of all the not-yet-earned money you're signing away (or maybe don't!). The legalese of a contract can seem like a foreign language. And if you have a roommate, how can you be sure things are going to work out?
Here are a few tips from an apartment-hunting veteran that I wish I could've shared with my novice apartment-hunting self to make the experience easier.
01. A verbal contract is not enough.
I hunted for my first apartment while I was studying abroad in Germany. My program supplied housing for the first few weeks. After that, I had to search online ads to secure a sublet because I only needed a place for about four months. For the uninitiated, a lease is drawn between a landlord and a tenant; a sublet, or sublease, is drawn between a tenant and a third party and is usually in effect for less than a year.
After a phone call to inquire about the space and an interview in her apartment, Katharina, a 40-year-old German artist whom I found online, decided I would be a good fit. I expected to have guests from time to time, which she said was fine. The agreement was mutual but informal. When my guests arrived, Katharina asked that I pay more than my share of the rent to compensate for the increased water bill during their stays. Because we didn't have a written contract, there wasn't a means of arbitrating the situation.
We ultimately worked it out and remained on good terms, but I learned then the importance of a roommate contract. Talk about your living styles. Consider preferences about guests, giving boyfriends keys to the space, and kitchen and bathroom occupation for morning routines. Be honest with yourself and your roommate(s), and be sure everyone agrees on the terms—in theory and in practice. Discuss what's expected and what happens if expectations aren't met. It doesn't have to be over-involved, but opening the conversation at the get-go may help avoid sticky situations down the road.
02. Know—and accept—the expectations in your housing market.
When a friend in Boston told me she'd be moving in six months, and she already knew exactly where she would be living, I was flabbergasted. In New York, where my next venture into apartment life took place, properties can be on the market for less than a day before they are leased. And they are generally only available a month in advance.
Research the peculiarities of your market. Know what you can afford, and ask around to get savvy on any associated fees. In New York, for instance, many places only rent through a broker, and your fee can run up to a full month's rent. The security deposit could be another month's rent. If you're hiring movers, investigate those paid at a flat rate versus those paid by the hour (you may request a cap on your payment, especially if your crew is newer or less experienced). Check that they are insured, as well. The last thing you want is to be uninformed and risk getting ripped off.
03. Prioritize amenities ahead of time.
With each move, my husband and I have wanted something different in our new home, especially with a growing family over the years. While we considered budget, stairs or elevator, distance to public transportation, dishwasher, laundry, and proximity to churches, to name a few, floor plans were always the most important element for me. Could I see the kids playing while I was making dinner? Where could I set up shop to make editing calls during nap time?
If you're like me, you're going to make a list that's too long to be reasonable. My husband and I had different takes on what we valued, in part because during the week, I was home with our kids while he was at his office in Manhattan. Weighing our shared priorities was a balancing act. In our case, yes, we could have a dishwasher, but it meant paying a bit more to also get the location convenient to the subway station.
Create categories on your priority list—"need," "want," and "not important"—and bring a written copy with you on your hunt, so that some of the more significant decisions are made before you get attached a less important aspect of a unit. For example, that gym in the basement may sound like a good idea, but it's more important that you can still afford to eat. Before you start viewing apartments, consider: If you had to choose between one amenity and another, which would take precedence? Why?
04. Think beyond the scope of the lease.
We learned the hard way that the owner saying they probably won't come back to Brooklyn from their life in France was no guarantee. Six months into one of our leases, we learned we'd have to move out at the end of our contract. For the second half of that year, the apartment didn't feel much like home—more like a holding zone.
In our next place, we made sure we added a rider (an additional document that in some way edits the contract to which it's attached) with an option for a second year. It turned out even better than we expected. If everything went well for both parties, it was agreed that we could sign on for a second year without a price increase. I'm sure our landlord was very happy not to have to search for a new tenant again. And I can't tell you how wonderful it was for us to have a summer without a moving van for once.
05. Even 'small' agreements should be in print.
In one of our apartments, the kitchen had been painted four different colors. We asked to add a rider (love those riders!) that would allow us to repaint it all one color on our dime. Our landlord agreed that if we chose something neutral, we would not have to paint it back when we left.
The end of that lease was not amiable. Suffice it to say, we tried to help our landlords as they transitioned back into the apartment we had been renting, but it ended up costing them more than they expected. They tried to penalize us for painting the kitchen, but thank goodness we had the rider to point back to. We maintained we would only pay what we'd agreed upon in writing, even though our landlords didn't think it was fair anymore.
Don't be afraid to ask to put reasonable accommodations in print. Speak with confidence and expect your voice to be heard. If your potential landlord puts up a fight, move on (pun intended), and consider that bullet dodged. It's no fun to get litigious, but when two parties have conflicting interests, it's important to know what you're responsible for—and what you're not.
06. A loaf of banana bread goes a long way.
Our last apartment took the longest for us to find—two weeks of searching, whereas we found our first NYC apartment in a day. When we did, I wanted to sign the contract as soon as possible, to make sure we didn't risk losing it to another tenant.
I saw the apartment at 4 p.m. one day, and our realtor made an appointment to sign the lease at 7 a.m. the next morning. There wasn't enough time for our potential landlord to get in touch with our references in the interim. It was rushed, and I figured somewhat inconvenient for our landlord-to-be. I decided to bring a loaf of banana bread as a peace offering. As it turned out, we stayed in that apartment until we left the city for the 'burbs. Our landlord—to whom we still send a Christmas card—never forgot that gesture.
At the end of the day, you want a home you can be comfortable in, and your landlord wants a tenant to take care of the space. If she lives in the building, make an effort to build a friendly rapport. If you share a stoop, alternate shoveling snow or sweeping leaves. Find ways to help out and show your appreciation. In a word, be a good neighbor.
Having moved more times than I care to count, I learned that every living space has its conveniences and flaws. Some you can see up front, while others make themselves known unexpectedly. What matters is not the washing machine or whether or not the crown molding is original. What matters most is the rich life you choose to live in it.
Photo Credit: Bethalee Interiors