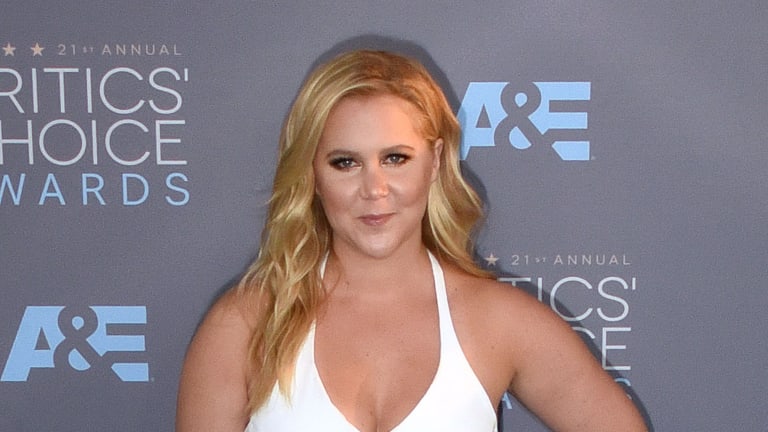 Amy Schumer Calls Out Glamour For Implying She's Plus-Size
There's nothing wrong with the term, but using it for someone of Amy's size is not cool.
Things got a little uncomfortable between Glamour Magazine and Amy Schumer this week. The actress, who accepted the magazine's Trailblazer of the Year award in 2015, was featured in Glamour's "Chic at Any Size" special edition, alongside actress Melissa McCarthy, model Ashley Graham, and singer Adele. "Outfits, Ideas & Updates That Flatter Sizes 12 & Up" the cover reads. 
Although the magazine clearly intended to celebrate the women featured, Schumer was uncomfortable with her inclusion in the issue. "Plus size is considered size 16 in America. I go between a size 6 and an 8," Schumer explained on Instragram, "@glamourmag put me in their plus size only issue without asking or letting me know and it doesn't feel right to me. Young girls seeing my body type thinking that is plus size? What are your thoughts? Mine are not cool glamour not glamourous."
Glamour responded by apologizing to Amy, but clarifying that it did not in fact label her plus size. "First off, we love Amy, and our readers do too–which is why we featured her on the cover of Glamour last year," a spokesperson told TIME magazine. "The cover line on this special edition–which is aimed at women size 12 and up–simply says 'Women Who Inspire Us,' since we believe her passionate and vocal message of body positivity IS inspiring, as is the message of the many other women, of all sizes, featured. The edition did not describe her as plus-size. We are sorry if we offended her in any way."
Most of the reaction to Glamour's flub has focused on the term "plus-size" and whether or not we ought to be using it, but Schumer's discomfort apparently had less to do with the term itself and more to do with the fact that anyone would place someone of Schumer's size in or near that category. And that, in my opinion, is worth exploring.
Coincidentally, Jennifer Lawrence expounded on the topic in an interview with Harper's Bazaar published this week as well. Discussing her reputation as the unusually relatable, "normal" girl among celebrities, Lawrence points out that—physically speaking—she is not actually normal. "Everybody says, 'We love that there is somebody with a normal body!' And I'm like, 'I don't feel like I have a normal body.' I do Pilates every day. I eat, but I work out a lot more than a normal person," Lawrence explained, "I think we've gotten so used to underweight that when you are a normal weight it's like, 'Oh, my God, she's curvy.' Which is crazy."
Whatever you think of the term "plus-size," both Schumer and Lawrence are making important points.
The fact that so many of us think of someone like Amy as plus-size, and someone like Lawrence as "normal" (whatever that means) demonstrates that the media, Hollywood, and perhaps some of us in the general public are dreadfully out of touch with real women. The mistake is understandable—someone of Amy's average size, or even Lawrence's softer-than-your-typical-model appearance, can appear out of place among rail thin A-list celebrities. But the reality is that the average american woman is 5'4" and weighs about 166 pounds. That means that 160-lb. Schumer is a better representation of the average woman than Jennifer Lawrence and most celebrities. I am not a physician, so I won't pretend to know how much women ought to weigh (I am quite certain, however, that the answer is different for every woman), but the fact that we think of 5'9" and slender Lawrence as "normal," and not Schumer, seems to indicate that we have a pretty poor understanding of what "normal," to the extent that it exists, is. And if that's the case, we've got some work to do, because ignoring reality is not doing real women any favors.
I'm happy women like Schumer and Lawrence are highlighting the distortions in our understanding of what women look like. Here's hoping the media takes note.
Photo: Getty Images