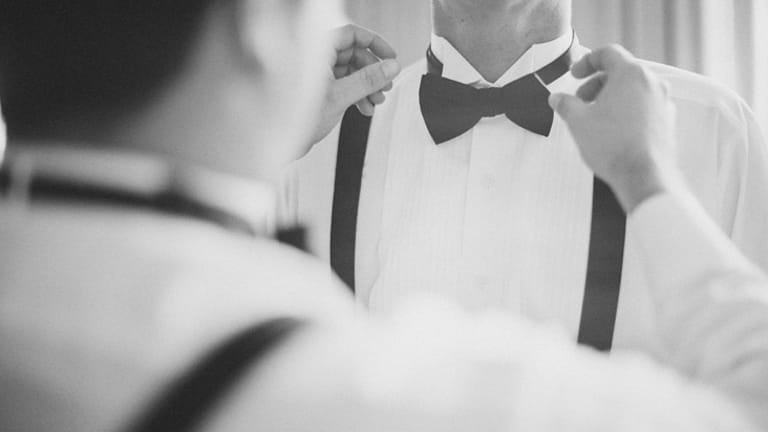 I Asked Men What They Looked Forward to Most About Their Wedding Day, and This Is What They Said
Don't be fooled—grooms have opinions, too.
One of the things that surprised me the most about wedding planning was when my future husband started getting involved—as in, seriously voicing his opinion about stuff. You can laugh, but I really did not think men cared two figs about the details of the wedding day. Truly, I thought the extent of the male concern for the big day was that she meet him at the altar and that the wedding night goes down OK. Boy, was I wrong.
The truth is, the wedding day is not just a female fantasy; men dream about their wedding day, too, and that is an important thing to acknowledge when heading into wedding planning with your fiancé.
Brides-to-be can often fall into the trap of making their wedding day all about them, and they can get a little greedy about letting others add their own personal touch (trust me, I know from experience!). But the more I talk to male friends and family members, men recently married or getting ready to say their vows, I have begun to appreciate how much the wedding day really matters to men. Sure, your future hubby might not care to discuss the kind of table setting you will have (or maybe he does!), but I bet there are one or two things he hopes will happen just as he has always dreamed.
I asked five men what they looked forward to most about their wedding day, and this is what they said.
 01. Seeing his bride walk down the aisle
"Seeing my wife enter the church and walk down the aisle was a moment that I had dreamed about for much of my life," Erik tells me. And Erik isn't the only man who feels this way. In fact, all of the men I spoke to listed this as the thing they were most looking forward to. "It's a pretty victorious experience," Chris explains. "Guys can't wait to see how beautiful their girl looks and how she's showing up to marry you and no one else." Luke says, "I was really looking forward to watching my wife come down the aisle with her dad. It's just such a powerful moment."
James comments that the way his wife generously oriented herself toward him was the most moving aspect of their wedding day. "My wife wanted to look beautiful on her wedding day, not for the eyes that watched her from the pews, but for me, her husband to be," he says. "Everything in her attitude showed me that every decision she made for that day was as a gift to me. Her wedding dress, quick photo sessions, and evening outfit were all chosen with me in mind." Not only will your self-giving attitude be a beautiful start to married life, but I also have a feeling that taking the focus off yourself will make for a much more enjoyable time for you.
So, don't forget that the moment you have been waiting for—when the doors of the church open, and the congregation rises, turns, and looks at you—is not all about you. This is the moment your future husband has been looking forward to all his life, too.
02. The party of the year
Your guy may not feel strongly about the table settings, but the wedding reception is one of the areas of planning he cares very much about. The guys I talked to wanted their wedding reception to be a really good time—if not the best party their guests have ever been to. "Because I always enjoyed my other friends' weddings, I wanted all my friends to have a blast," Chris explains. While not number one on his list, soon-to-be-married Mike says he is looking forward to a fun wedding celebration. "Most important for the reception I think is a great band, fun dancing, some wine and beer . . . and great times with friends and family who we may not see very often," he says. 
This is one area I think most grooms would appreciate a little more say. Ask your fiancé if he would like to pick out the alcohol and help curate the music selection. Ask him if there is anything he has an expectation about. Being announced? First dance? Anything he has seen at other weddings that he really likes? Chances are he will jump at the opportunity to help out, especially if it's an area of the planning he cares a lot about.
03. Photography
If your wedding is going to be the party he hopes it will, you can bet he will want some awesome photos to document it. High on the guys' lists was photography; they wanted to have photos that really capture the wedding, so they can look back and reminisce. "The photographer and style of photography were important to me," Erik says. "I enjoy looking at photos and reliving memories." Chris also explains, "Most guys appreciate the magnitude of the event and want all requisite family and cultural traditions fulfilled. Photos were important to me for this reason because they will be a big part of the historical record."
For my husband, Joe, photography was also very important. I don't know about you, but I'm hardly an expert in photography, so I was happy to let him take the lead on this. Decide together what kind of style you like, and then let him seek out a photographer. He will feel good about contributing in this way and proud when your photos come back looking gorgeous.
Not every bride-to-be struggles with making the wedding day all about her (or so you think . . .), but regardless, taking some time to consider what is most important to your future husband on your wedding day will be sure to warm his heart and yours.
Photo Credit: Ryan Flynn Photography