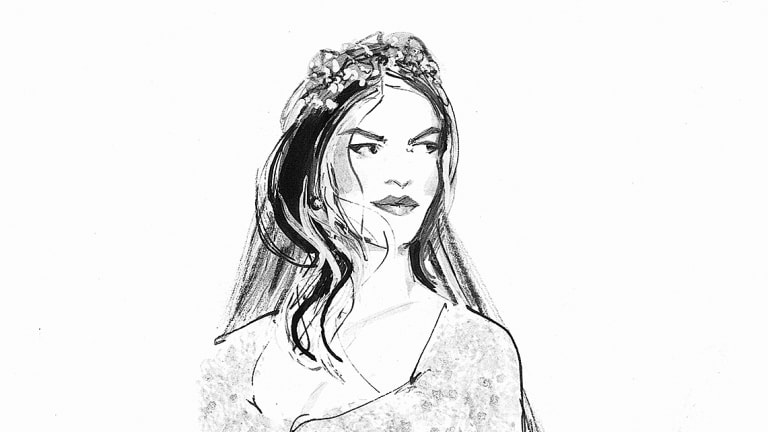 The Most Flattering Wedding Dresses for Your Body Type
What better day to work with your natural body type than on your wedding day?
Finding the perfect wedding dress is high on the wedding must-have list for most women. But if you've ever gone along with a friend (or even just watched Say Yes to the Dress), you'll know that finding a dream dress is easier pinned than done. So before you get carried away with ruffles, beading, and bustles, make sure you get down to basics: figuring out which kinds of dresses will flatter your shape.
The goal for any body type is to use clothing to create a sense of even proportion by adding volume where you're less voluminous and minimizing otherwise. If you're going for all white, like most brides, that means being cognizant of cut, fabric choices, and texture.
To save yourself from being totally overwhelmed at the bridal shop, we've created a guide to help you on your way to finding the dress. If your body type is somewhere in between, experiment with both of the recommended shapes to see what works for you.
If you're an apple . . .
You carry most of your weight in your torso and arms, while your legs and hips are more narrow, so the goal is to create more volume on your bottom for balance. Start reaching for those universally-flattering A-line dresses! Because an A-line fans out directly from the waist, it adds volume below and highlights your waist—a win-win.
Look for an A-line dress with a sturdy structure in the bodice; this will cinch you in and contrast against the fuller skirt to create an hourglass visually. Try finding one where the waist hits just above your natural waistline to create the illusion of a small torso and longer legs. If you need some more support in the bust area, make sure you have thicker straps or cap sleeves. Avoid thin and breezy materials, these have a tendency to create a shapeless silhouette. 
If you're a rectangle . . .
Try a sheath dress. A rectangle body type is often described as "straight up and down,"—meaning, not many curves. You want to create the illusion of more curves by choosing a dress that emphasizes the subtle shape you do have. The sheath dress does just this with a shape and texture similar to vintage slips. It is body hugging yet flares slightly just past the thighs, giving your figure an extra oomph. An athletic body type also looks great in a sheath dress.
Look for a sheath that cinches in at your natural waistline; this will emphasize your waist and make you look less boxy. Try experimenting with dresses that have high necks or cap sleeves. They are often very flattering on rectangles, complementing their strong frame while adding an illusion of slightly wider shoulders (key to that hourglass illusion). Try lightweight, thinner fabrics such as silk. 
If you're a pear . . .
You carry most of your weight in the hips and thighs but tend to have a smaller waist, bust size, and arms. The goal when dressing a pear shape is to de-emphasize the hips and thighs to create more balance. That means: ball gown. 
Look for ball gowns with big flowing skirts, a cinched waist, and an embellished bodice. A flouncy full circle skirt will not cling to your hips and thighs and, therefore, won't emphasize your pear shape. The goal is to create an hourglass silhouette, so choose a bodice that dramatically cinches in slightly lower than your natural waistline—this will exaggerate the balance between the full skirt and your torso. A bodice with a boat neckline, three-quarter sleeves, or cap sleeves will also create the illusion of wider shoulders, balancing out your full skirt. Feel free to try out bodices with lace detailing or beaded embellishments, this will all help to add more visual volume on top.  
If you're petite . . .
A petite woman is classified as 5 feet 4 inches or shorter. The goal when dressing a petite is to create the illusion of length and to not overwhelm your figure in tons of fabric, embellishments, and designs. Looking for a solid choice? Try an empire waist.
An empire-waist dress hits just below the bust line. Choose a skirt that is simple with long, flowing lines to elongate your figure. The material should be simple and not too heavy or thick. Try a fluffy lightweight chiffon that goes straight down and doesn't poof out too much like a ballgown. For the bodice, avoid extra fabric, but feel free to experiment with different embellishments. 
If you're an hourglass . . .
Luckily for you: Hourglass bodies are the most proportionate. Your bust and hip measurements are equal, and you have a smaller waist. Flattering an hourglass is all about emphasizing what you already have, so a mermaid dress is ideal.
The mermaid dress looks best when in a sleek, smooth fabric without a ton of embellishments—too much fabric and design can overwhelm you. The mermaid dress works on your shape because your silhouette perfectly varies in balance, from the width of your torso to the small of your waist and then from the width of your hips to the small of your knee. The flare of your mermaid gown flatters this proportionality.