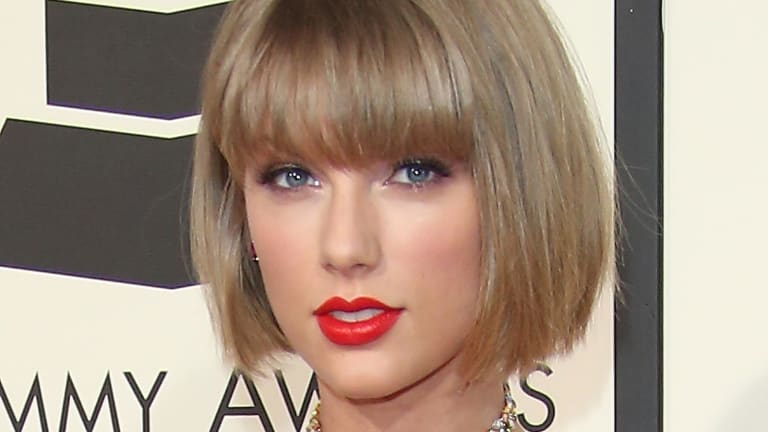 5 Style Tips from Taylor Swift That Every Woman Can Pull Off
Because she never goes out of style . . .
Taylor Swift is a style icon with indisputable clout. She has courted the public eye on the covers of magazines, and her 1989 World Tour, which dropped like a tidal wave on Apple Music, did well to showcase her "it girl" style. While the modern T. Swift fangirl probably isn't going to waltz in to her neighborhood coffee shop in platform heels unless it's Halloween, there are some practical ways to use Swift's timeless fashion sense to learn a few basics. Mesmerizing a sea of screaming fans on and off the stage is her specialty, and the little tricks she uses can help us embody her confident gravity from the moment we leave the house.
01. Keep a confident posture.
Did you laugh out loud seeing Swift catwalking backstage with Ellen DeGeneres at the Staples Center? We did. While a powerful posture isn't necessarily something you can buy at the store, it's a sign of confidence and health that speaks volumes for your aura and appeal.
Good posture may seem like a maxim of your mother's generation, but there really is something to it. Lengthening the spine opens up the rib cage and lungs to facilitate breathing. This core-lifting posture is the framework for all disciplines of physical grace, including ballet and yoga. Maintaining correct posture by aligning one's back to support the natural curvature of the spine reinforces the abdominal muscles and perfuses the lungs with more oxygen.
Slouching is more than just bad form; it actually hurts our bodies—and our confidence. Psychology Today reports that good posture "activates a sense of power in the mind, making people feel and behave as if they are in charge." Turns out, if you want to achieve a more emboldened persona to tackle the day's challenges, you'll have to demonstrate it with your body first. This a huge style point that Swift tackles effortlessly.
02. Never underestimate the power of the red lip and cat eye combo.
Red lips and the infamous cat eye are the LBD of makeup. There's a reason why Hollywood has yet to abandon it; this mainstay looks good on almost everyone. While at times she embodies a more natural, fresh-faced look, Swift rarely strays from these basics for an evening of glam.
Knowing the warmth or coolness of your skin tone helps determine the best shade of red lipstick for an evening concert or a spontaneous dinner date. The cat eye has been popular since the 1920s and does wonders to create a wide-eyed gaze and to top off a punchy, red pout. This time-tested makeup trick helps boost our confidence on an average day, leaving a little mystery lingering in the air wherever we go. No diamonds necessary!
It's notoriously difficult to achieve this look with a pencil, which is why we recommend the MAC Fluidline gel liner in Blacktrack. Any thickness or contouring for cat eyes is easily achievable with an angled brush.
03. #ShortHairDon'tCare isn't just a saying.
Swift introduced us to yet another power play in her fashion handbook by rocking a blunt angled bob at the 2016 Grammy Awards. She vibed off a fierce modern look reminiscent of Carey Mulligan in Baz Luhrmann's adaptation of The Great Gatsby and wowed fans in her usual electric fashion with a performance of "Out of the Woods."
With an all-too-familiar media circus swirling in the room after Kanye West dropped a sexist lyric about her, she took to the stage to deliver an emboldening acceptance speech for her second Album of the Year Grammy award. It was a rallying cry to "all young women out there" who will encounter resistance on the road to reaching for their dreams and achieving success. Swift's message was one of solidarity to other female artists, many of whom she has shared her own stage with. It was a #girlpower moment that made Swifties everywhere stand up and cheer. While it isn't always about the hair, it's sufficient to say that the edgy look matched Swift's daring, confident persona.
While the edgy, blunt bob may not work for every face shape, figuring out how you can go shorter isn't always out of reach. Lively tresses are just what the doctor ordered for spring, or as Vogue remarked: "The liberating effects of a new haircut are universal." Don't be afraid to venture a little outside your comfort zone. While it's not the cure-all for insecurity, it's safe to say that #shorthairdon'tcare is worth the risk.
04. Add a little 1950s to your wardrobe.
Swift's style arsenal is motivated by timeless looks from the 1950s. Collared dresses, fit-and-flare skirts, feminine secretary blouses, and elegant handbags have all made appearances on her list of fashion favorites.
When interviewed about her style icons, she credited Audrey Hepburn and Grace Kelly as inspirations for her go-to looks. Swift's demure, feminine style in her "Begin Again" music video filmed in Paris perfectly encapsulates this look.
Keds, pastel-colored oxfords, polka-dot dresses, and varsity jackets have been her mainstays in recent years as she pulls influences from other decades, including the sixties and, more recently, the eighties. As it turns out, the old standby isn't such a bad thing with fashion. It's always the passing trends that are ones we regret in old photos. ModCloth and Etsy are both great places to start to achieve a vintage look. Putting on a little "Old Hollywood" glam each time you step out the door is part of Swift's confidence secret.
05. Let your #girlsquad share in your success.
It turns out that Swift's influence goes far beyond fashion. This year in particular highlighted her myriad of A-list friendships, with everyone from supermodel Gigi Hadid to up-and-coming songstress Alessia Cara. 1989 was her biggest tour yet, and she chose to celebrate her success very publicly with her #girlsquad entourage. From awards shows to music videos, Swift is rarely without a gal pal on her arm.
Though her songs may be about men, she doesn't make them the center of her universe. Her music video for "Bad Blood" won an MTV Video Music Award and featured sixteen of her gal pals. This quote easily sums up her theory on friendship: "I'm not that complicated. My complications come out in my songs. All you need to do to be my friend is like me," Swift has said.
While she has been criticized in the media for "only hanging out with supermodels," she's made it clear that her friendship affiliations are more than skin deep. She's interested in supporting the success and influence of women with ambitious goals and is generously using her own fame as a tool to help them get there. What's not to like?
Being a class act is about more than what you wear. It is weaving confidence into your lifestyle and gaining inspiration from your friendships. Shining bright and slaying insecurity is not in the approach but in how we choose to conduct our lives. If we put our shoulders back and lead with confidence, it's safe to say that we're equipped to conquer what's in our path, even when faced with a little resistance.
Photo Credit: Getty Images