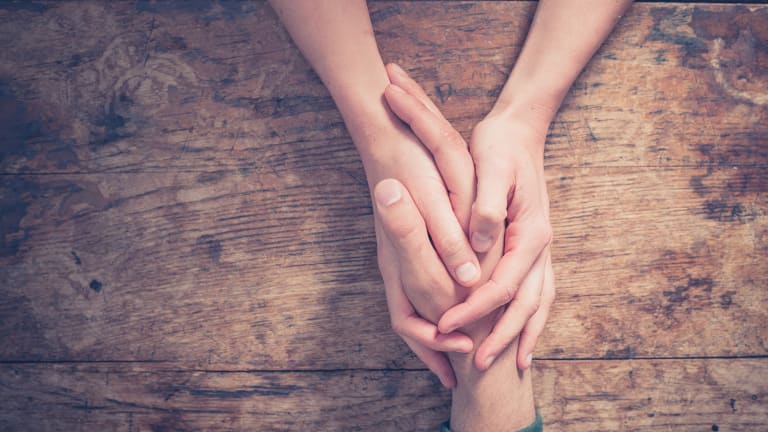 Gentlemen Speak: Wondering if Your Guy Struggles with Porn? Here's How to Talk to Him About It
Yes, it's hard to talk about, but it's incredibly important.
Have you ever wondered if the guy you are dating struggles with porn? I'm guessing many women just assume their boyfriends watch porn and accept that as the way things are. But take it from a guy—not all men watch porn and most guys who do wish they didn't.
Pornography has become such a problem that celebrities are now posting videos and statistics on their websites and Twitter feeds trying to alert people to the harmful effects of porn. Last month, Terry Crews of the popular TV show Brooklyn Nine-Nine posted a series of videos revealing his past porn addiction and the utter unfulfillment that resulted from it.
My personal favorite celebrity PSA in the past year, however, came from Russell Brand when he posted a video on sex and the effects of pornography. Our attitudes toward sex, he says, have become so warped that sex has now "deviated from its true function as an expression of love and a means for procreation." "Icebergs of filth floating through the house on Wi-Fi," Brand calls pornography. How scary and true is that image? Porn, whether on our iPhones or computers, is just one click away. That is our reality.
A guy doesn't have to be a porn addict to struggle with porn. Porn is always in our face, thanks to hyper-sexual ads and porn sites at every wrong turn as we surf the web. I preemptively keep my computer, phone, and T.V. on pretty strict settings to filter out any explicit content, because honestly, I don't want it around me. I don't want to worry that while I am doing research for class ads are going to pop up, just because search engines have figured out I'm a guy. I don't want to worry that because I signed up to win World Series tickets my inbox is going to get flooded with degraded naked women. I can only speak from my experiences and other men I've spoken to, but you would not believe the lengths men have to go to to make sure they don't get solicited by pornography on a constant basis.
So, you may be asking yourself: If it's a problem for Terry and Russell, and if normal guys like Justin are concerned about being bombarded by it, is pornography something that my boyfriend struggles with, too?
The short answer: Yes.
The fact is, the majority of men have had some kind of exposure to pornography. Pornography issues analyst Daniel Weiss noted that more than 93 percent of men had viewed pornography by age 18. Most of them reported to have viewed it for extended periods of time on numerous occasions. Last year, the global porn industry was reported to be a $97 billion venture—that's about $3,075 spent on porn PER SECOND.
Porn is a global issue. As Verily's culture editor Mary Rose Somarriba points outs, "A significant number of women in porn are actually trafficked," which contributes to a worldwide epidemic of sex crimes. But it's also a really important issue between you and your boyfriend—just you two. Somarriba writes, "Research suggests men who consume porn are often less interested in real-life sex with real-life partners."
It's pretty clear: Whether you want to admit it or not, porn needs to be discussed. So, how should you approach the conversation with your boyfriend?
There is no easy how-to list or quick explanation when it comes to dealing with pornography. To help answer the big questions, I spoke with The Porn Effect's Matt Fradd. Here are a couple key things to keep in mind.
It's OK to Bring It Up
A conversation about porn usually happens one of two ways. Either someone discovers the porn on a phone or computer, or someone brings up the issue voluntarily.
If you discover it, it's OK to start the conversation. Try calmly saying something like, "I saw this and was wondering if this has been a long-time struggle and if it's something that you are fighting to be free of." Maybe it was a bad decision he already regrets. But maybe it has been a prolonged struggle. Whatever the reason might be, it is too important an issue to ignore. But, as Alysse ElHage writes for Verily, "This conversation won't go well if your significant other feels blamed or ashamed. Instead, keep the conversation open and honest."
It will not be helpful to ask for a detailed account of his porn use (the websites, the images, etc.), Fradd points out. We all have our faults and our struggles. Hashing out a play-by-play of his particular struggle could make him feel more ashamed and won't be productive for the relationship or eventually overcoming the struggle.
What will be most productive is helping the guy to focus on how he is going to change, Fradd suggested. What is he doing to conquer this struggle?
As nice as it would be for your guy to take the lead with this difficult conversation, chances are it will be you who brings up the conversation, and that's perfectly OK. If, however, he is the one to initiate the conversation, tell him that you appreciate him bringing this to light and recognize how much courage that must have taken. After you have discussed one another's past or present struggle with porn (again, no excessive detail needed), don't feel like you have to respond to any news right away. It's okay to thank him and tell him that you need time to process everything. This news can often be shocking, so better to take the time to think about it than to react in the moment.
Should I Break Up with Him?
This question may inevitably come up, but each case is unique and porn use can be complicated. People are exposed to porn at different ages and get hooked for different reasons, but in the end we are all looking for love, intimacy, and fulfillment. So when it comes to making the decision of whether or not to break up with him, this decision is entirely dependent on the circumstance and the people in the relationship. Seek counsel from someone you trust, maybe even a professional therapist, and take time to think it through carefully.
It's crucial that your boyfriend comes up with a concrete plan of action. Is he going to install preventative software on his computer and phone, go to counseling, seek out a group of men who can help him and hold him accountable?
"Tell me what you're doing to change," Fradd says. "That should be the attitude of the girl." It can be easy to get upset and react, but guys need expectations. "Expect thoughtful responses, not pithy little resolutions that have no concreteness. Serious things like accountability software, counseling, and setting boundaries," will need to be laid out, he adds. Make your expectations known and have him keep you informed about what measures he is taking.
Pornography is no longer "just a guy's issue." We are seeing more and more evidence of women who struggle with porn, but men and women relate to it and struggle with it in different ways. For that reason and many others, guys will need the help of not only their girlfriend but also other men as well.
Unfortunately, in some cases, the prudential decision may indeed be to break up with him. Ask yourself the question: "Should he be pursuing a relationship or should he be pursuing healing at this point?" Ultimately, only you can make that choice. "If your boyfriend is not willing to take steps to overcome porn, then you should help him by breaking up with him," Fradd says. "He needs to want to be free, and then he needs the support of other men in order to do that."
Accountability and Education
If he expresses a desire to stop using porn, your best bet is to challenge him to come up with a concrete plan of action and have him share with you what he is going to do to overcome his porn use. "Help him by encouraging him to get plugged in with a group of guys who are fighting this," Fradd suggests. "There's a difference between a man who is immersed in pornography and someone who is fighting to be free of it."
I don't think the girlfriend should be the "accountability partner" when a guy is trying to overcome porn use or addiction. He should certainly be honest with her, especially if the relationship is getting serious or they are seriously thinking about marriage, Fradd adds, but he needs someone outside the relationship to help him, too.
The best thing a girlfriend can do if she decides to keep the relationship going is to make her expectations clear, be supportive of the concrete measures her boyfriend is taking, and educate herself on the issues surrounding pornography.
Honestly, I think this is something that we should all be doing. There are tons of great websites out there detailing the damages porn presents—The Porn Effect, Fight the New Drug, and NoFap are just three examples. Books such as Fradd's Restored share true stories about love and trust after porn.
At the end of the day, men need strong women to encourage them, to challenge them, and maybe even to initiate that conversation when it is time. But in the end, what men really want is authentic love, and I think we can agree that that is something we are all struggling to find in a world that badly needs it.
Photo Credit: Adobe Stock