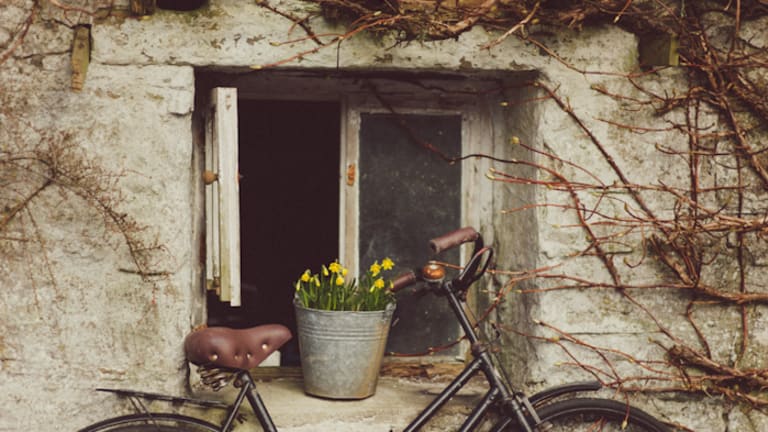 5 Easy Tips to Reap the Health Benefits of Spring
We'll take any excuse to buy ourselves fresh flowers, but this scientific research sure sweetens the deal.
Don't you just love spring?
While I'm a big fan of winter's coziness (especially chunky sweaters and fireplaces), the barren trees start to get old by the time March rolls around.
After months of feeling stuck inside with evergreens and balsam-scented candles as our nature fix, spring's blossoms, fresh seasonal produce, and warmer weather are a welcome change.
But did you know that bringing spring indoors not only adds a fresh sense of liveliness and color to your home, but it also has some surprising health benefits? Here's how.
01. Bouquet Your Way to Better Health
Spring brings farmers market season, which means fresh flowers are easily accessible. And who doesn't love a fresh bouquet? Fresh flowers brighten up a space, and certain flowers are associated with surprising health benefits, according to the University of Pittsburgh Medical Center. Echinacea can help boost your immune system, lavender helps reduce stress, and honeysuckle has antibacterial and antiviral properties.
A simple bouquet of roses, peonies, and ranunculus also has its own health benefits, as the mere presence of nature can boost your energy, researchers at the University of Rochester say. Lead author and professor Richard Ryan says, "Being outside in nature for just twenty minutes in a day was enough to significantly boost vitality levels."
So go ahead, indulge in your inner artist and create a pretty floral arrangement for your kitchen table. Not feeling up to the task? No problem. For $40 flat, The Bouqs has you covered with the freshest ethically sourced blooms straight to your door.
02. Open the Curtains and Windows
The days are getting longer, which means more sunlight in the morning and evening. Opening your curtains and windows gives you access to all-important vitamin D from sunlight. Seeing nature has its health benefits, too. Research has shown that patients in hospitals who have a view of nature and exposure to sunlight outside their windows experienced less pain and stress and healed more quickly, according to Harvard Health Publications.
Other studies have found that the presence of nature can reduce feelings of exhaustion and that just even thinking about nature can increase your happiness. Prop your window open when you're getting ready for the day or while you prep dinner when you get home. Weekends are a perfect time to throw windows open to air out the whole house. Plus, hearing the sounds of birds chirping can become your own soundtrack to spring.
03. Embrace Dining In Season
Spring brings an amazing array of in-season produce. Not only do you support local farmers when you purchase seasonal fruits, vegetables, and spices, but you also benefit from the freshness. In-season produce generally has more vitamins, minerals, and antioxidants than produce picked before it's ripe and shipped long distances to reach your table, according to the Cleveland Clinic.
Nothing can beat freshly picked produce from your favorite farmer. Here's a list of what's in season now. Make your local farmers market a regular stop to take advantage of feasting on the freshest produce possible.
04. Fill Your Home with Spring Scents
Essential oils have surged in popularity, and their use has been credited with many health benefits ranging from reducing stress to treating acne to easing congestion. Use this to your advantage, and bring the scents of spring into your home.
Peppermint, orange, and lavender have been shown to decrease stress and anxiety and increase your sense of well-being. Oil diffusers are popular options when using essential oils. In her book At Home with Madame Chic, Jennifer Scott suggests putting orange slices, cinnamon sticks, vanilla, and other spices in a pot of water and simmering on the stove; your home will be filled with a refreshing scent in no time. Or, simply buy your favorite spring-scented candle of jasmine, lilies, peonies, and roses.
05. Capture the Colors of Spring
While there's debate over the power of color among researchers, we have our preference for colors based on how they influence our mood. Smithsonian Magazine reports that people tend to gravitate toward colors that they associated with positive things, and it differs among individuals.
Which colors convey spring, and what are the moods you associate with them? Add touches of these colors to your home. If you love the bright blue color of spring skies, invest in a few picnic-worthy pillows, a robin's egg blue blanket, patterned cobalt linens, or a piece of art with pops of cerulean. You can even paint your walls (or one accent wall) in a springy hue to make a bold statement.
Inviting the colors, sounds, tastes, scents, and bounty of spring into your home with these creative and easy ways can usher in a welcome boost to your mood and well-being. Make just a few changes, and you might walk out the door with an extra spring in your step this season (pun very much intended!).