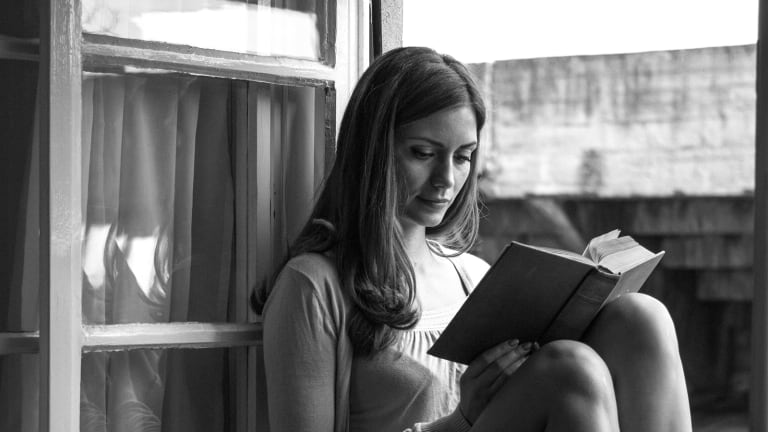 20 Books That Are Perfect for Every Kind of Spring Break
Don't forget to pack one of these great reads, however you're spending your spring break.
You've bought your tickets and packed your bags, and you're ready to head out of town for spring break. But do you have a book to toss in to your tote alongside your sun hat or ski gloves? Whether you're having a staycation or headed to some exciting locale, here are some tailored reading materials for your spring break.
BEACH BOUND
You might want a book that you can dip in and out of as you doze under an umbrella. Try a quick-reading, contemporary favorite.
Where'd You Go, Bernadette?
Maria Semple's updated take on the epistolary novel tells the story of Bernadette Fox, a brilliant agoraphobic architect, who goes missing from her Seattle home. The book is shaped by a combination of emails, documents, and private correspondence as compiled by Bernadette's teen daughter, Bee. This witty novel is cleverly constructed, and the reader never gets lost amid the changing formats. Funny and moving at once, Where'd You Go, Bernadette? is a pick you'll pass on to friends with a smile.
The Martian
Many have now seen the Oscar-nominated movie based on Andy Weir's book, but Mark Watney's voice comes through so clearly and hilariously that The Martian is still worth a read. We meet Watney stranded and alone on Mars after his mission team left him for dead in the wake of a disaster. Where other survival stories can feel interminable with no apparent goal, Watney's story is fast-paced and fun even through heart-stopping twists of fate.
SKI TRIP
After hitting the slopes, you'll need a book to curl up with by the fire. Some well-paced suspense will help warm you up from the inside. Here are our après-ski picks.
Station Eleven
Emily St. John Mandel's novel is thrilling, well-structured, and well-paced. She transports the reader into her fast-moving and sweepingly epic speculative future, without falling back on expected tropes. Flashing between a contemporary global catastrophe and a nomadic group touring the post-apocalyptic landscape twenty years later, Station Eleven reveals the connections that anchor a scattered and chaotic society to the past and to each other. Mandel explores themes of human fragility and resiliency, art, and the search for meaning while subverting the usual themes of dystopian literature.
Gaudy Night
Diving into the middle of Dorothy Sayers' Lord Peter Wimsey books will make you want to go back and read them from the start. Harriet Vane carries the day in Gaudy Night as she returns to Oxford, her alma mater, and helps to uncover the culprit behind a series of odd events. Sayers is a true master of the classic mystery, and Gaudy Night is a great place to begin.
In the Woods
Are you more of a modern mystery fan but finished all the Gillian Flynn books and Girl on the Train? In the Woods opens with the unsolved disappearance of two children who left a third with no memory of what had happened. Twenty years later, the child left behind is a detective investigating an eerily similar case—and hoping to uncover answers about the past. Tana French's creepy Irish mystery will keep you guessing through the end and long after you've closed the book.
STAYCATION
If you're sticking around for a staycation, you'll have time to dive into a few captivating, long books. These recent novels will get you thinking.
Life After Life and A God in Ruins
Kate Atkinson's beautiful writing keeps the reader engaged throughout each of these intriguing, thought-provoking books. While even the premise of each book gives too much away, together they form a sweeping view of an upper-class British family's journey through World War II and the second half of the twentieth century. Life After Life focuses on Ursula Todd and the many paths her life could take, and A God in Ruins picks up with Ursula's beloved younger brother, Teddy. Atkinson leads the reader to ask questions about the implications of the smallest decisions and wonder, "What could have been?" Read Life After Life first, and then dive right in to A God in Ruins.
A Constellation of Vital Phenomena
Anthony Marra's book set in Chechnya is not for the faint of heart. Eight-year old Havaa is brought to seek refuge at a largely abandoned hospital by her neighbor Akhmed, where they encounter Sonja, the last remaining doctor. As the story slides between 1996 and 2004, Marra weaves together the many unlikely threads that drew these three people together under one bombed-out roof. While ultimately a story filled with compassion and deep love, the horrors of ongoing war loom large. Conflicts between neighbors and within families are revealed as the reader is plunged into this small but significant corner of the world.
LEAVING ON A JET PLANE
When you have a long flight, a transporting, emotional novel can help the time fly. Our two picks will get you there and back again.
All the Light We Cannot See
We've recommended it before, and it bears saying again: This book is a must-read for fans of novels such as The Book Thief or The Nightingale. Anthony Doerr's unconventional story of a young, blind French girl and a German orphan conscripted into a Nazi academy is long enough to fill many hours but still leaves readers wanting more. Marie-Laure and Werner's converging stories are just two facets of a complex array, united with the tale of a legendary diamond. All the Light We Cannot See is a bestseller for a reason—the book is beautiful, powerful, and a little bit magical.
My Brilliant Friend
The first of Elena Ferrante's Neapolitan novels takes the reader to parts of Italy not often traversed by tourist feet. The book follows two girls as they grow from young children into blossoming women. Elena and Lila are bound together in friendship, competition, poverty, and experience, and Ferrante portrays their complicated friendship and destinies with tenderness. The writing is vivid, the emotions are real, and the recent past is rebuilt for the reader—perfect for someone looking for an enthralling, tightly personal book.
INTERNATIONAL EXCURSION
While you're traveling internationally, pack a book to keep the magic of travel while you're reading on a train or in your hotel room—so long as you're not missing out on great views.
Beautiful Ruins
Jess Walter's bright, imaginative story transports readers between the 1960s Italian coast and contemporary Hollywood. In 1962, the budding romance of a young innkeeper and an aspiring starlet is cut short. Their story picks back up a half century later, in the hands of young Hollywood hustlers. Where other writers might slip into a cold satire of the film industry, Beautiful Ruins is warm and heartfelt through numerous plot twists.
Persuasion
The characters in this Jane Austen novel may only travel as far as Bath, but Austen's sometimes-forgotten final novel reminds the reader that a change of scenery can also offer a change in perspective. Heroine Anne Elliot is a bit older than the standard Austen heroine—in her late twenties, the smart, sweet Anne believes she has let her opportunity for love with Captain Wentworth slip away. The same naval captain unexpectedly reappears, and Persuasion is full of classic Austen romantic tension as the pair encounter each other for the first time in eight years.
WEEKEND GETAWAY
Take along an easy and quick read that will fly by and hopefully make your weekend seem that much longer.
The Royal We
Heather Cocks and Jessica Morgan cooked up a saucy, lighthearted story that Kate Middleton fans will adore. A romance kindles between American exchange student and the future Prince of Wales, and The Royal We follows the joys and trials of a long relationship against the background of royal expectations and gossip as we follow the pair to the altar. Filled with likable characters, this sassy novel will keep your interest until the final pages, even when you can guess the next thing coming.
The Language of Flowers
Vanessa Diffenbaugh's mesmerizing first novel weaves together beautiful Victorian flower symbols with a compelling and romantic story. A young girl, chewed up and spat out by the foster system, finds herself working in a flower shop, shaping bouquets that rely on the meaning of their arrangement. We soon discover where she learned this unique talent as she navigates early adulthood on her own. As the plot alternates between past and present, the reader will be cheering on protagonist Victoria through the final pages.
QUIET RETREAT
If you've let your resolutions lapse, you might be taking the time to re-center on a quiet retreat. Bring along a book that gives you a bit of food for thought.
Better Than Before
What habits did you try to start in January that have already slipped away? Most of us have a few. Gretchen Rubin's newest book uncovers the kinds of tactics and tips that you can put into practice right away. She lays out many pitfalls and roadblocks to help readers reframe what habit building looks like in daily life.
Twelve Steps to a Compassionate Life
Karen Armstrong's book takes a holistic look at wisdom from around the world and builds a road map to help guide the reader to living a more loving and peaceful life. The reader encounters concrete ideas and practical steps that ground the far-reaching ideas in day-to-day experiences.
COUNTRY ESCAPE
If you're heading out of the city and suburbs to a country house, grab a monumental work of the twentieth century for company. Though published decades apart, each offers a deeply nuanced tale set against the background of rural life.
Gilead
This contemporary classic is the first of Marilynne Robinson's trio of interwoven stories set in the small town of Gilead. Gilead is a series of letters written by elderly preacher John Ames to his young son, tracing the lessons learned over generations of the Ames family and the relationships that bind a small town together.
Brideshead Revisited
Through Charles Ryder's eyes, the reader follows the noble Flyte family through the changing decades between the world wars. Complex relationships arise as culture, politics, and religion come into conflict with the modern world, and Evelyn Waugh's masterpiece remains current and relevant more than sixty years after it was first published.
FAMILY ROAD TRIP
Hitting the road for a family road trip? Try reading aloud an all-ages favorite.
The BFG
This Roald Dahl pick doesn't have the movie acclaim of James and the Giant Peach or Matilda—yet! Read about orphans, dream-catching, giants, and heroism before the new Steven Spielberg adaptation is released later this year.
The Westing Game
The favorite children's mystery about the complex game with a grand inheritance at the goal is worth revisiting for the clues, subterfuge, and humor. The suspense continues to thrill for kids and adults alike.
What are you planning to read this spring? Share your favorites with us!
Photo Credit: Adobe Stock