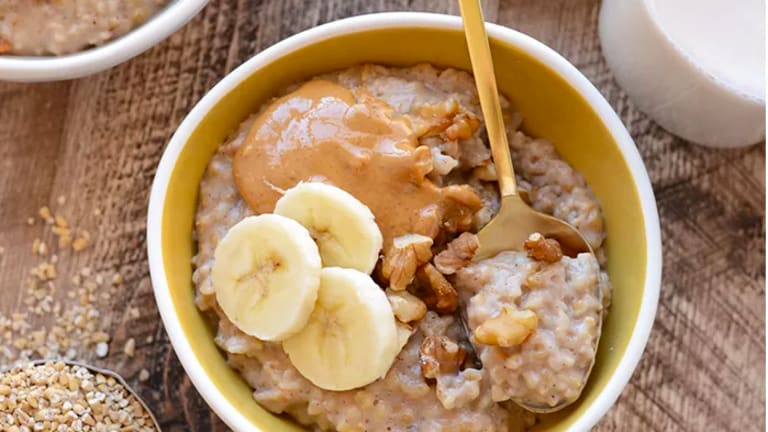 4 Reasons Why You Need a Slow Cooker in Your Life Right Now
Pinterest is bringing slow-cooker meals back, and we couldn't be happier.
The slow cooker is a fantastic piece of cooking equipment. But, like many things that have won popularity amongst the masses, it has also faced its fair share of stigmas since its birth in 1972. "Most foodies don't see it as 'real cooking,'" shares food writer Abigail Murrish, fellow Verily contributor and cofounder of A Kindred Kitchen—a forthcoming online course to help women enjoy meal planning, cooking and hospitality. "And others consider it as an old lady thing that only cooks food like cream of mushroom beef."
But in the past half-decade, it's gone from your grandma's appliance to a trendy staple of creative cooking—largely in part to the booming DIY Internet world born of the recession, mommy bloggers, Pinterest, and bootstrapped, time-crunched, social-sharing millennials.
I, for one, am a huge believer in slow cookers. I cherished mine the moment I unwrapped it after my honeymoon (thanks, cousin Judy!). When I come home on a slow-cooker meal day, smelling a dinner that's already made, I truly feel like the luckiest human being on earth. It's the perfect mood-setter for comfort, warmth, and stress-free cooking.
If that doesn't convince you, here are a few reasons why you should add this clutch piece of equipment to your appliance collection.
01. It's budget-friendly and healthy.
It doesn't take much pinning away at slow cooker recipes to see why the youngest working generation has embraced it. As easy as it is budget-friendly, it can create healthy and delicious concoctions with the right materials.
Slow-cooker meals can save you money several ways. For one, it gives you a wider meat selection. "You can use cheaper cuts of meat that would ordinarily be tough to chew," Murrish says. "Things like Swiss steak or pork shoulder can be made even more tender than more expensive cuts of meat." The slow cooking breaks down these otherwise undesirable pieces so that they're delectable and tender. Yum.
And it's not just meat. "It allows me to buy dry grains and beans—which is much more economical," Murrish shares. This tool makes it sensible to buy in bulk.
Moreover, the way slow cookers work allows for the flavors and spices to mellow and fuse, which can give an otherwise basic meal a gourmet taste. "It's an easy way for cheaper and healthy food to taste amazing."
02. It's fast and easy to clean.
Sometimes, when I really get cooking, I find myself using up to three or four skillets, plus an oven. This can be fun and all (I fancy myself in some intense TV cooking competition)—but it's obviously time-consuming and a pain to clean up. Enter, the slow cooker. One bowl is about as simple as cleanup can get.
"It can even get simpler than that if you make your meals in advance," Murrish says. I've yet to try this, but she explains that she often prepares freezer bags of Crock-Pot-ready meals for "days that I don't have time to even prepare the ingredients."
Murrish feels a little iffy about using slow-cooker liners (often made of FDA-approved nylon resin material). She suggests that if you're making thicker food—like chili—you can eliminate cleanup time by using some spray-on oil before adding in your ingredients.
03. It's so versatile.
The typical slow cooker meal is often associated with simple American stick-to-your bones grub—meat loaf, casserole, pot roast. And while there's absolutely nothing wrong with your basic meat and potatoes, the slow cooker is far more versatile than people give it credit for. From Indian-inspired meals to some Chinese basics and even rustic French cuisine, one pot doesn't mean one-dimensional.
However, when it comes to making some meals, Murrish doesn't always think that the cook-everything-at-once method always cuts it. "Cooking broccoli all day, with tough meat, can pretty much annihilate any resemblance of the broccoli being broccoli," she shares. "Remember science when you cook. Some things take longer, some, no time at all." In some cases, it might be a good idea to prep the aspects of the meals that cook quickly—such as veggies—and heat them up on their own.
04. It's a reliable sidekick.
While we've mostly emphasized one-pot meals as its main abilities, the slow cooker can be an incredible sidekick, too—especially when you're creating large batches of food. You can cook up big quantities of your favorite go-to sides like scalloped potatoes, gooey mac and cheese, hearty beans, rich creamed spinach, and collared greens without slaving over a hot stove. Enjoy some now, freeze some for later, and we're talking business.
Have I convinced you? If you're looking for some inspiration, we rounded up a few of our favorite slow-cooker recipes. Happy cooking!
Takeout, Fakeout: Beef & Broccoli
By the Table for Two blog, this Chinese meal has all the deliciousness and none of the typical heaviness we often associate with delicious takeout meals. Plus, it's about as easy as Chinese cooking can get.
Healthy Chicken Tikka Masala
If you want to get your spice on, The Wanderlust Kitchen has a healthier take on the rich tikka masala meal. Instead of using thick cream, this calls for Greek yogurt and coconut milk. While I'm usually all about cream, you won't miss it when you smell all those savory spices stewing.
Slow-Cooked Boeuf Bourguignon
Here's where slow cooking gets gourmet. This classic stew is the epitome of traditional French cuisine, and has been adapted to work with a slow cooker from the folks at The Kitchn. While it takes a tad more attention than dumping all the ingredients in at the same time, the results are worth it—especially on a cold day when you want fancy food but don't want to leave your house.
Applesauce
"Find a really good deal on blemished apples," Murrish suggests. "It doesn't make an ounce of difference when you're creating applesauce." We love this recipe from Just a Taste. With just three ingredients—four if you don't think the apples are sweet enough on their own—you can slow cook your own applesauce. As blogger Kelly Senyei states, "Once you go the homemade applesauce route, the store-bought alternative doesn't stand a chance."
Spaghetti Sauce
While there are probably thousands upon thousands of Italian sauce recipes, Damn Delicious gets it right with this amazing spaghetti sauce. "Because sauces are allowed to simmer for so long, the Crock-Pot can really bring out the flavors typical of homemade Italian sauces," Murrish shares. Plus, making your own sauce in batches can save a lot of money on the gourmet spaghetti sauces at your local store.
Steel-Cut Oats
Steel-cut oats are probably one of the healthiest carbs you can start your day with. But because they can be a pain to make every day, it makes sense to cook them in a big batch. Try this recipe from Fit Foodie Finds, which uses almond milk, vanilla bean, cinnamon, and a bit of maple syrup to give you a delicious and nutritious morning boost.