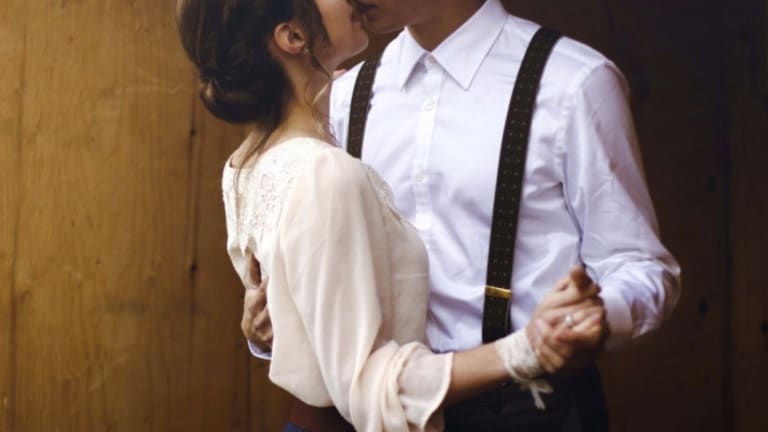 Yes, One Person Is Responsible for Your Happiness—But It's Not Your Future Husband
I thought my marriage would sustain me, but I was wrong.
On my dresser sits a pretty little wedding card in a green frame that reads, "And they lived happily ever after." I bought it myself. Both the design and the sentiment were charming to me, and I thought the card perfectly captured the beauty and future of my then-brand-new marriage.
On the first birthday I celebrated after our wedding, five months pregnant with my little girl, I cried because I was so happy. I lived in a new city, had a scary new teaching job, and had just one friend in town, but I didn't care about any of those things. I had married my best friend, and he had bought me a giant cookie at the grocery store for a birthday cake. We were starting our new life, and whatever we did was special because it was us. I had all I had ever wanted.
A year and a half in to our ever-after adventure, I was surprised to find that I had hit a little snag. I had quit teaching and was at home with our toddler, living the stay-at-home mom life I had been so excited for. I was also taking care of a friend's baby full time and expecting another one of my own, which I was thrilled about. I liked spending my day with and thinking about babies.
However, I live in a part of the country where the winter air can literally take your breath away, and we hunker down for months. We do not take babies on walks to the park; we can barely get them safely from the car into the grocery store. There was one week last year when I didn't leave the house once, not even to get the mail. Then there were the pregnancy hormones. And the loneliness of being home all day. And the realization of how far away I really lived from my family. The days were long, but I never seemed to find time to do anything creative, intellectual, or social.
I was so in love with my family, but this time when I found myself crying, it wasn't because I was so happy. It was because I was sad.
It's easy to think that when we get the thing we want, we're going to be happy from there on out—especially when the dream involves a good man and a wedding. I have a husband who cares deeply about me and loves me. So, why was I so sad?
I realized that I had been relying on my husband—his love, our family—to make me happy. But that is an impossibly tall order for a spouse. It is not his job to make me happy. It's mine.
Before I got married, I knew instinctively that staying happy and healthy was an active pursuit. Maybe it was that I wanted to stay on top of my dating game. Maybe it was that I felt a void, figured it was husband-shaped, and knew I had no choice but to make the best of the situation while I waited for the guy. Whatever it was, I made conscious decisions to take care of my health and well-being. I worked out, drank coffee at Barnes & Noble, read both for fun and intellectual stimulation, got my hair done, studied healthy eating, worked on spiritual growth, spent tons of time with friends and family—you know, healthy stuff.
One time I went through a sad breakup just before Christmas. After the holidays, when I returned to my lonely apartment, I knew I had to do something—something different, something interesting, something to make me feel powerful, independent, confident, and good again. I began a journal to sort some things out. I made sure to go OUT with girlfriends. And, most importantly, I splurged on something I really wanted: I got a month's worth of yoga classes. I got in shape in a whole new way. I felt amazing. Despite my very real heartbreak, I actually felt joyful for much of the day. Crisis averted. Back on track.
Yet subconsciously, or maybe even consciously, before I got married I thought working at happiness was a temp job. Once I found my husband and we had our dream wedding, a happy life would naturally ensue. I'd be all set. A great husband = a great marriage = automatic fulfillment and bliss. All you need is love, right? I knew it wasn't his job to make me happy, but I kind of thought he just would. Fights are fights, parenting is parenting, and finances are finances, but love and happiness would always be there to catch us.
When I finally did find the guy, and we soaked up the excitement of being engaged, we used to joke about fighting after we got married and had kids. He'd make me tell him things I'd say when he was in the future doghouse. "Kids!" I'd say. "Daddy's sleeping in the basement, and he's having pretzels for dinner!" And we'd laugh and laugh. I don't think we could picture any real strain in married life because love and friendship came so naturally to us. Sure, we faced the usual stressors, job stuff and merging our two lives and families, but that was about it.
Then there I was last winter, in awe of the beauty of my new life but feeling unhappy. Nothing had gone wrong. In fact, everything had gone according to plan. But the plan didn't take my own emotional health into account.
It turns out that in married life, in the midst of the happily ever after I had anticipated, I still had to take charge of my own happiness. My husband is more than I hoped he'd be; we talk and laugh, we care about one another's hopes and dreams, we have a lovely romance, and we are a team through and through. But in the end, one human being cannot complete another.
With my husband's love and support, this past winter I took active steps toward making my own happiness. I ventured into the world of gym child care. Multiple times a week, I drop off my kids and run or take a class. I'm also in a book club that focuses on classics. I love reading in preparation for the meeting, feeling my mind work on a higher level. Then, at the gathering, I see a group of wonderful new friends, women from all different careers and interests but similarly focused on seeking what is good and true in life. I make sure to spend time with these friends whenever I get a chance. I work on spiritual growth as well, with daily reading and writing. This attention to personal well-being—mind, body, friendships, and soul—is great for me and good for my marriage. I now bring a fresh joy and energy to my relationship with my husband, and that makes me—and him—happier than ever.
Life is punctuated by moments of intense joy—a wedding, the birth of a child, a big career success. But lasting happiness, fulfillment in the day to day, takes some intentionality. When I take good care of myself, I can be the wife, mom, and woman I want to be. Despite hiccups and curveballs, I am happy. I look around and think, I love this husband, I love this family, I love this life.
Photo Credit: Andrea Rose