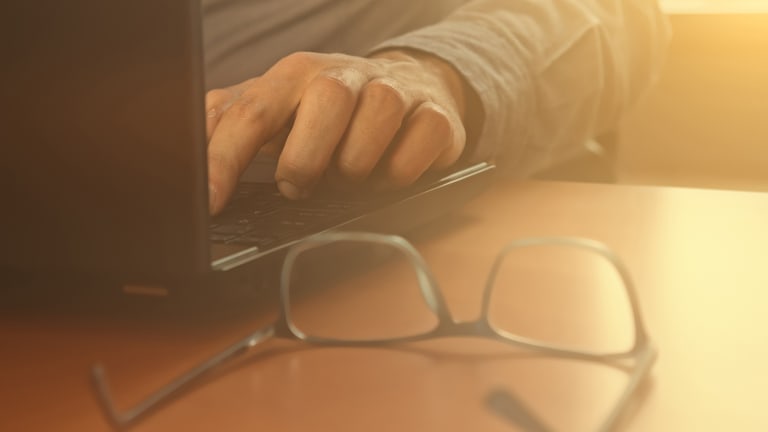 If You Don't Believe That Porn Hurts Relationships, You Need to Read My Story
My husband's drug was porn, until it started to destroy us.
My cousin once told me that pornography was a necessary evil, especially in a marriage. His theory was that while the idea of having a long, loving marriage filled with gratifying sex was a nice one, the reality was that people got bored with each other and turned to pornography to spice things up. Apparently, according to my cousin, without pornography the divorce rate would be higher, more men would turn to prostitution, and more married couples would seek out affairs to satisfy their sexual longings (this all coming from the guy who was currently on his third marriage). Strangely enough, I believed him.
I bought into the societal notion that sex between a married couple gets boring after a while and that to keep my husband interested in me, I had to up the ante. I embraced pornography as a part of marriage and encouraged it when I thought my husband's interest was waning.
I never dreamed that pornography would become an addiction and eventually tear my life apart. But sure enough, pornography was the drug, and I was the pusher.
My husband and I met online in 2001. Within nine months we were living together, and six months later we were married. We were both young and naive, and pornography was a part of our relationship from the start. I knew my husband had a collection of porn on his computer (didn't everyone?), and I didn't want him to think I was stuffy about those kinds of things, so I encouraged him to watch it with me. I thought if he saw how "enlightened" I was, he'd be proud to have me as his wife. Eventually my husband got bored of the porn on his computer, so we started visiting adult video shops. Sometimes we'd come home with a paper sack full of DVDs; other times we'd come home with items that would help us act out what we saw on film. If that weren't enough, I would let my husband video tape or photograph me so that he could have personalized porn to watch when he was away on business.
Like a drug, the need to get higher levels of stimulation grew. As the years passed, we began watching more unusual pornographic films. Heterosexual porn was becoming boring, so we experimented with homosexual porn, gender-bending porn, group sex porn, and even rape fantasies. The deeper we delved into the world of sex on film, the more I felt desperate to find the right combination of images to keep my husband satisfied. When he started talking about creating our own real-life porn (including inviting other people to join in), I feared there was no going back. "Either do what he wants, or lose your marriage," I thought. My inability to say no, to stand up for myself and place a boundary, simply enabled my husband, and I became a willing participant in his descent into addiction.
It Suddenly Seemed So Clear
I remember it was December. I remember feeling very depressed. I remember flipping through a newspaper, trying to get my mind off the things I had done the night before with my husband and a friend. I glanced at an ad in the corner of the paper and immediately felt drawn to it.
It was an ad for a play that had reminded me of something I had seen as a child. I started thinking about my childhood and how I missed the happy little girl I used to be—the little girl I was before I was sexually abused, before my childhood was shattered. Before what led me to believe, as a teen, that sex was the only way to show love. I had never made the connection between the distortion of sex, my abuse, and my marriage before, but the fog was starting to lift. I was finally starting to see clearly.
That's when I decided to stop doing what I was doing. I decided to go in search of the little girl I used to be. I wanted to hold her, comfort her, and tell her that I would always keep her safe. I needed to start by ending my relationship with pornography and encouraging my husband to do the same. When I approached him later that evening to explain what I wanted to do, he was very angry. He said I could do whatever I wanted but that he wasn't interested in joining. He saw no reason to stop living a porn fantasy. Needless to say, our relationship became strained.
Then one day my husband told me he didn't love me anymore. He told me he had been having an affair and that he wanted to leave. Instead of feeling heartbroken or crushed, all I felt was anger—hot, seething anger. After all I had done for him, after the depths I had lowered myself to, after all the humiliating and depraved things I had allowed him to do to my body—he was going to leave me for another woman? I threw him out, along with every piece of clothing he owned. I hated him, and I hated myself, and all I wanted to do was die.
The few weeks after that are a blur. When I look back on them now, all I see is endless despair. My husband eventually came back, and we agreed to work on our marriage. He admitted that he was unable to stop himself from not only watching pornography but also to stop having sexual fantasies and objectifying women. He sought the help of Sexaholics Anonymous, a twelve-step program for people addicted to sex and pornography. How do we know his relationship with porn was an addiction and not just some erotic hobby? He answered yes to almost all of the self-test questions found on the Sexaholics Anonymous website.
Finding a Way Through
The process of recovery wasn't easy. I was plagued with jealousy and insecurity and found it extremely hard to trust my husband. My father used an old political catchphrase to describe what I felt at that time: "Trust, but verify." I became obsessed with checking up on my husband, quizzing him about his progress with his twelve-step program and checking his emails and text messages several times a day. I felt crazed, ready to catch him looking at porn or having another affair.
I even went so far as to try to change my appearance so that I could compete with the women in the films my husband was addicted to. I dyed my hair, went on a diet, and bought very revealing clothing. My obsession to fix my husband and to control everything made me impossible to live with. It seemed that I had gone from one extreme to another and was just as miserable.
I eventually found my own twelve-step program (S-Anon) to deal with my codependency issues. I was able to take the focus off my husband's addiction and turn the focus back onto myself so that I could work on the twelve steps and my recovery from the upheaval that the porn addiction brought to our relationship. With the help of these programs and the people who supported us throughout the process, we were able to heal and forge a new marriage out of the ashes of the old one.
I also started taking better care of myself. The concept of self-care was new to me. I thought it meant getting your nails done now and then. While caring for my body is one aspect of self-care, I also learned about quiet time, eating right, connecting with friends, seeing a therapist, and finding healthy ways to cope with my feelings. I learned how to place boundaries, how to ask myself what I needed to feel safe if a boundary was crossed, and how to ask my husband for what it was that I needed. Speaking my needs wasn't easy, but the more practice I got, the safer I felt.
I started to feel stronger, more confident, and more comfortable in my own skin. I wore what I wanted, ate what I wanted, and didn't do anything to purposefully entice my husband. I didn't have to compete with the women found in pornographic films. I was just fine being me. The friends I made in my twelve-step program became the closest friends I have ever had in my life. They knew me like no one else ever has, and I knew I would receive unlimited support and unconditional love from them. There is no way I could have healed without them. In turn, I began helping others and sharing what I had learned. I felt such joy in sharing my story and how my recovery was helping me get more in touch with the little girl inside of me.
My husband also progressed in his program. He saw many of his fellows slip back into addiction, but he was determined to get better and determined to save our marriage. He held me when I cried, listened to me when I vented, and encouraged me when I spoke my needs. My husband knew that I was serious about my boundaries and his respect for me, and our marriage helped him stay on course. He never had a perfect recovery, but we weathered the bumps along the way the best we could and came out on the other side stronger and closer.
Living with Hope
Last month my husband and I celebrated fourteen years of marriage. We also celebrated three years of recovery. The marriage we have now looks nothing like the marriage we had before. Back then our marriage was built on lies, on the notion that something from outside of us could complete our marriage and make us feel happy. We have come to learn that only when we work as a team, communicate and work toward the same goals, and commit to honesty and loyalty can we be truly happy. Our happiness comes from inside of us, not something we see on a screen. The change was not immediate, but we gradually transformed our marriage into what it was always meant to be.
I eventually forgave my husband, but more importantly, I forgave myself. Being married to someone addicted to pornography isn't easy. There is no easy way out or instant cure. There is also no cure for my codependency or my need to make those around me happy. It's worth noting that not all women married to porn addicts had been actively involved in their husbands' addictions, but even those whose husbands' porn addictions are kept secret still face a similar recovery process. The discovery can be traumatic, and it takes a lot of work to heal from the betrayal and trust again. It's an undeniable part of my life now. But not only has it led to a richer relationship with my husband, it has also helped me grow and heal immeasurably as a person.
As for my husband, getting sober of his porn addiction is essential for our relationship to flourish; that's his to work on. I hold him accountable for his actions, but I've also found that when both of us focus most on our own challenges, we move further individually and together.
I know that as with anything published anti porn, there is likely to be backlash from people who find it hard to see porn as problematic, who'd like to think that it doesn't hurt anyone. But if my story says anything, it's that excessive porn use can become a very unstable crutch in a relationship and very hard to remove, even for those who want to. And in that way, it can be remarkably hurtful for both parties, getting in the way of the only thing of lasting value in life. As a recent T-shirt puts it, "Porn kills love." My experience shows what can happen when you take that train to the end of the line. Thank goodness for me, I was able to switch trains and go back.
Photo Credit: Adobe Stock