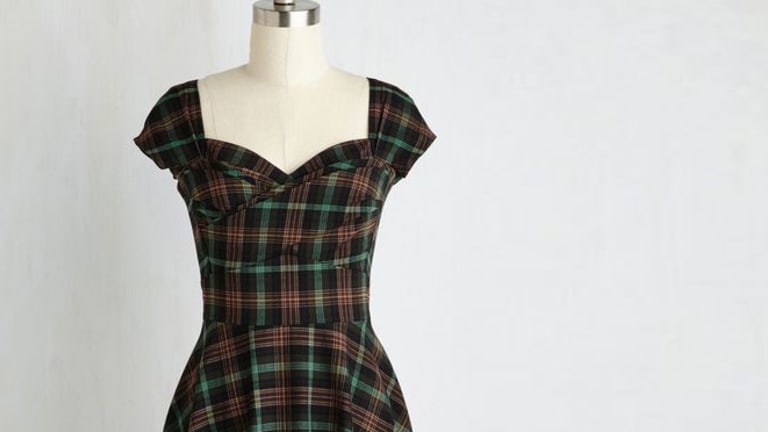 4 Ways to Dress for St. Patrick's Day Without Looking Like a Leprechaun
If you're not into that head-to-toe green look, here are some ways to keep your style classy and festive.
St. Patrick's Day is the holiday we never know how to dress for. Our initial instinct is to reach for anything in our wardrobe that's green, but this is where things can quickly get a little tacky. So, we rounded up some ways to celebrate St. Patrick's Day without going full-on leprechaun. You might even already have a few of these items in your wardrobe.
Cable Knits //
Your go-to white cable-knit sweater is actually perfect for St. Patrick's Day and much more traditional than wearing a sweatshirt with four-leaf clovers on it. An Irish wool sweater, or Aran jumper, made from sheep wool is a wardrobe classic for the Irish. If you have an Irish grandmother, ask her if she has an Aran sweater you can borrow.
Tweed //
With the notoriously wet climate of Ireland, tweed became an icon of Irish outerwear due to the material being moisture-resistant and durable. Combat the March weather with your own tweeds, and represent this historical Irish fabric. As for styling, we like a nod to prep with tassel loafers and a plaid scarf.
Plaid //
How could we leave out plaid? OK, technically, tartan is Scottish, but plenty of people still associate the checked pattern with Ireland. And with so many cute options, this is a classy way to celebrate the Green Isle. We've been loving plaid dresses, and they look great with casual brown boots.
Green //
Well, we couldn't leave out green entirely! Rather than full green on green, try just one major green item to keep the look classy. For a tastefully festive look, incorporate dressier items, such as a collared sweater, point-toe flats, pearls, and a more formal bag.