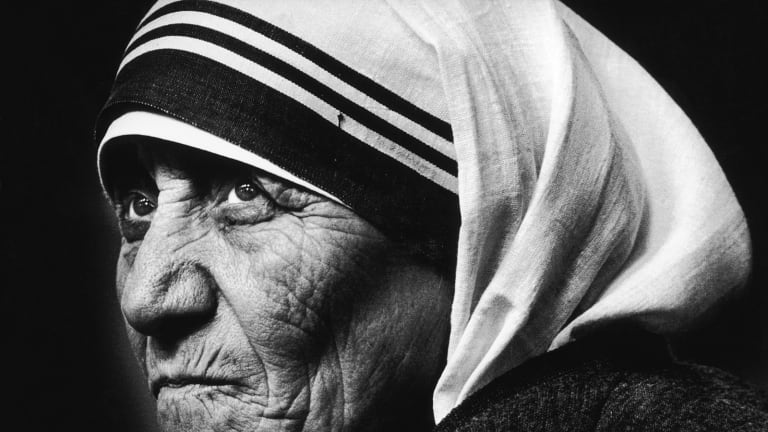 Mother Teresa Is Getting Canonized, and the Whole World Is Excited
A new saint will soon be recognized
Mother Teresa will be canonized in the Catholic Church as a saint this September, Pope Francis announced earlier this week—and the whole world is excited about it.
Born Agnese Gonxha Bojaxhiu, Mother Teresa became a religious sister at age 19 and is most famous for founding the Missionaries of Charity in 1950. The sisterhood has since grown to include 4,500 nuns and 19 homes that serve the poor, sick, refugees, and many others in India and across the world.
While Mother Teresa achieved unintentional international fame for her service, official sainthood requires papal recognition of at least two true miracles. During her life, Mother Teresa commented on her work helping the poor saying, "the miracle is not that we do this work, but that we are happy to do it." But the miracles being talked about now are the healing of a woman with an abdominal tumor and a man with brain tumors. Both illnesses healed without medical explanation and only after people prayed asking Mother Teresa to intercede to God from heaven for their healing. The Church then investigated the claims, and these two have received the necessary papal acknowledgments in 2003 and 2015, respectively, to qualify her for sainthood.
Mother Teresa was known for going out into the streets to clean the wounds of the homeless and find those that were dying and provide companionship and comfort during their final days. "We think sometimes that poverty is only being hungry, naked, and homeless," she once said. "The poverty of being unwanted, unloved and uncared for is the greatest poverty. We must start in our own homes to remedy this kind of poverty."
She summed up the work of a missionary in what she called "The Gospel on five fingers," her summary of the scripture from Matthew 25:34-40, which reads "For I was hungry and you gave me something to eat, I was thirsty and you gave me something to drink, I was a stranger and you invited me in, I needed clothes and you clothed me, I was sick and you looked after me, I was in prison and you came to visit me. Then the righteous will answer him, 'Lord, when did we see you hungry and feed you, or thirsty and give you something to drink? When did we see you a stranger and invite you in, or needing clothes and clothe you? When did we see you sick or in prison and go to visit you?' The King will reply, 'Truly I tell you, whatever you did for one of the least of these brothers and sisters of mine, you did it for me.'" Mother Teresa points to the last five words of that passage—you did it for me—as "the Gospel on five fingers" by which she lived her life.
In recent years there have been criticisms of Mother Teresa, such as that from the late Christopher Hitchens who suggested that she was a selfish phony and recent criticisms of how facilities that the Missionaries of Charity run are not up to top hospital standards. But many of these criticisms have been unfounded. Every person will have their critics, but as Theodore Roosevelt said, "it is not the critic who counts… it is the man who is actually in the arena." There is no doubt that Mother Teresa was in the arena, and the legacy that she leaves is one of service and humility as a pathway for demonstrating great love, whether at home or with strangers. 
"Let us not be ashamed or slow to do the humble work," she said—an admonition that we could probably all benefit from heeding.  
Photo: Getty Images