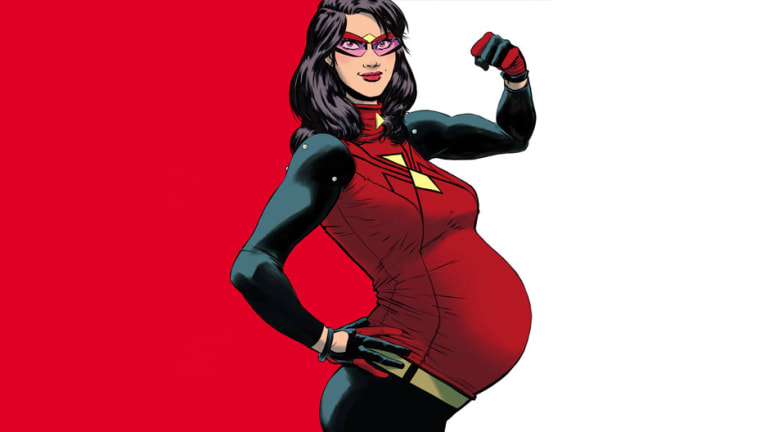 Women Have Superpowers, Too, and Marvel Is Taking Steps to Prove It
Say hello to pregnant Spider Woman.
We'll have to wait until 2019 to see Captain Marvel (aka Carol Danvers) take the stage as the first solo female hero to headline one of the comic empire's movies. But Marvel is using the wait time to make impressive strides toward inviting more girls into the world of comics.
The company recently announced a contest specifically aimed for 15-18-year-old girls interested in STEM (science, technology, engineering and math) careers, for starters. Contestants will submit a five-minute video demo of a project they've created outlining how STEM factored into its creation, and any lessons learned from the experience. Five finalists will be flown to Los Angeles where they will present their work to a panel of industry leaders, get a tour of Walt Disney Studios and Dolby Laboratories (both companies partnered with Marvel to sponsor the contest), and attend the May 6 world premiere of Captain America: Civil War. In the end, one winner will be selected for an internship with Marvel (super powers not required).
One superhero who might be particularly happy to see more women working at Marvel is Spider Woman (aka Jessica Drew), whose newest superpower is the pinnacle of womanhood: growing a baby. The company revealed late last year that the latest Spider Woman series would feature a "very pregnant" Spider Woman, a plot line that writer Dennis Hopeless says "is an absolute joy to write." "I've never had more fun making comics and I'm super proud to be a part of this team," he added. Recently featured on The Longest Shortest Time podcast, Hopeless reveals that he was inspired to write a pregnancy into Spider Woman's character development after witnessing his wife's pregnancy with their twin sons and the following trials of parenthood that they endured together. In other words, the experience summoned superhuman strength that many new parents can relate to.
Marvel's efforts toward gender equity represent an important shift in an industry that has historically portrayed women in narrow sexually objectified roles. According to the work of Business and Management specialist Michael Lavin cited in such places as Fantasy Magazine, "powerful super-heroines like DC's Wonder Woman or Marvel's She-Hulk may easily overcome the most overwhelming threats and obstacles, but they are invariably depicted as alluring objects of desire, wearing the scantiest of costumes." Adds The Artifice, "Ever since the dawn of superhero comics in the early twentieth century, women have been objectified within those square windows, no matter how powerful or likable the character is. This is often done through their skin-tight and usually suggestive costumes, gender ratio, and more."
With women accounting for 40 percent of attendees at comic book fan conventions in 2014, it appears that Marvel is taking note: comics aren't just appealing to men anymore. We believe that all women possess a little (OK let's be honest—a lot) of superpower in them, and we're thrilled to see this acknowledged both behind the scenes and on-screen. And maybe one day we'll even see a superheroine in loose-fitting sweatshirt… Pow! 
Photo Credit: Marvel