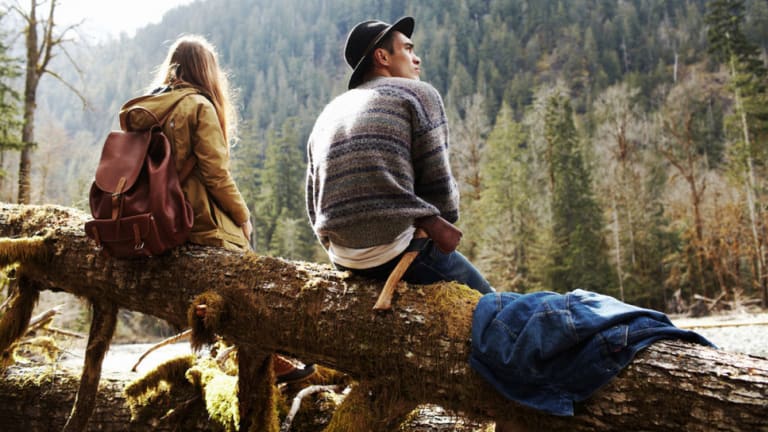 Why a Romantic Getaway Gone Wrong Was Better for My Marriage Than Sitting on the Couch
The role that adventure should play in our relationships matters more than most of us would care to admit.
It was the worst bed and breakfast I had ever stayed in. In a tiny little town in Bourbon Country, Kentucky, my husband and I sank into a musty-smelling mattress, sagging into each other. Like a scene from a movie, wide-eyed baby dolls stared at us from shelves. Old calculators marked for sale decorated the nightstands. The door to the room itself was defaced by duct tape patches and chipping paint. And I don't even want to think about the ghosts lurking around, as I'm sure there were.
With tears in my eyes, I knew we had to get out. I couldn't possibly spend our one precious romantic getaway without the kids in a place like this. So the next morning, we concocted a little white lie (we didn't want to hurt feelings) and moved.
It was a bit dramatic; it was full of emotion. And I remember it so vividly—every smell, conversation, eerie goose bump-inducing light flicker. But most of all I retain the memory of how my husband and I bonded over that comical treasure trove of terribleness.
Flash-forward a few years, and life looks a little different. Nights with my husband are spent mostly at home where it's comfortable and safe. We're thrilled to have the kids in bed and quiet descend on the house. Adventure and spontaneity aren't really part of our mix. 
On one such night, I was reading Aziz Ansari's book, Modern Romance. Predictably, he had me both laughing and nodding as he dissected modern-day dating. It was entertaining for sure, but most of the scenarios had me proudly thinking: "I am so glad that isn't me."
Then Ansari threw me a punch:
"There is social science that shows that more interesting dates … can lead to more romantic success…Couples that did novel and exciting activities together showed a significantly greater increase in relationship quality." 
There I was snug on my couch in my comfy pajamas (you know the ones), my feet tucked under my husband's knee. The kids asleep upstairs, me reading, him tuned in to his sports game du jour. Suddenly it hit me like a ton of bricks: Had we become...boring?!
Having kids is amazing; having them with my best friend even more so. And of course we knew having children meant less freedom to pursue our whims. But I don't think we were prepared for the fact that doing anything together at nighttime, after the kids' bedtime, was nearly obliterated. We can get babysitters, and we occasionally do. But babysitters are expensive and require advance planning. We do at-home cocktail hours, and that's a wonderful opportunity to reconnect with each other. But "novel and exciting activities"? Not really.
"There are many great things about being in a committed relationship," Ansari explains. "You have a bond full of love, trust, and stability. It's beautiful. But the excitement and novelty of a totally unexpected romantic encounter? That part of your life is dead." 
He's right; marriage has provided my husband and me a bond full of love. In fact, many yearn for the stability and ease we have. So do I really need adventure with my husband at this point? At my age, having experienced emerging adulthood replete with international adventures, do I really need to continue seeking thrills with my spouse? I was hopeful that Ansari simply had no idea what he was talking about and chalked this up to the machinations of an unmarried showbiz guy.
I lived in blissful ignorance for a short time before a piece in The Atlantic that I read a few months ago showed up in my feed again. Had Ansari found a way to manipulate my Facebook? In the article, James Hamblin says, "[H]appiness is in the content of moment-to-moment experiences…Over the past decade, an abundance of psychology research has shown that experiences bring people more happiness than do possessions."
I took some time to consider the research before me. If experiences make us happier, it can be deduced that experiences together make our relationships happier. I thought back to Ansari's musings on marriage that pierced my comfortably committed soul. Could my marriage be happier and healthier if I allowed for more adventure?
I immediately remembered our night in the B&B. I don't yearn to do it again. But what memories! It was us against the B&B! We were a team! My husband and I have an eternal inside joke thanks to that dreaded room. Only we can understand what happened there; we are irrevocably and forever linked over a vivid shared memory.
We laugh over that night and get a lot of mileage at parties trying to explain how awful it was. As I touch his hand when we reminisce, I remember how my husband attempted to make the crumbling balcony seem romantic (if you think romance includes the possibility of a cave-in at any moment).
That bad experience is now our good story. Conversely, I can't remember a thing about last Tuesday night—what game he watched or what happened in my book.
Hamblin goes on to say:
"It's the fleetingness of experiential purchases that endears us to them. Either they're not around long enough to become imperfect, or they are imperfect, but our memories and stories of them get sweet with time. Even a bad experience becomes a good story."
I can only conclude from my own life, that adventure in a marriage matters in a way we don't acknowledge. In fact, upon reflection I have come to believe that it could be one of the strongest ingredients for long-term success.
My life with kids isn't going to be one epic marriage adventure after another. That isn't realistic. But recognizing the importance of shared experiences, even in a decade-long relationship, I have discovered some things I can do.
01. Plan adventures with the kids. If this research applies to couples, then why wouldn't it apply to families, too?
02. Be creative at home. There are many opportunities for us to be better at home, to turn off the sports game and put down the book. Websites such as The Dating Divas provide regular date ideas specifically for married folks who want to keep their dating lives alive. You will see, as I have, that there are so many ways to make a day or evening at home special and adventurous.  
03. Commit to kid-free vacations once a year. This might be hard as childcare isn't easy to arrange. But I have found that overnight camps or finding drop-in care for just one day and heading to a local adventure (any of these will work or these) with my spouse can be arranged, if we're committed to it.
04. Skip the dinner and the movie on date night. When we do invest in a babysitter, we're avoiding the cinema. Movies are fun, but we never remember these nights. Instead, we'll catch the newest flick when it is ready to be streamed at home. Our date nights will be reserved for trying new bars, seeing local musicians, experiencing the trampoline park, or getting on the rock climbing wall.
05. Get comfortable with being uncomfortable. One of the great things about having been with my spouse for so long (and having him in the delivery room when our sons made their entrances into the world) is that it is impossible to embarrass myself around him. Since we don't have to worry about awkward dates where we may make a bad impression, we've should get out there and be bold!
Ansari laid down a challenge for me in his book, a challenge I am glad I received. And while I am not looking forward to any more haunted B&Bs, I am looking forward to a life full of adventure with my best friend—my husband.
Photo Credit: Noah Sahady