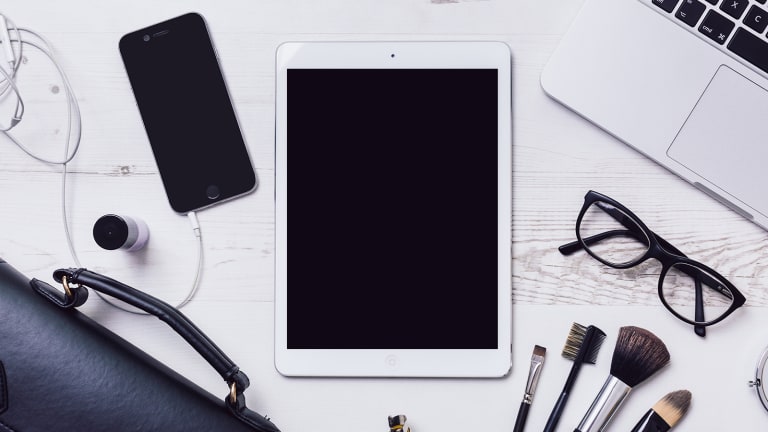 The Magic Formula That Helped Me Unplug in Reality, Not Just in Theory
Spend your time in ways that spark joy.
Unplugging. It's something many of us talk about doing, but we rarely follow through. We're familiar with the long list of benefits. It can help reduce stress. It prevents the negative feelings that creep in from too much time on social media. It can make us healthier, more productive, and more connected to those around us.
In spite of our good intentions, though, most of us struggle to change our ways. No matter how many resolutions we make, we slip back into our old habits—at least, that's what happened to me.
My most successful attempt at unplugging happened when I charted my time. Inspired by Laura Vanderkam's work, I kept track of my activities and looked for patterns. Doing this made me more conscious of how many precious minutes I was wasting by staring at my cell phone or going down the rabbit hole of computer clickbait. I started making better decisions, but I still had some bad habits to break—and I saw them more clearly than ever. Something had to be done.
That's when I heard an NPR story about the "Infomagical" challenge, a project from WNYC's "Note to Self" podcast. This five-day journey was designed to help people describe infomania, "the compulsive desire to check or accumulate news and information, typically via mobile phone or computer."
It was an invitation to unplug—really unplug—and I accepted.
The results were amazing. Just five days later, I felt a new sense of freedom. So did thousands of other people. About 25,000 of us signed up, and of the people who responded to questions about the challenge, 71 percent said they felt less overloaded. As the week ended, I reveled in my success. And I wondered if the changes would last.
It's been one month, and I'm happy to say that technology is no longer my taskmaster. It's only a tool. Looking back, I think I've figured out the magic formula that made the process work.
Set a Goal
Step one of the Infomagical challenge was to set an information goal. This goal would act as a guide for information consumption.
There were five goals to choose from. Some people chose to get more in touch with their inner selves, and some wanted to connect more with others. Some chose to be more up to date on the news, whereas others wanted to learn more about a specific topic. I chose to be more creative.
The goals seemed a bit vague. But the subjectivity was part of the beauty of the challenge—it left people room to tailor the goal to their needs and lifestyles.
As instructed, I wrote my goal down and posted it in a place where I could see it. It served as a reminder: When I reached for my phone, was what I read going to inspire me? Or was I going to get lost in mindless activity? By having a goal, I started thinking more about the way I was using technology. I started to ask myself, "Am I reading this article because I'm interested in it or simply because it's there?"
Posting my goal also helped me think more about the creative projects I wanted to pursue. It made me more productive, both at work and in my down time, because I was motivated to move on. When tech time was at odds with creativity, the creativity won.
Take Concrete Steps
In order to achieve my information goal, I had to complete a series of daily challenges. Every morning, I listened to a ten-minute podcast that introduced the assignment for the day. (Yes, I had to consume information in order to cut back. I'm aware of the paradox, and so are the producers at "Note to Self.") 
The first day's challenge was one of the hardest: single task. No multitasking allowed. As a teacher, I thought it would be impossible. But at the end of the day, the results surprised me. Not only was it possible, but it was also fulfilling. When students needed help, I listened more closely to each one rather than thinking about who was next. When planning a lesson, I stuck to it, breaking my usual pattern of taking frequent email and grade book breaks. I stayed more focused, and I got more done.
My favorite challenge was on day two. That's the day I KonMari-ed my phone. Wall Street Journal columnist Christopher Mims took the tactics from Marie Kondo's The Life-Changing Magic of Tidying Up and applied them to the digital world. Their ideas were the backbone for the challenge.
First, I had to go through my apps. I placed my fingers on each one to see whether it sparked joy. If it didn't, I uninstalled it. If my phone wouldn't let me delete one, I used the "hide" function.
Then, I put my apps into as few folders as possible. Putting apps into a single folder, or even just a few, adds a layer of intentionality. Instead of swiping through several screens of distractions on the way to an app, Mims recommends using the search function to find the app needed. It sounds simple, but it makes a huge difference.
Be Accountable
One of the highlights of each day was the daily text check-in from the Infomagical team. "Think about the information you consumed today," it said. "How well did you stick to your goal?" I had to respond using a scale of 1 to 5. Knowing that text was coming helped me stay on track. I wanted to be able to say I had succeeded. At the end of the week, I had two fours and three fives.
I also felt a sense of solidarity with the other participants. We had never met, but we were part of a project much bigger than ourselves. We shared a desire to become less overloaded.
Ultimately, the tactics for truly unplugging look a lot like the strategies for making or breaking other habits: goals, action steps, and accountability. Infomagical gave me specific ways to use those strategies, and the project is still available online.
This project also helped me think about moderation. I didn't have to go to the extreme of ditching the smartphone or abandoning the Internet but instead learned about how to be a more careful consumer of information.
In the month that has passed since my Infomagical experience ended, I've had constant accountability from the final challenge. On the last day, I wrote a mantra to keep the momentum going. It was inspired by Vanderkam's time use strategies and Kondo's tidying mindset: "Spend my time in ways that spark joy."
Photo Credit: Death to the Stock Photo