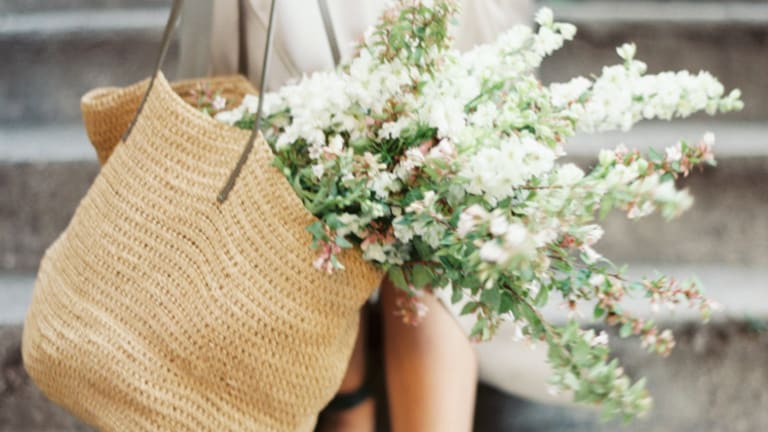 7 Easy Tips to Help You Live a More Organized, Intentional Life This Spring
Spring cleaning isn't just for overflowing closets. Here are some easy ways to cleanse the rest of your life.
Spring is a season of anticipation and renewal. With longer days and warmer weather on the horizon, we often feel motivated toward a fresh start—usually manifesting itself in a satisfying Marie Kondo–style closet purge. But spring cleaning doesn't have to be exclusively for closets and clutter.
Now is the perfect time to reassess and spring clean the rest of your life: your productivity, eating habits, exercise routine, and relationship status. Not sure where or how to start? Take a look at some of the suggestions below, and you're guaranteed to live a more organized, intentional life this spring.
01. Embrace Productivity Hacks
If you're anything like me, you feel like you never have enough time to accomplish everything you want to. For example, I have a list of books I can't wait to dive in to, but I can never seem to find the time to just sit down and read. Where does the time go?
Laura Vanderkam describes her quest to discover the secret to successfully managing a hectic schedule. She asked female executives, many of whom were also mothers, to log how they used their time in a week. After accounting for a fifty-hour workweek and eight hours of sleep a night, she discovered that we have sixty-two hours in a week to spend on other areas of our life.
"A life is lived in hours," Vanderkam writes. "Having a full life is not just possible, but doable, as long as you place the tiles right." Take a look at your schedule. Do you have pockets of time that you could be more intentional about using? Can those three hours you plan to spend binge watching Fuller House be used for socializing instead? Using Vanderkam's time log can help you see where your time is really going.
02. Reset Your Eating Habits
Winter months marry perfectly with comfort foods, and it's all too easy to slip into a less-than-healthy eating routine. Luckily, the start of spring brings an amazing array of in-season fruits and vegetables to experiment with and find new foods that make you feel your best.
Just remember that what works for someone else doesn't have to work for you, too. Remember Maria Walley's detox experience? She thrived on her detox but had friends who did not share the same positive experience. So don't let trends dictate your eating habits. Sugar-free doesn't necessarily mean healthier, and not everyone has to avoid dairy, says dietician Gillean Barkyoumb, MS, RD. I know I thrive on a protein-rich diet, so I always have some form of protein with every meal and a healthy protein snack such as dry-roasted or raw almonds when traveling.
03. Regain Quality Sleep
If you've read some of my other articles for Verily, you know that I strongly believe in the power of a good night's sleep. It is a significant aspect of self-care and one that I emphasize with my patients in my practice as a therapist. The change in seasons is a natural opportunity to assess your own sleeping habits.
Have you been getting the seven to nine hours of sleep a night, recommended by the National Sleep Foundation? Do you have a bedtime routine to help you wind down? Making small changes in your sleep routine, such as keeping the room as dark as possible and using a white noise machine, can increase the quality of your sleep and leave you feeling refreshed and energized the next morning.
04. Switch Up Your Workout
Spring is the perfect time to switch up your workout routine, especially if you've hit that dreaded workout plateau. With longer days and warmer weather, getting outside and trying something new is much easier. Sign up for a race to help you stay motivated to run, bike, or swim. Go to a forest preserve or trail for a walk or run through nature. Or try high-intensity interval training. These workouts feature periods of intense activity at 80 to 95 percent of a person's maximum heart rate followed by a recovery period. This pattern is repeated for anywhere from ten to sixty minutes depending on the program or set. Verily editor Krizia Liquido found HIIT workouts a great way to stay fit despite having a busy schedule as a mom, wife, and editor. You can even download a HIIT app on your smartphone to help you keep track of your intervals and rest periods.
05. Rethink Your Relationship Goals
While tuning up these important areas of your life, why not conduct a relationship check, too? If you're in a committed relationship, you can use Dr. John Gottman's relationship checkup. Rather than treating it as a pass/fail test, see it as an opportunity to find ways to get to know your significant other more deeply. Mark Merrill, president of the organization Family First, offers question prompts to get you started, such as, "What is one thing that I have done recently to make you feel encouraged and loved?" Setting aside time to focus on the state of your relationship will strengthen your connection and help you identify ways you can improve your relationships.
This is also a good time to take a look at your friendships and ask yourself if there is anything missing. Perhaps they get pushed aside when life gets stressful and busy, and you want to make an effort to spend more time with friends. Or perhaps some of your friendships seem toxic rather than uplifting, and you are thinking about limiting your interactions with them. These types of questions are just as important as your relationship with your significant other.
06. Boost Your Confidence
Spring always has me feeling extremely optimistic about the future. Set aside an afternoon one weekend this month to review your personal goals. Amy Morin, LCSW, therapist and author of 13 Things Mentally Strong People Don't Do, identifies several ways you might be holding yourself back from achieving your goals, including shying away from change, dwelling on the past, and trying to please everyone. Are you holding yourself back from achieving your goals without even realizing it?
07. Take Control of Your Health
Schedule those checkups that you've been putting off all winter. Verily writer Kirsten Nunez compiled a handy checklist of doctor appointments that you should be making each year. Don't put it off any longer, and schedule an appointment with your provider now. Your health is a priority.
A thorough spring cleaning includes much more than tidying up around the house. Along with the fresh air comes a fresh approach to your lifestyle and a new opportunity to revisit your goals, make a few tweaks here and there, and embrace living intentionally with a blossoming heart.
Photo Credit: Erich McVey Photography