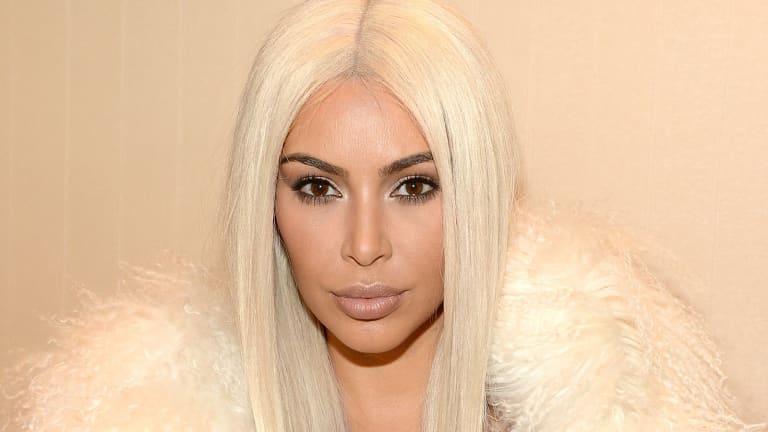 Why Kim Kardashian's Latest Nude Selfie Proves Just How Confused Our Culture Really Is
This latest nude selfie is just another symptom of how confused we can be about sexualization.
"When you're like I have nothing to wear LOL," Kim Kardashian tweeted on Monday morning—alongside a nude photo of herself. Not long after, Kardashian's name was all over the trending topics; on news feeds from Facebook to Google News, people all over the globe were made aware of the big news (insofar as a naked Kim Kardashian is news).
After receiving some negative feedback to her spontaneous post, Kardashian issued a public response on Tuesday, saying: "I am empowered by my body. I am empowered by my sexuality. I am empowered by feeling comfortable in my skin. I am empowered by showing the world my flaws and not being afraid of what anyone is going to say about me." 
We can take Kim at face value that she was just tweeting out something as a display of comfort of her body. But frankly, I don't buy it. Kardashian has made a career on getting people to talk about her, and more specifically, to talk about her body. From the sex tape that put her on the map (E! began airing Keeping Up with the Kardashians only months after the leak), her Playboy pictorial that shortly followed, to "breaking the Internet" with a nude Paper Magazine cover, to this nude selfie, Kardashian has capitalized on her ability to get people talking about what she looks like. 
When I saw this making the rounds, I couldn't help but feel a little sad. To me, Kim's tweet reads as, "When you're used to getting affirmation for your body and wake up in the morning seeking more of it."  
Despite her professed indifference to "what anyone is going to say about me," it seems far more likely to me that what she finds empowering is precisely that she gets people talking about her. This brings a rush of attention, increases her popularity, and translates into millions of profits off not only the TV show, but also her innumerable spinoff products, apps, video games, and other companies she heads. As she tweeted (seemingly to those hating on her nude pic) Monday night, "sorry I'm late to the party guys I was busy cashing my 80 million video game check." That's empowerment for Kardashian. Welcome to the world of hustling reality TV stars!
Let me say for the record that even if I don't agree with posting nude selfies as a good practice, I don't think anybody deserves to be called the disgusting insults that Kardashian was called all over Twitter following her Monday post. Anyone who thinks they're on the moral high ground while denigrating her so rudely needs a new moral compass. But there is something to be said about how social media today has become for some people a means not just of self expression but of selling oneself. Women's bodies are beautiful and should not be shamed as they are. Women's bodies are so beautiful and amazing though, that they are often exploited, whether physically or digitally, for others' pleasure. 
In our world, where Internet porn abounds, millions of people log online each day for the dopamine rush that comes with seeing a naked woman's body. Our culture is perpetually at odds by acknowledging women's beauty and profiting from it while at the same time attempting to remind the world that it's not just there for men's taking. Except it is. Online, in the fantasy of Internet porn, it is available for the taking. The imagery is so compelling that some people can't seem to get enough of it. It's easily binge-able.
But what goes less noticed perhaps is the rush sought by women like Kardashian—the attention, the zillions of hits and "likes"—that makes them feel better about themselves. It makes you wonder: Is Kim's nude post really just her way of making the day about her—a way to ensure her name tops the trending topics? Is putting her private body on display a desperate plea, giving her a brief reward and reminder: I'm still relevant?
It's somewhat funny that, for someone seeking to be the talk of the town, Kardashian feigns surprise that people continue to talk about her. That people keep making references to her sex tape made in 2003 for example, she exclaims in Tuesday's letter, "that was made 13 years ago...and people still want to talk about it?!?!" Well 13 years later you're still making money from nude pictures of yourself. Can you really blame people for making a connection? Yes your sex tape was leaked, but you ultimately received $5 million from Vivid Entertainment for it. That might have been a consolation prize for an unfortunate event at the time, and she certainly deserves to recover from the embarrassing experience. But it seems to have set her on a course of seeing a connection between exposing her body and making money or achieving fame.
It's paradoxes like these that Kardashian seems to gleefully embrace: "I will not live my life dictated by the issues you have with my sexuality." Except when you realize that others' issues with your sexuality are that they're obsessed with it—that they've been consuming it for years and can't get enough. It's exactly that issue with her sexuality that she continues to cash in on—dare I say, even ​to the point of dictating her actions.
Kim Kardashian posted her "empowering" note defending her nude photo with the title "International Women's Day." Perhaps that's what caused Pink to respond later that day with this note on Twitter:
"Shout out to all of the women, across the world, using their brains, their strength, their work ethic, their talent, their 'magic' that they were born with, that only they possess. It may not ever bring you as much 'attention' or bank notes as using your body, your sex, your tits and asses, but women like you don't need that kind of 'attention.' In the quiet moments, you will feel something deeper than the fleeting excitement resulting from attention, you will feel something called pride and self respect. Keep on resisting the urge to cave. You'll never have to make silly excuses for yourself."  
I don't care to report on back and forth between celebrities, so I'm going to stop here, but Pink's got a point. She made no criticism of Kim as a person, despite everyone linking the two; she simply offered a different take to the masses of young girls following female celebs online. That "fleeting excitement" that comes with the attention you get for undressing? It's not always the same thing as empowerment—just ask the many women disillusioned with the porn industry.
I wish for Kardashian what I wish for all women: that we find empowerment that is real and lasts much longer than youth or profitable business deals—the empowerment that comes from within and not from without, from internal strength and integrity, and not from whether or not we meet others' approval. Because to confuse empowerment with the attention women have always and will always get from undressing, is to mistake authentic love of oneself with seeking love and attention from others.
Photo Credit: Getty Images