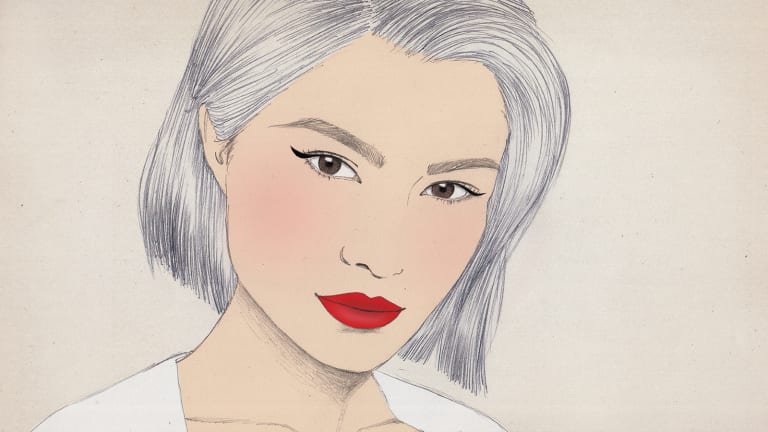 5 Easy Red Lipstick Looks to Keep You Looking Classy Whatever the Occasion
Who knew one simple makeup item could be so versatile—and so powerful?
Red lipstick is our go-to look for a night out, but if you find yourself reaching for the same color every time you get ready, it might be time for a few new options. Red comes in a variety of tones and intensities that are suitable for all kinds of occasions; all you need is the right eye shadow to complement it. If you're ready to switch up your makeup routine, look no further than our five red lipstick looks below.
01. Orange Red //
You might be balking at the idea of wearing bright orange lipstick, but don't worry—this bold look is best paired with simple eye makeup for an overall fresh and modern look. If you're nervous about the intensity of the orange, try a peachier hue. To balance out the bright lip color, apply a subtle black liner on your top lids close to your lash lines. Top off with mascara, and pencil in your brows a little bit to frame your face. A light application of peach blush will complement your lipstick and keep you looking lively. Wear out on the town or for your everyday errands—this look is both casual and dressy with its fresh yet bold appeal.
02. Burgundy Red //
This moody hue has become increasingly popular, but many women are intimidated by its darkness and aren't sure how to wear it without looking like a vampire. When rocking deep burgundy, you want to avoid equally bold eye makeup. So put aside your black eyeliner, and pick up your gold eye shadows to create a soft, glowing look. Use a variety of gold tones, from dark golds to light golds to create some dimension on your eyelids. Apply the darkest gold to your creases as well as lightly along your lash lines to create the illusion of eyeliner without the intensity. Lastly, gently apply some dark gold shadow along your bottom lash lines to create a sophisticated and moody look. Wear this look when going out to concerts, bars, or any Friday night excursion.
03. Crimson Red //
Now this is the classic red lipstick look we all know and love. Nothing really makes a crimson red lip pop like a retro cat eye. Put on your boldest bright red lipstick without reservation—this look is all about being fearlessly ladylike. If you want to make an impression, create an intense flick on your liquid cat eye. This is a versatile look, perfect for any fancy occasion such as a dinner date, that looks equally at ease with a more casual outfit for drinks with girlfriends.
04. Fuchsia Red //
We all have a bit of girlie girl in us. The 13-year-old versions of ourselves would be squealing over this look, but don't worry, this youthfully feminine tone is just as appropriate in your twenties and thirties. The goal of this look is to be fresh and dewy, so slowly step away from dark eye shadows and black eyeliner. Keep your face glowing with highlighter on your cheeks and brow bones. To make your eyes appear brighter, apply a champagne tone to your lids but concentrate it in the inner corners, and lightly blend into the lower lash lines. A few coats of mascara will enhance the open-eyed look. Perfect for most occasions, this look can be worn when going out on weeknights or meeting up for a first date.
05. Rose Red //
If you're not into bold or colorful red lipstick looks, this is the red lip rendition for you. A matte dusty rose has all the sophistication of a bright red lip but makes a more subtle statement. Wear this when meeting up for a coffee date, going to work, or even heading to an upscale cocktail party. To complement the warm hues of your lip, create a warm brown eye shadow look with neutral tan in the center of your eyelids and dark brown along your creases and top and bottom lash lines. To pick up on the rose lip color, lightly apply a bit of your rose-tone blush to the tops of your eyelid creases. Apply black liner and mascara as you usually would, and then apply a couple swipes of rose blush to your cheeks.