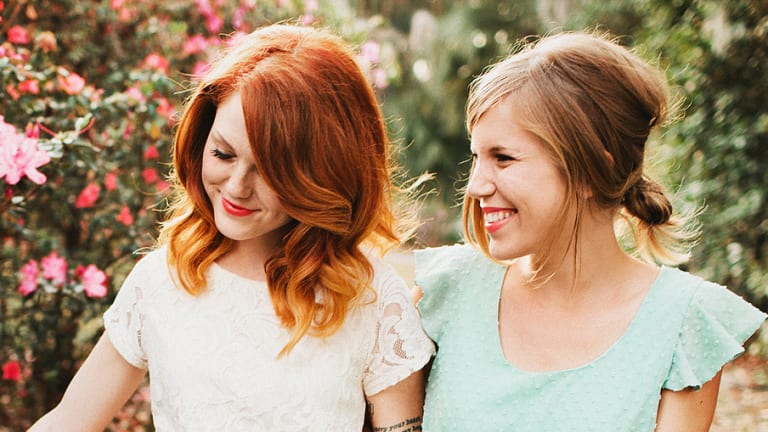 Don't Let Friendships Slip Away! These Easy Tips Will Keep Your Friends Close
Staying in touch as an adult doesn't have to be so hard.
Remember when spending quality time with your friends was easy? In grade school, all you had to do was ask your mom if your friend could come over to play. In high school, you had class together and saw each other at parties and sleepovers. In college, friends were just down the hall, and you shared incredible experiences together. 
But life after graduation is a different story. As post-grads, cross-country relocations, jobs, marriages, and children command our attention, making time for friends can feel like a challenge.
You aren't alone in the challenge of holding on to friends. The American Psychological Association reports that people's personal and friendship connections have decreased during the past thirty-five years, and this comes at a cost. The APA also reports that women who describe themselves as lonely experienced more pain, depression, and fatigue than women who reported stronger social connections. 
Friendships are clearly important, but how do you stay close to your friends despite the challenges your current state in life presents?
As a therapist, I have a nontraditional working schedule, which makes finding time to spend with friends a complex game of Tetris. Inspired by my struggle to stay close to my friends, I have come up with some helpful tips for prioritizing friendship. 
Combine Your To-Do Lists
Why not take the errands on your to-do list and turn them into an opportunity to catch up with a friend? After all, you need to go grocery shopping anyway and shopping with a friend is always more fun. Make plans to meet up at your favorite grocery store, and turn it into a social hour. 
Working out with a friend is another great option. According to research published in the Journal of Social Sciences, working out with friends will not only allow you to catch up on what's been happening in each other's lives, but you will also be benefitting by exercising harder. Consider signing up for an upcoming race together to give yourself motivation to train. Not only will you have a built-in time during the week to catch up, you'll also be able to support and motivate each other as you work towards your fitness goals. 
Make your to-do's do double duty; It will not only be more fun but it will also make those errands seem like less of a hassle.
Use Social Media to Your Advantage
Typically, social media is viewed as a distraction from authentic, in-depth relationships. Scrolling through our newsfeed doesn't really count as staying in touch with friends. 
But, there are ways to use social media to your advantage. For example, many groups of friends have group chats running so that you can stay updated on each other's lives. Some of my friends and I, who live in three different cities (New York, Chicago, and Denver) have a group text running. I love seeing the notification that I have a new message because it usually means someone has an interesting or exciting story to share. Snapchat and other similar services can also help you stay in touch by sharing snapshots and moments of your day. 
Using social media this way can help you maintain a sense of connection with your friends and their everyday lives when getting together in person just isn't possible.
Be Pen Pals
Did you have a pen pal when you were younger? Nothing beats receiving a hand-addressed letter in the mail, especially when you are least expecting it. Why not take a page from your younger self's favorite style of communication and write letters to your friends? 
There's no need to restrict yourself to a regimented letter writing schedule. Instead, write a quick note when you have ten or fifteen extra minutes and send it off. Or, if you have a lot to say and a little extra time, pen a few pages to send your friend's way. Sure, social media, texting and email provide instant communication, but receiving a handwritten letter adds a touch of something extra special and can be a welcome alternative.
Start a Club
Nothing makes it easier to see a friend than when it's scheduled on the calendar and is a recurring event. Starting a club or meet up with your friends is a great way to do this. I have friends who have started a book club that meets regularly. Gretchen Rubin, happiness and habits author, describes in her book, The Happiness Project how forming or joining a group can be a great way to stay close to friends. Rubin loves children's literature so she started a children's literature book club to help bring her friends together while allowing herself to indulge in her favorite genre. 
If the idea of reading a book from start to finish sounds impossible, starting an articles club like Joanna Goddard of the popular Cup of Jo blog could be a more practical alternative. She and her friends choose newspaper and magazine articles of interest to spark their discussions. Moms could even use a regular play date as an excuse to spend time together while their children play. Be creative with your club to make it something you will enjoy participating in. Consider taking turns hosting and choosing the topic for discussion. Your club will be a great reason to bring your friends together and, best of all, it's absolutely fine if your discussion goes off topic. 
Have a Standing Date
When we're feeling stressed and overwhelmed, time with friends is often the first thing to be thrown out the window—even when it's really what we need the most. Scheduling a standing date with your friend—whether it's weekly, biweekly, or monthly—that you treat as sacred and refuse to cancel unless faced with an absolute emergency can help you stay close to your friends when life gets crazy. 
Your standing date doesn't have to be fancy or extravagant. Trade off hosting dinner at each other's houses for a simple setting to catch up. Sarah Grey, a freelance writer and editor, said that having a standing weekly meatball dinner with her friends was a lifesaver since most of her week was spent alone, working from home. Whether it's one-on-one time with a friend or hosting a simple dinner party for friends to stop by, a standing date will help your friendships thrive despite your busy schedule.
Just because your time is limited, doesn't mean that your friendships are doomed to fall apart for want of attention. Embrace creative ways to stay in touch and keep connected with friends despite your busy schedule. With all the benefits that friendship brings, you'll be glad you used your creativity and made spending time with friends a top priority.
Photo Credit: Shannon Lee Miller