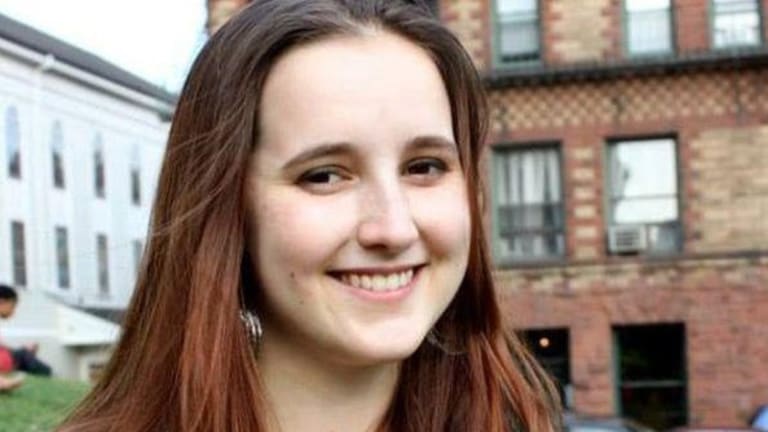 A Surprising Number of Women Are Missing from Wikipedia, but One Woman Is Changing That
Meet the incredible young woman on a mission to make sure women are fairly represented on Wikipedia.
It is an unfortunate fact that Wikipedia has very few female editors, and there's evidence that the females who do contribute to the online encyclopedia receive a significant amount of harassment from their male counterparts. According to a recent Smithsonian article, one female editor of Wikipedia has a backlog of 118 harassing, abusive emails about her work.
This woman is Emily Temple-Wood. Back in 2012 she volunteered for a Wikipedia edit-a-thon to honor Ada Lovelace, a nineteenth-century mathematician. As a result, she noticed a serious lack of female representation among the site's many articles. Furious, she typed out a profile of Ann Bishop, a British biologist, in her dorm room late that night. From then on, the med student embarked on a mission to raise the profile of women scientists on the platform.
Temple-Wood's original entry sparked an endeavor known as the Wikiproject Women Scientists. Through this collaborative work of writing, editing, and publishing more than six hundred articles about women in the sciences, Temple-Wood is contributing to a fuller, fairer picture of the contributions made by women scientists throughout history.
Data is always a reflection of the environment in which it was created. The paucity of articles about women scientists is a direct reflection of a culture that has often been dismissive of women's accomplishments. Unfortunately, this problem is not simply a product of an unenlightened past. Having been dedicated to her project for about four years, Temple-Wood told the Smithsonian about the abundant criticism and abusive emails she has received in response to her work at the Wikiproject. But in a remarkable display of constructively channeled anger, she told the magazine that she has resolved to write a new article about an accomplished woman in Wikipedia for each abusive email in her inbox.
I'm sure there are people reading this who are thinking, "Who cares?" But we should definitely be concerned about how women are represented in the annals of history. Wikipedia is a cultural force. The English iteration of Wikipedia alone boasts more than 5,100,000 articles. The online version of Encyclopædia Britannica, for comparison, has about 120,000, according to Wikipedia's own statistics. The old-school motto of "knowledge is power" is especially true today, as the Web provides petabytes of information on every topic under the sun, free of charge to anyone with an Internet connection.
It's not a stretch to say that Wikipedia is becoming a huge part of how we understand history, criticisms as to its verifiability aside. For a visual of this, check out this website that marks each Wikipedia article on a timeline, allowing you to scroll through millions of years watching history unfold.
Temple-Wood's passion for science and open-source communication may well result in her own Wikipedia article as a notable woman in science. Her commitment to providing a platform for women's voices is evident in this interview with the Wikimedia Foundation, where Temple-Wood decreed: "We need a diversity in opinions . . . to survive. We need diversity of subject authors to survive to become the sum of human knowledge. A white girl from Chicago is one perspective, and we need our white girls from Chicago, but we [also] need people from Maloui and Tuscany—we need people who speak every language from every culture and from every perspective."
Temple-Wood's story, like those of many other women and men alike who actively vouch for the credibility and recognition of women globally, are what we as consumers of Wikipedia and any form of information have to continue to herald. Just as we need true information, we also need diverse and inclusive information. Occasionally big data and open-source projects are heralded as silver bullets for equalizing information dissemination, but the real force behind true freedom of information lies in champions such as Temple-Wood who are attuned to the impact of diverse opinions.
Undoubtedly, the petabytes of ever-expanding data on Wikipedia are a remarkable resource for anyone with an Internet connection. Data provides new opportunities to inform our understanding of history, including the full picture of women's achievements in the past, and paves the way for the scientific pioneers of today. Because if there's one thing Temple-Wood's story reminds us, it's that the stories that get published matter—both for the men and women absorbing the information and for the sake of those whose accomplishments deserve due mention in the record books.
Photo Credit: Wikipedia