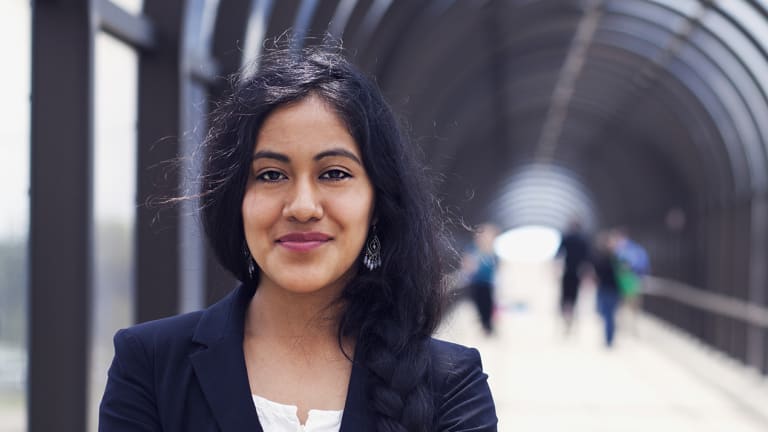 Will This New Investment Help Women in Corporate America?
A new ETF looks to invest in companies that show a commitment to gender diversity.
Women in the corporate sector rarely seem to catch a break in the media—they're too bossy, too demure, too aggressive, too ambitious. With the fractious conversation about diversity in the workplace at a fever pitch, inspiration often comes from people who acknowledge the complexity of the diversity question but aren't afraid to encourage women in the corporate sector. For those of us who believe in efforts to support women in corporate America, there's now a chance to put our money where our mouth is with a new exchange-traded fund (ETF—think of it kind of like a mutual fund).
State Street Global Advisors compiled this ETF with the clever ticker SHE. SHE offers the investment community the chance to buy shares from companies that ranked the highest in their sector on the presence of women at the CEO, board, or senior leadership levels, according to Business Wire. SHE is comprised of approximately 144 stocks from the largest one thousand listed companies in the U.S.—such as female-led General Motors, Xerox, PepsiCo, Yahoo, and many more. By selecting the top companies in each sector—including traditionally male-dominated fields such as oil or tech—SHE aims to avoid sector bias and create a balanced portfolio.
The success of the new concept of impact investing remains to be seen—there is no silver-bullet solution for companies that want to improve gender diversity. For example, the Barclays Women in Leadership Total Return Index consists of American companies that have either a female CEO or 25 percent women on their board. The Barclays index has not had stellar performance. Though its effort is notable, perhaps its limited success is due in part to a limited view of what it means to have a gender-diverse company.
In the meantime, however, SHE is finding nonmonetary ways to invest in women as well. While the main purpose of SHE is to support women in senior corporate roles, the ETF features a charitable component that seeks to bolster women early in their careers. The charitable branch, named SHE Gives Back, invests a portion of returns to provide opportunities for women in traditionally underrepresented careers. Notably, the California State Teachers' Retirement System—one of the largest pension funds in the country—has caught the vision and has invested $250 million in SHE.
This fund matters because it's easy for women to feel out of place in the financial sector. Personally, I've always felt rather baffled by the financial industry, and there's something about the traditional picture of aggressive shouting on Wall Street that makes me recoil. Reading about this ETF made me realize that there could be space for me in the investment community as well.
In a blog post for State Street Global Advisors, vice president Brie Williams remarks that investment firms where "gender stereotypes and fundamental service misalignments" prevail miss key opportunities to collaborate with female investors. Understanding investment strategies can bolster women's sense of security and independence. As investment companies such as State Street Global Advisors foster inclusion of women across business sectors, the future for women in corporate America looks brighter.
Photo Credit: Adobe Stock