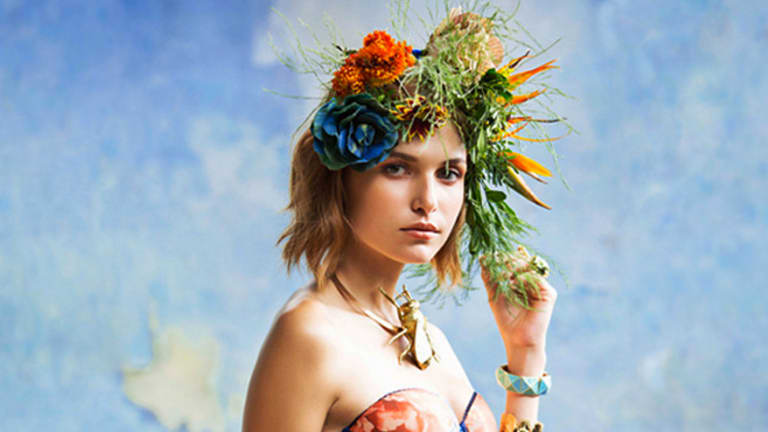 4 Empowering Lingerie Brands That Are Breaking the Victoria's Secret Mold
Sick of underwear that sexualizes women? You're sure to love these brands.
Every woman needs underwear and bras, but let's be honest: Sometimes it's slim pickings when shopping for those "unmentionables." If stores with floor-to-ceiling posters of pouty-lipped, perfectly coiffed, airbrushed models is not your ideal negligée shopping experience, you're not alone. Many women are tired of underwear brands that create an overtly sexualized and misleading image of women. 
Thankfully, some women who are tired of this false portrayal have actually created their own underwear brands to showcase a more natural and less objectified image of women. If you're looking to switch your underwear provider, look no further than our roundup below.
Naja // Helping Working Women Better Their Lives
Meet Naja, the new lingerie brand that empowers woman through positive imagery and through providing work for single mothers. Catalina Girald, Founder, CEO and Creative Director of Naja, decided to create her own brand of lingerie in order to "disrupt the way lingerie is marketed toward women by creating a brand that seeks to empower women instead of objectifying them." So what did she do? Opened her own lingerie factory, of course! 
Naja primarily employs single mothers or female heads of households, paying them above market wages with healthcare benefits. Naja has purposefully implemented a flexible work policy in order to aid their employees who need to balance work and childcare. And it gets better—Naja also pays for the school supplies, books, uniforms, and school meals for every child of a Naja garment worker. Additionally, Naja strives to be as environmentally friendly as possible. More than 50% of Naja's products are made from fabrics generated from recycled plastic bottles. Instead of dying fabric, Naja uses digital printing so that their water waste is next to none, which is almost unheard of.
In terms of taking a stance against most company's overly sexualized portrayal of women, Catalina says at Naja, they "did away with fake wind blowing into models' hair and poses singularly aimed at the male gaze in order to connect with the smart, courageous, and sexy women of today." Now this is a company you can embrace.
Dear Kate // Smart and Sleek for Real Women
Dear Kate will probably have you breathing a sign a relief with lookbooks full of women actually looking happy in their un-photoshopped bodies. No come hither stares here, ladies! Just confident and beautiful women. 
Dear Kate's mastermind Julie Sygiel is a woman with big plans to revolutionize the lingerie industry. In an interview with Business Insider, Julie explains that Dear Kate's mission is to empower women to feel great in their underwear, to wear them for themselves and not for someone else. She explains, "[Women] want to align ourselves with a company we feel good about supporting—a company who likewise supports us no matter what we look like." Dear Kate is just that. Plus, Julie used her background in chemical engineering to create a silky-soft fabric that is moisture-wicking, stain-releasing, and leak-resistant to help out with those surprise attacks from Aunt Flo (we've all been there!). We love Julie's mission to give women the confidence to do anything and to feel comfortable in their own skin, both mentally and physically. 
Nubian Skin // Bridging the Gap to Embrace All
A nude bra, panties, and stockings are everyday basics in a woman's wardrobe—but, are they really? "Nude" tones are often only sold in lighter shades and do not match the natural skin tone for most black women. Frustrated by the lack of skin-tone choices, Nubian Skin founder Ada Hassan decided it was time for 'a different kind of nude' in order to make social and fashion advancements. 
Ada, a lover of fashion, explains that lighter nude underwear inhibited her clothing choices. One of the models on set of the Nubian Skin photo shoot echoed a similar sentiment saying, "I'm a dancer and before performing, I've had to ask my mom to tea stain my underwear. So I've had to go on stage with my bra and panties stinking of tea." Clearly, a lingerie brand for darker-skinned women is much needed and long overdue. Nubian Skin offers four nude shades to match a variety of darker skin tones; Berry (darkest), cinnamon (medium-dark), caramel (medium-light), and Cafe au Lait (lightest). We hope to see Nubian Skin revolutionize the industry so that all women can go into any store and know they will find what they need. 
Third Love // Stay Home and Still Get a Great Fit
"You don't know your bra size? Well, we can fit you!" If shopping for new panties and bras fills you with dread, we feel your pain and we have a solution. Heidi Zak, the founder of ThirdLove, similarly hated shopping for bras and created a startup lingerie brand that bridges the gap between your bra size and technology—literally. Say goodbye to awkward interactions with lingerie employees and tape measures because Zak created an app that does all the sizing for you—from the comfort of your own home! All you need is an iPhone and a mirror. The app first has you take a straight on shot and then a side shot, all with a tank top on. It then suggests what fits and styles you should try! The ThirdLove website guarantees a 100 percent fit, and if you're not satisfied, they allow returns and exchanges free of charge. 
ThirdLove is one of the only lingerie brands that covers the entire spectrum of sizes and allows you to mix and match the cup and band size—they even have half cup sizes! The ThirdLove site also has a Breast Shape Dictionary, offering seven different breast types and the bras that best suit them. It even has a category for asymmetrical breasts, which is very common amongst most women but is hardly ever addressed by lingerie brands. ThirdLove focuses on what its customers really need to help them be truly comfortable and confident in their clothes, not how sexy they should look. Now, that is customer care.
Feature Photo Credit: Naja